Estimated read time: 11-12 minutes
This archived news story is available only for your personal, non-commercial use. Information in the story may be outdated or superseded by additional information. Reading or replaying the story in its archived form does not constitute a republication of the story.
Editor's note: This story will be updated to include the latest information for Utah's vaccine rollout plan.
SALT LAKE CITY — 2020 was dominated by the worldwide spread of the deadly novel coronavirus; 2021 will be dominated by the vaccine created to fight the virus. As of Wednesday, all Utahns are eligible for the COVID-19 vaccine and can sign up to get their shot.
Utah's vaccine distribution is handled at a county level, meaning each resident's experience will be different depending on where they live. Vaccine distribution varies per county, which Gov. Spencer Cox said is OK. While it might seem easier to roll out vaccines at a state level, Cox said that would actually slow the process down and doing it on a county level has allowed officials to speed the process up.
"That's the only way we could do this, it's the only way we could simplify it is to do it by geographic region and to use the infrastructure that is already in place," he said in January.
As Utah's vaccine rollout starts to ramp up, here's a look at where you are able to get one.
Who's eligible now?
As of Wednesday, March 24, all Utahns older than 16 years old in the state are eligible to get their COVID-19 vaccine.
Prior to Wednesday, the state had opened up doses to select groups. All first responders and health care workers and non-hospital health care workers, like those working in clinics, pharmacies and dental offices, were in the first group to be eligible to receive the vaccine. Those living or working in long-term care facilities were also eligible.
All K-12 school teachers or staff in Utah became eligible on Jan. 11 and Utahns older than 50 were eligible to receive the vaccine in later January. Those older than 16 who have certain underlying health conditions were also eligible for the vaccine on March 1 as well.
Anyone who has had COVID-19 in the past 90 days has been asked to delay getting a vaccine since reinfection of the disease is rare and Cox said vaccine doses will be reserved for people who haven't had the disease.
Regardless of what group a person's in, anyone experiencing symptoms of COVID-19 (or other illnesses) is asked to stay home to prevent disease spread.
Cox said on Feb. 11 that the state is aiming to get all Utah adults who want the shot vaccinated by the end of May, though that goal faces logistical challenges. Vaccine providers are required to report the number of COVID-19 vaccines on hand to Vaccine Finder, allowing residents to know where they can get a vaccine when they're eligible. The public will be able to access this information on the website once doses are widely available.
What to expect
Anyone who gets vaccinated should receive a COVID-19 vaccination record card detailing which vaccine they got and when/where it was administered, according to the state health department. After getting the shot, patients are advised to wait 15-30 minutes before leaving in case they experience an allergic reaction that needs medical attention. Individuals will either receive the Pfizer-BioNTech or Moderna vaccines, the only two to date which have been authorized for use in the country.
Information about the Pfizer-BioNTech COVID-19 vaccine can be found here and information about Moderna's COVID-19 vaccine can be found here.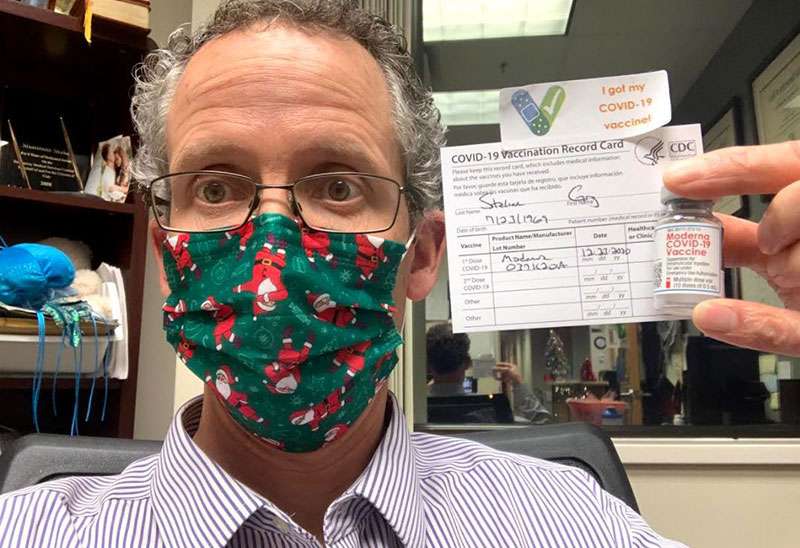 Vaccinated individuals can register for v-safe, a vaccination health checker app by the U.S. Centers for Disease Control and Prevention that tells CDC officials about any side effects they experience. The app will also remind individuals to get their second dose, which is crucial to the vaccine's efficacy.
Some local health departments, like the Southwest Utah Public Health Department and the Southeast Utah Public Health Department, have provided online forms patients can fill out and bring in ahead of time. Depending on what group someone is in, patients will typically need to bring an ID, proof of employment and wear a short-sleeve shirt.
Even after an individual has been vaccinated, health experts say they still need to wear a face covering, wash their hands and physically distant to prevent the spread of COVID-19.
Can my life go back to normal after getting vaccinated?
Vaccinated individuals are able to safely take less precautions but things can't return back to pre-pandemic normal quite yet. Individuals should think of the COVID-19 vaccine as another tool used to prevent disease spread, explained Intermountain Healthcare Dr. Tamara Sheffield in a recent Q&A.
"Whether a person has had no doses of vaccine, if they've (had) one dose of vaccine and even if they've had two doses — we are going to need to make sure we still do the mitigating strategies that we have to prevent spread of infection," Sheffield said. "That means we need to be masking, we need to be washing our hands, if we are having symptoms of illness we should not be around anybody else."
"Until COVID has been essentially removed out of the community, we have got to keep doing all those other infectious disease spread-controlling activities," she added.
Two weeks after an individual has received their second shot of the vaccine, Utah health officials say they are immune and don't need to quarantine, even if they've been exposed to someone who tests positive. However, if a vaccinated person shows symptoms after exposure, which is rare, they are asked to quarantine. Mask-wearing and other precautions are still necessary, officials said.
Fully vaccinated individuals are able to visit indoors and in close contact with others who are vaccinated and can also visit with a non-vaccinated low-risk person without masks or social distancing precautions.
Until a higher percentage of the population is vaccinated, it's recommended that vaccinated Utahns continue to social distance and wear masks in public spaces and around high-risk non-vaccinated individuals. Gathering in large crowds is still discouraged for vaccinated individuals.
Getting the vaccine will benefit the vaccinated individual but unless there is a large enough portion of the population who is vaccinated, the disease spread will not be under control. Additionally, Sheffield said that people who are vaccinated should keep in mind the vaccine works better in an environment where there's less exposure to COVID-19.
"We are still going to be months out from having a good control over the spread of the infection because we have to have the time to get a large enough portion of the population protected," she said. The vaccine gets someone's immune systems primed up and ready to fight an infection, she noted.
Even in highly vaccinated populations, there can still be outbreaks of disease. It is possible and expected for patients to contract COVID-19 in between getting the first and even after the second shot of the vaccine.
"These are extraordinarily effective vaccines," Sheffield said, while noting that no vaccine is 100% effective at preventing infection, it simply reduces the risk.
Those who receive both shots of the COVID-19 vaccine have reduced their risk of infection by 95%, but it's still possible they can contract and spread the disease — hence why officials are advising individuals to continue taking recommended precautions like mask-wearing, hand washing and social distancing until a larger amount of the population can get vaccinated.
White House coronavirus advisor Dr. Anthony Fauci recently estimated up to 90% of the population needs to get vaccinated against COVID-19 to achieve herd immunity and gain control over the virus.
Both vaccines currently available require two doses a few weeks apart. In order to become more protected from the virus, individuals must receive both doses. After the second dose, patients are about 95% protected from the novel coronavirus as opposed to 52% after the first dose.
Utahns eligible to become vaccinated will be able to schedule a vaccination appointment through their local health department. Those who do not qualify for the vaccine will be turned away. Cox said Monday that each health department should have vaccine registration available for eligible residents this week. The state's goal is to increase vaccine administration and allow health districts to administer a minimum of 50,000 doses per week and possibly up to 100,000 weekly.
Where can I get vaccinated?
Aside from local health departments, eligible Utahns can get vaccinated at certain local grocery store pharmacies.
Health care providers in the state are also offering vaccine appointments.
Here's a look at how each health department is handling distribution:
Box Elder, Cache, and Rich counties: 435-792-6500
Eligible residents can check for available vaccination appointments here. Appointments cannot be made via phone.
Juab County: 435-623-0696
Sanpete County: 435-462-2449 or 435-835-2231
Millard County: 435-743-5723 or 435-864-3612
Piute County: 435-577-2521
Wayne County: 435-836-1317
Sevier County: 435-896-5451
Eligible residents can contact their local office to be notified when vaccine doses are available.
Eligible residents can schedule vaccination appointments here.
Starting at 9 a.m. on March 22, appointments for all Utahns will be available at this link. Appointments made on Monday will be for after April 4 as appointments before then are filled by individuals from previously eligible groups. A total of 46,760 appointments were opened through April, according to a spokesperson with the health department.
In January, when the system opened to a new group, there were issues with the registration link shortly after it went live, due to high traffic to the site. The problems were later resolved.
The department will not schedule appointments for vaccine doses they do not have.
The health department has requested those who are able to use the online form do so, in order to keep phone lines open for those without internet access or other circumstances inhibiting the use of the online form.
Price office: 435-637-3671
Castle Dale office: 435-381-2252
Moab office: 435-259-5602
Eligible residents can choose from three locations to get the vaccine and register here.
Washington County office: 435-673-3528
Iron County office: 435-586-2437
Kane County office: 435-644-2537
Beaver County office: 435-438-2482
Garfield County office: 435-676-8800
Eligible residents can register to receive a vaccine here.
Residents can sign up for a COVID-19 vaccine notification system which will send an alert when doses are available but doesn't schedule people for an appointment.
Eligible residents can register for a vaccine here.
Those eligible can call the health department at 435-277-2484 to make a vaccination appointment.
Vernal office: 435-247-1177
Roosevelt office: 435-722-6300
Vaccine appointments will not be made for doses the department does not have. Eligible residents can click here to check appointment availability.
Residents can sign up for text alerts from the health department by texting UCHealth to 888777.
To make an appointment, eligible residents can call the Wasatch County COVID-19 Hotline at 435-657-3276 during business hours.
Morgan and Weber counties: 801-399-7777
Utahns can sign up for a vaccination appointment here.
×
Related stories
Most recent Coronavirus stories