Estimated read time: 3-4 minutes
This archived news story is available only for your personal, non-commercial use. Information in the story may be outdated or superseded by additional information. Reading or replaying the story in its archived form does not constitute a republication of the story.
SALT LAKE CITY — Many Americans watched with shock and sadness this week when a mob breached the U.S. Capitol in a last-ditch effort to derail the counting of Electoral College votes for President-elect Joe Biden. But for the Utah Highway Patrol, the day was more than alarming; it was a learning experience.
"The pulse of this nation is changing, as we saw evidenced from our nation's capital yesterday," UHP Lt. Nick Street said Thursday at the Utah Capitol. "We will definitely be reaching out to try to get in on after-action discussions as to what happened in our nation's capital."
Most Utahns think of the Highway Patrol only in terms of avoiding troopers on state highways. But the agency, the law enforcement wing of the Utah Department of Public Safety, has another critical function: monitoring and protecting the state Capitol in Salt Lake City.
There are troopers at the Capitol "24/7, 365 days a year," Street said. Usually, Capitol security can be accomplished with one section of the Highway Patrol — a lieutenant, four or five sergeants, and a handful of troopers under each sergeant, Street said.
But, of course, there are events that require more attention and sometimes more troopers — and possibly more than ever within the last nine months.
Street said the UHP monitors "open-source media," like social media posts, to stay on top of upcoming Capitol events and protests. DPS analysts can forewarn the Highway Patrol when protests are likely and about how many people will attend.
"They were pretty spot-on yesterday with the amount of people and what time they were going to be here," Street said, referring to Wednesday's mostly peaceful pro-Trump rally that occurred on Capitol Hill at the same time as the Washington chaos. "That's a great asset for decision-makers, tactical leaders and administrative leaders to have that well in advance of events like we had yesterday.
"To know how to best place personnel, who to put on standby, who to put in reserve; and all those things are put in place before we have an event."
Street said the agency also has a "pretty good idea of bad actors in the past" who may warrant extra attention during an event.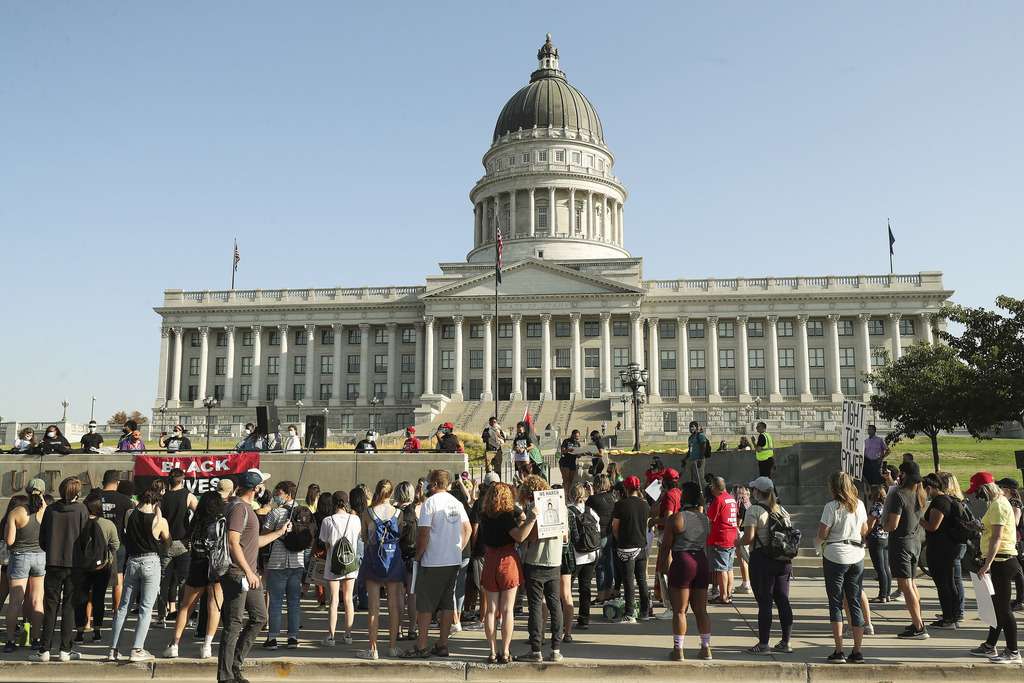 There were dozens of protests of all sizes and descriptions at the Utah Capitol in 2020, but only the May 30 protest, which became a riot, resulted in damage to the Capitol when some vandalized its columns and front steps with graffiti. The graffiti was cleaned off that same weekend.
"We are continuing to have after-action discussions with our local and federal partners about the events of May 30," Street said. He said a more forceful UHP response at the Capitol may have only inflamed tensions that day.
"At that time, going in and deciding to start putting handcuffs on people may have made the situation worse," he said. "So we made the decision to kind of pull in from the outside areas of the Capitol grounds and secure the interior of the building, knowing we could clean up whatever mess was unleashed on the Capitol during that incident."
The UHP had a larger presence at subsequent Capitol protests and kept protesters largely on the grass areas away from the building facade.
Street said that, ultimately, Capitol security is a balancing act. It's about protecting citizens' right to protest and to walk about freely inside their taxpayer-funded seat of government, while also protecting the politicians and staffers who work there — and the historic structure itself. The key, he said, is to be prepared and not be surprised.
"We're constantly taking in those 'what-if' scenarios and trying to best provide for the security of this building and the citizens of this state."
×
Photos
Related stories
Most recent Utah stories