Estimated read time: 3-4 minutes
This archived news story is available only for your personal, non-commercial use. Information in the story may be outdated or superseded by additional information. Reading or replaying the story in its archived form does not constitute a republication of the story.
SALT LAKE CITY — Bluffdale resident Connie Crapo joined several hundred other supporters of President Donald Trump on the steps of Utah's Capitol on Saturday, hours after Vice President Joe Biden was declared the winner of the presidential election.
Along with dozens of others carrying Trump 2020 flags, Crapo, 64, carried a large flag replicating the "Title of Liberty" — a makeshift banner that a revered Book of Mormon military commander, Captain Moroni, used to inspire soldiers to fight for their religion.
In the Book of Mormon, which The Church of Jesus Christ of Latter-day Saints holds as scripture, Moroni was angry with the government's indifference to freedom, and he made the "Title of Liberty" out of a piece of his coat on which he wrote, "In memory of our God, our religion, and freedom, and our peace, our wives, and our children."
Crapo, a member of The Church of Jesus Christ of Latter-day Saints, carried her own replication of the "Title of Liberty," passionate that what it stood for applied in Trump's battle against Biden, calling Democrats "corrupt."
"I am a patriot and a lover of this country. That's why I'm standing here today," Crapo said. "I love America. I love all the people in it. But I don't love any corruption from anybody or any lying or any stealing of anything. I want to know when I go to vote that there's both a Republican and a Democrat watching that poll to make sure every single vote is honest and legal. That's all I want."
Crapo was among many Trump supporters in the crowd repeating the president's accusation that the election was being "stolen" — despite lack of evidence, and despite the fact that so far Trump's claims of fraud have made little to no headway in the courts.
Crapo, a grandmother of 23 children, said she was there in the crowd "standing up for our children and our freedom, our religion and everything in our Constitution."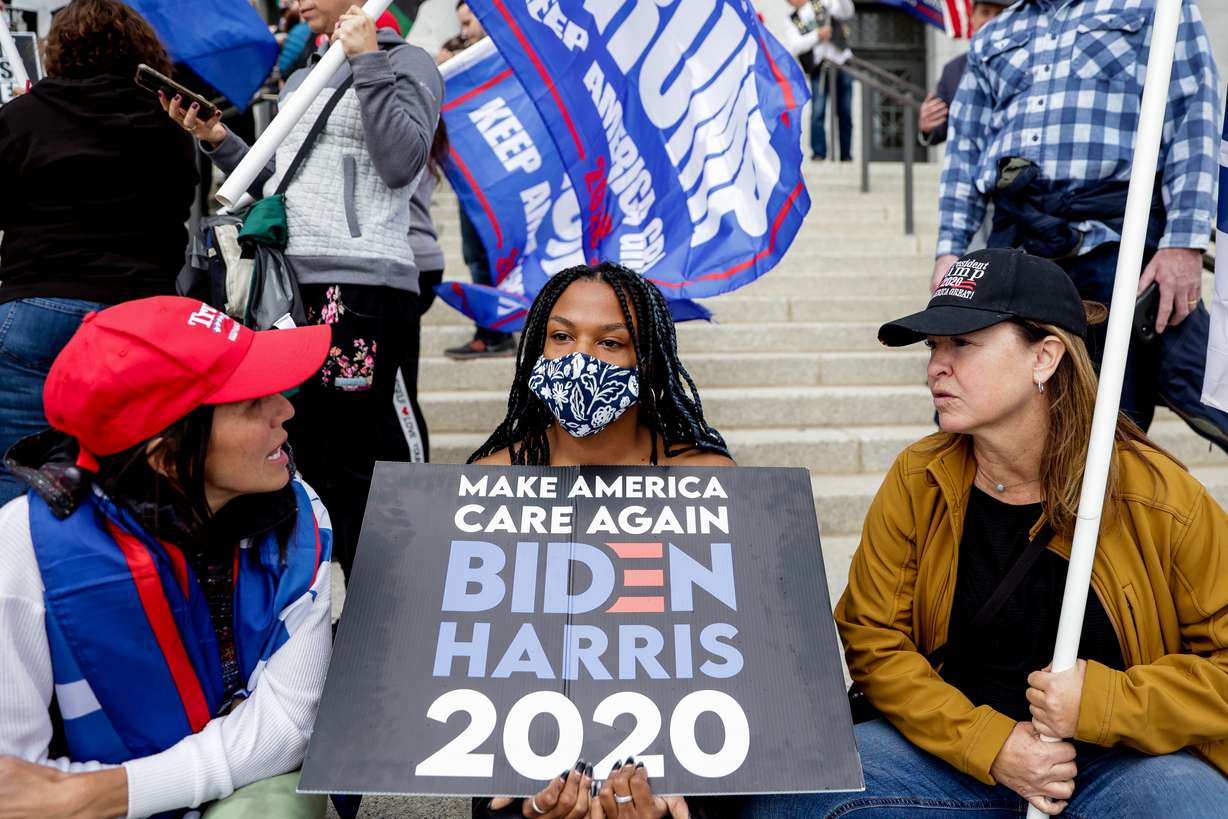 But to Ashtyn Aure, a 26-year-old who lives in Salt Lake City's Avenues who stumbled on the rally for Trump on her way to do laundry at her friends house, was left aghast and saddened by Crapo's flag.
As a Latter-day Saint, Aure said she couldn't understand how or why a fellow church member would support Trump.
"How are these my neighbors?" she said, her eyes brimming with tears and her voice straining with emotion. "I've lived here most of my life. A lot of people who live here are part of a religion that preaches love and acceptance and kindness and, you know, helping the downtrodden and the immigrants. And if any of those people are part of that religion, to support Trump is just really hard to wrap my mind around — how you can justify supporting that rhetoric."
Aure said Biden wasn't her first choice (she initially supported Pete Buttigieg and Elizabeth Warren). But she said she did ultimately vote for him, calling herself a "supporter of democracy."
Even though emotions ran high — and despite the occasional verbal altercation between Trump supporters and Biden's backers — the rally at Utah's Capitol in Salt Lake City remained mostly peaceful.
Salt Lake City police blocked several streets leading up to the Capitol to make room for protesters. Of the cars that were able to drive by the crowd, many flew Trump flags outside the windows of the honking vehicles. At one point, a Trump supporter with a trumpet played the national anthem
Biden supporters would also drive by waving "Make America kind again" signs. Some laid on their horns and booed Trump supporters. A crowd of them gathered across the street from the mass of Trump supporters in front of the Capitol, at one point dancing and blasting Queen's song "We are the Champions."
Several men who attended the rally carried large firearms and wore combat gear. Some openly displayed "Proud Boy" on their vests.
The rally persisted for several hours through drizzling rain. Eventually, most protesters dispersed. By late Saturday afternoon, Biden supporters appeared to have dominated the sidewalk where Trump supporters once stood, again playing and dancing to Queen's "We are the Champions."
×
Photos