SALT LAKE CITY — In April of 2003, Aron Ralston traveled to southern Utah for a solo canyoneering outing when the unthinkable happened.
While traversing Lower Bluejohn Canyon in Canyonlands National Park, he dislodged an 800-pound boulder that trapped his right arm, crushing it. After six days of being trapped, Ralston was able to amputate his right arm, freeing himself and saving his life.
Ralston's harrowing story has been shared worldwide through his many public speaking endeavors, in his autobiography titled, "Between a Rock and a Hard Place," as well as immortalized in the 2010 Academy Award-nominated film "127 Hours" where Ralston is portrayed by James Franco.
Now, nearly 18 years later, Ralston is sharing his story with individuals from around the world in a virtual canyoneering experience through the Utah-based fitness app iFit.
In the four-part (30 minutes each) series or workouts that are accessible to iFit customers via its app, Ralston takes people step by step through the moments leading up to the incident in Lower Bluejohn Canyon. The series is connected to the user's treadmill through the app and moves along with the change in elevation and terrain, allowing them to digitally join the famed adventurer as he guides them through the very places he traveled.
According to Ralston, being able to guide people through the canyons has been a dream come true.
"When I was approached by iFit to do this series, I was excited," Ralston said in a Zoom interview. "Before the accident, I had aspirations of being an outdoor guide, and this virtual canyoneering series has been a manifestation of that dream."
While Ralston has visited the place of the accident in Lower Bluejohn Canyon since it happened, he said that it's been seven years since he's been back to where he was trapped. Going back to where he was held under a boulder for those six days, even now, brings back very similar feelings that he had all those years ago, he said.
"Life has moved on so much since then, but the intensity of the experience is still there," he said. "It serves as an anchor to the past, as well as a beacon to the future, showing that transformation is possible. I hope that this series is able to help others realize that in themselves."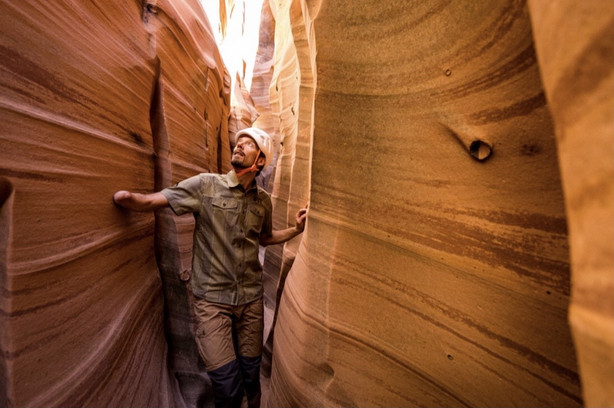 Maurine Lee, of Sandy, recently completed Ralston's series and said it was an emotional experience for her.
"Throughout the series, Aron walks you through his experience in 2003, taking you through slot canyons, and telling the story of what led to him being trapped," Maurine said. "In the fourth and final workout in the series, he gets very emotional as he talks about his experience being trapped, and what led him to have the strength and ability to free himself. At the end, there is even a helicopter hovering above, like the one that carried him out of the canyon.
"I've read his book, and watched the movie, but nothing compares to experiencing it with him as your guide. It was a very emotional experience."
Ralston said that he has heard similar things from those who have completed the virtual challenge — many saying that it should come equipped with a box of tissues. Hearing that his story has touched so many others has helped Ralston even in his times of darkness.
"Even after the accident, I have experienced challenges," he said. "I lost my dad a year and a half ago, and I've endured a divorce. I've suffered from depression. We're all faced with problems, but it's important for us to see that those problems can be reframed as possibilities."
"What I want people to realize is that this is not a horrible story about a man who had to cut his arm off; this is a story about a man who was smiling while cutting his arm off."
Ralston acknowledged that times are challenging for so many people, and he encourages people to turn those challenges into possibilities.
"Many in this world are sick and losing loved ones, and many are experiencing financial difficulties," he said. "These things can tear us down, but they can also be the very things that can make us better. I am known for the biggest mistake I ever made in my life, but it gave me the gift to turn it into something that has helped others."
---
×
Photos