PROVO — It took Shaylee Gonzales 1 minute, 32 seconds to score her first points at home in the BYU women's basketball 2020-21 season — a pair of free throws against Montana State.
What went into those two points, though, can feel like a lifetime.
Gonzales scored 18 points with three rebounds and three assists as the Cougars rolled to a 72-58 win over the Bobcats on Thursday afternoon in front of a sparse, socially distanced crowd at the Marriott Center.
Paisley Johnson Harding added 11 points and six assists for the Cougars, who got 8 points and five rebounds from Lauren Gustin in improving to 3-1 on the season.
It was a game Gonzales had been checking off days until she could return. Sure, Montana State (1-1) doesn't have the name brand of LSU or Washington, or the in-state implications of Utah State or even Utah, which the Bobcats will face Friday in Salt Lake City.
But before the game, the redshirt sophomore point guard approached BYU head coach Jeff Judkins and reminded him: "This will be my first game here in 22 months."
"I had my calendar, and I would mark off every day because I could not wait for that day," Gonzales said. "This day was big, because it was my first home game. I was looking forward to it. I was really excited to play in front of our Cougar fans again."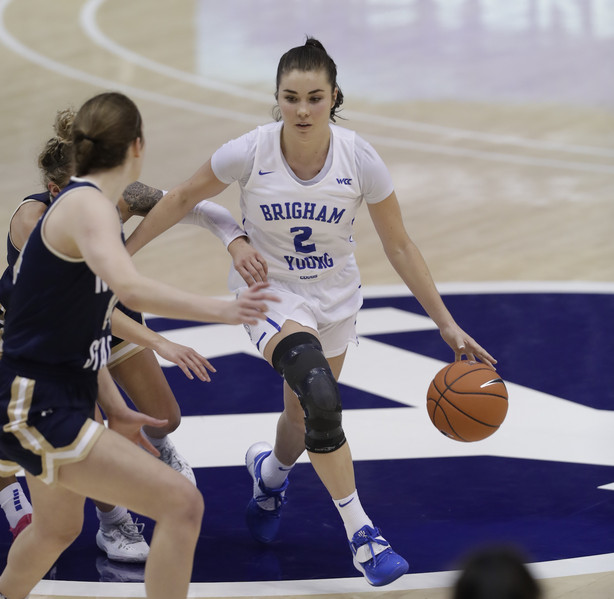 But Gonzales has been playing like she's been making up for lost time — which she has.
A year after a torn ACL sidelined the Arizona native for the 2019-20 season, Gonzales is back to her old ways, and then some.
In Thursday's game, she didn't just attack the hoop but attacked defensively, as well. In one sequence, she scored off her own inbounds pass, then forced a turnover on the Bobcats' own inbounds attempt and scored inside for 4 points in roughly five seconds.
It was a sequence Judkins had seen since he began recruiting Gonzales in high school in Gilbert, Arizona. But it was hardly the only reason he was glad to have her back.
.@shayleegonzales 4 points in 5 seconds?! pic.twitter.com/S3YULAmpbg

— BYU Women's Hoops (@byuwbb) December 10, 2020
"You're very lucky to have a player to coach a player of her talent, determination and feel," Judkins said. "Basketball is important to Shaylee; she loves basketball, and this is her life. She really focuses on it, and wants to do it.
"She's going to get better, and teams are going to try to take her away from us. But what she does the best is create shots for other people, and we didn't have that last year. This year is a lot easier because of her, and because of what she can do."
Through the first three games of the season, Gonzales was shooting at a 53.3% clip, including 52.6% from 3-point range while averaging 17.3 points, 5.5 rebounds and 3.9 assists per game. That's a team-high in two of the three primary categories, edged out by Gustin (13.7 rebounds per game) and Sara Hamson (6.9 rpg) on the glass.
In the prolonged offseason following her injury, Gonzales figured out ways to get better. When the 2019-20 season ended early due to the COVID-19 pandemic, she went home to Arizona and practiced nearly every day: against her brother, her father, or whatever boy she could drag to the gym.
"It helped a lot," Gonzales said of the offseason. "I'm not a player who gets nervous for games. But because it was my big comeback, I felt a little nervous. I'm kind of surprised at how well I've been doing. My teammates help me with that, though, getting me open shots."
Her teammates are happy to have her back, too.
In her first game back, Gonzales picked up where she left off with a 30-point outing on 6-of-7 shooting from the 3-point line to pace a 67-51 victory over LSU in the South Point Shootout in Las Vegas.
After a loss to Washington the next night, Gonzales rebounded with a 27-point night en route to an 87-66 win over in-state rival Utah State. The redshirt sophomore guard also tied for the team lead with three assists — many of them going inside to Gustin, the former Salem Hills standout and Salt Lake Community College transfer who had a 21-point, 17-rebound double-double against the Aggies.
But just as important as the on-court production is Gonzales' return to the full squad. She runs a popular YouTube channel that she'll be able to monetize once the NCAA passes new legislation surrounding name, image and likeness rights, and her TikTok account draws millions of views when she posts a new dance craze, viral trend, or behind-the-scenes look at her life as a Division I athlete.
"I love having her back," said BYU teammate Kaylee Smiler, who co-stars in several of those videos. "She's a true point guard, and when we have both Maria (Albiero) and Shaylee, we have two teams at the same time.
"Even off the court, with her TikToks," she stops, laughing, before continuing: "I just love having Shaylee back."
BYU returns to the Marriott Center at noon MT Saturday. The Cougars' tipoff against Boise State will be the first three straight contests on campus, including BYU men's basketball's rivalry showdown with Utah (2 p.m. MT, BYUtv) and football's senior night against San Diego State (8 p.m. MT, ESPN2).
×
Photos
Related Links