PROVO — BYU watched its double-digit lead dwindle to nothing in the final minutes of a top-20 road game in San Diego.
But the Cougars never gave up the advantage.
Alex Barcello scored 20 points with seven rebounds and seven assists to help BYU stun No. 18 San Diego State 72-62 on Friday afternoon at Viejas Arena.
Brandon Averette and Matt Haarms added 10 points apiece for the Cougars (7-2), who beat the Aztecs for the first time since 2011.
Matt Mitchell had a career-high 35 points for San Diego State, which rallied from a 17-point second-half deficit to tie the game in the final two minutes.
"This team is really good," BYU coach Mark Pope told BYU Radio after the game. "They've let one team score over 60 points all season, and they played a really good schedule. To come in here and get out with a win is a tribute to our guys."
BYU outscored San Diego State 30-20 in the paint, 22-11 off the bench, and pulled down more rebounds, 40-26, to keep the Aztecs at bay amid a 37% shooting afternoon.
Still, Mitchell kept BYU from blowing out the hosts with his career shooting performance. The senior from Riverside, California, knocked down back-to-back 3-pointers to pull San Diego State within 8 at 61-53 with 3:52 remaining.
Mitchell capped a 12-0 run to pull within 61-59 with 2:54, forcing turnovers and keeping the Cougars off-balance with a full-court press. The senior then dropped a transition jam through the hoop with authority to tie the game at 61-all with 1:56 to go.
🤗 @CoachMarkPope showing love to the man that secured the W for @BYUbasketballpic.twitter.com/5wz4afSRUR

— FOX College Hoops (@CBBonFOX) December 19, 2020
Haarms stopped the bleeding with a layup on the other end, and Averette's 3-pointer pushed the lead back to 4 in the final minute to help BYU improve to 49-24 all-time against the Aztecs and halt a four-game losing streak.
The result was just the third loss since the start of the 2019-20 season for San Diego State, which was selected as the preseason favorite in the Mountain West Conference.
"This is a huge win for us," Averette said. "We say this every game, but this was going to be the hardest game of the year for us. We knew how well they play defense and turn guys over, and I feel like we did a great job protecting the ball.
"This is what I came here to do: win these big-time games, and come out with these guys and compete," the Utah Valley transfer added. "It was such a phenomenal day."
BYU led for all but 3 minutes, 28 seconds inside a fanless, cardboard cutout-heavy Viejas Arena made vacant by coronavirus restrictions and played in the mid-afternoon due to California curfew protocols.
The environment may have been completely different from the 74 other meetings between the two sides, but as Mitchell led the comeback and Averette silenced the invisible crowd, Pope could feel the magic of the series — even if it was just in his mind's eye.
He does it all@AlexBarcello23 | @BYUbasketball#WCChoops
pic.twitter.com/zFJIRynaNG

— WCC Basketball (@WCChoops) December 18, 2020
"There's something about BYU-San Diego State basketball that is pretty magical," Pope said. "It's been that way for a long time, and the fact that these guys get to take part in it is pretty awesome.
"We've been doing this so long that can't you almost picture that 3," he added. "I don't know if we beat them with The Show in here. But can't you just hear the gym with the 3, and the place goes deathly silent. In my mind, that's how it felt. There were so many huge plays, but that was a fun one to talk about."
Much like he did with a career-high 16 points in an 82-64 win over rival Utah before a week-long hiatus, Spencer Johnson gave the Cougars a boost off the bench with a pair of buckets as BYU took a 5-point lead, 12-7 with 12:23 left in the half.
BYU never trailed the rest of the half, and pushed the lead as high as 17 just 14 seconds into the second half. Johnson finished with 8 points on 3-of-7 shooting for the Cougars, who got eight rebounds from Haarms and five boards from freshman Caleb Lohner.
BYU assisted on 9 of 14 field goals, led by 12 points and five assists from Barcello to hold a top-20 Aztecs team to a double-digit deficit at home, 35-20 at the break. The Cougars' bench outscored the San Diego State, 15-3, led by seven from Johnson and six from Trevin Knell at halftime.
And even if Haarms, who was two boards shy of a double-double, didn't have the offensive night some may expect from the 7-foot-3 Purdue transfer, his rim-protection was unlike anything the Aztecs had seen in five previous games of unbeaten basketball.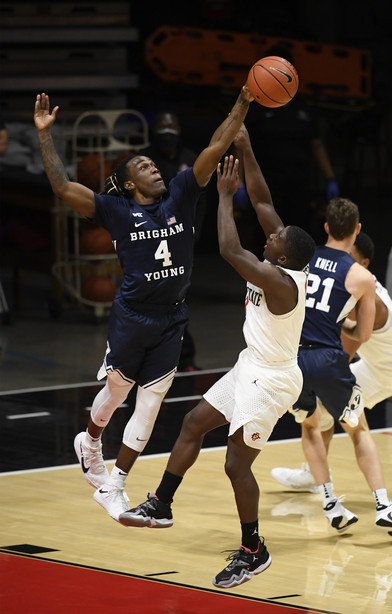 "Matt Haarms was 10 and 8 tonight, but his impact was like 50 with his rim-protection tonight," Pope said. "These guys kept getting downhill, but Matt was so long that nobody wanted any piece of it. It was unbelievable the impact he had on the game."
But like they did a few weeks ago in a 65-60 win over fellow West Coast Conference program Pepperdine, the Aztecs overcame all of their big second-half deficit. Led by Mitchell and a pair of 3-pointers from Adam Seiko, San Diego State eviscerated BYU's lead and tied the game on a fastbreak dunk with 1:56 remaining.
The Aztecs didn't score again, with Averette's triple a minute later forcing the Aztecs to foul and BYU making six free throws down the stretch to hang on. The Cougars didn't panic, and it showed less than two weeks after a loss to the other top team in the Mountain West, Boise State.
"The biggest thing is just to stay in the moment, and focus on what it's going to take each possession to cut their run," Averette recalled of those final moments. "I feel like we did a great job of doing that at the end of the game.
"We expected that at the end of the game, because they're a great team … but I think we did a great job handling it at the end of the day."
Next up
BYU hosts Texas Southern on Monday at 7 p.m. MT (BYUtv) before its annual neutral-site game at Vivint Smart Home Arena on Wednesday, Dec. 23. Tipoff against in-state foe Weber State is scheduled for 5 p.m. MT on BYUtv.
The Cougars open West Coast Conference play Dec. 31 at Pepperdine.
×
Photos
Related Links
Related Stories