PROVO — There was no letdown for BYU basketball Monday night.
Brandon Averette scored a career-high 30 points with five rebounds, and Matt Haarms added 16 points and four rebounds to lead BYU to a 87-71 home win over Texas Southern in the Marriott Center just three days after the Cougars upset then-No. 18 San Diego State.
Averette, a graduate transfer from Utah Valley who drained six 3-pointers, topped the previous mark of 23 points he had in the Wolverines' 92-80 win over Grand Canyon on Feb. 22, 2020.
Alex Barcello added 10 points and 10 assists for the Cougars (8-2), and Richard Harward added 13 points, five rebounds and four assists off the bench.
Yahuza Rasas had 15 points and 12 rebounds for Texas Southern (2-5), and Michael Weathers added 23 points for the Tigers, who never led.
Points were flying around the gym in Provo on Monday night, but Averette's play stood out.
"He's an absolute baller," said Harward, who also played with his teammate at UVU. "I've heard people were skeptical when he came to BYU, but I knew what he could do, so it's really satisfying for me to see him step into that starring role and being a reliable guy."
BYU opened the game with 6 points each from Connor Harding, Haarms and Barcello, shooting 77% from the field, including 4-of-6 from 3 to jump out to a 28-15 lead just short of 10 minutes into the game.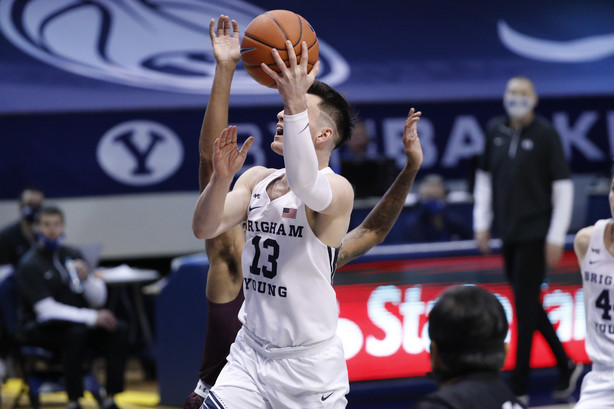 Even when the hot shooting fell through, though, the Cougars kept their lead. During a scoring drought of nearly four minutes for the Cougars later in the first half, the Tigers couldn't take advantage — shooting just 1-of-8 themselves.
Texas Southern ended the half on a 9-4 spurt, holding BYU to just one field goal over the final 3:21 to cut the deficit to 10 points, 42-32. Fueled by the quick hands and tricky dimes of Barcello, the Cougars were "owning their shots," as head coach Mark Pope likes to say — and if they weren't, they were passing into better ones.
"He's got an unbelievable sense for finding bodies and attracting (the defense). That's a way he finds more scoring opportunities," Pope said of Barcello. "If he punishes a team for bringing a second defender, teams are going to stop bringing a second defender.
"There's some good film on us right now where teams are going to have to second-guess if they want to bring a second defender on Alex Barcello."
BYU opened the second half on a 10-2 run to stretch the lead well into double-digits, and didn't let up until Weathers capped a 13-0 run to pull within 9, 61-52 with 8:50 remaining.
Unlike Nov. 30, when the Tigers used a similar run to top Wyoming 76-74 in Laramie, the Cougars didn't let them get any closer.
Averette and Harding hit back-to-back 3s, and BYU never felt seriously threatened again by a visiting SWAC opponent that also played close games with Washington State, Saint Mary's and Auburn.
But when the Cougars needed a bucket, it was Averette's turn to shine. The fifth-year senior who also played at Oklahoma State hit 6-of-13 3-pointers and attacked the rim with six foul trips (four made free throws).
"I took on that mentality tonight," Averette said. "I missed a few early, and I kept telling myself if they are going to keep leaving me open, I'm going to have to take it.
"But I felt confidence after the other night, and then just shot it and owned it. It felt good."
More importantly, the Cougars survived the Tigers on a quick turnaround. BYU flew home from San Diego on Friday evening, arrived in Provo by bedtime, and practiced Saturday. Like all teams affiliated with the school's sponsoring institution, the Cougars didn't practice Sunday, either — leaving just the one practice and a walk-through Monday morning to prepare for the Tigers.
In many ways, BYU's players were stressing about Texas Southern more than they did San Diego State, Averette admitted, with Harward giving props to Pope and his staff of assistants, namely Cody Fueger and Chris Burgess, for the quick turnaround.
"Right after the SDSU game, he said this game would be one of the toughest games of the season because of the setup," Harvard said. "It was a good mental teaching for the guys, and I think it will help us in the middle of conference play, where we don't have as much time to prepare. It was a great learning experience for the squad."
Next up
BYU finishes out nonconference play Wednesday against in-state foe Weber State. The game, which will be played at Vivint Smart Home Arena, will tip off at 5 p.m. MT.
×
Photos
Related Stories