PROVO — If there was any doubt who the leader of BYU basketball was prior Saturday night, one senior answered the question as well as anyone.
He hails from Chandler, Arizona and is in just his second year in the program after transferring from Tucson.
Alex Barcello had 20 points, seven rebounds and three assists, and Matt Haarms added 10 points on 4-of-5 shooting in his BYU debut to help the Cougars to their third-straight win, 82-60 Saturday night over crosstown rival Utah Valley in the Marriott Center.
Connor Harding added 11 points for the Cougars (3-0), who shot 11-of-25 from 3-point range despite missing their first eight.
"He's been dominant for us so far, and we ad a great plus-minus for us. He's out there when we need him," Haarms said of Barcello. "We had a stretch when we were struggling, he came off the floor, and then he came back and slowed it down. Off the court, as well; he's the guy who speaks up for. We're looking to him if it starts getting a little tougher and to make sure we get through it."
UVU transfer Brandon Averette added 11 points, five rebounds and six assists for the Cougars, who got 10 points, four rebounds and three assists from Trevin Knell.
Trey Woodbury had a career-high 24 points, five rebounds and three assists for the Wolverines (1-1), and J.J. Overton added 21 points and eight rebounds.
"These in-state games are hard, and we play them because they're hard," said BYU coach Mark Pope, who spent four years at UVU. "That's exactly why we want them. It exposes you, and you get to know more about yourself in these games than a normal game."
With the absence of Gavin Baxter due to a season-ending knee injury suffered Thursday night, former Wasatch Academy standout Caleb Lohner earned his first star in a BYU uniform.
But it didn't take long to see the Cougars' other big man: Haarms, the 7-foot-3 Purdue transfer who checked in at the 16:34 mark of the firs half.
Haarms scored his first points moments later on a two-hand slam off a feed from Gonzaga transfer Jesse Wade.
But it was UVU's Woodbury who made the biggest early splash, canning three 3-pointers to help the Wolverines build an 18-10 lead midway through the first half. BYU went 0-for-6 on their first attempts from deep while trailing by as much as 10.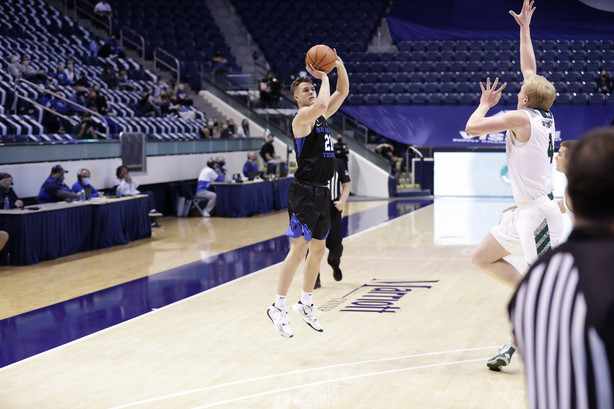 But Knell finally buried a three on the Cougars' eighth attempt with 9:49 on the clock, sparking an 11-2 run that included a pair of triples from Alex Barcello. The 6-foot-5 sophomore from Woods Cross missed a 3-pointer moments earlier, but Lohner corralled the rebound — one of just six offensive boards the Cougars gathered on the night — and immediately dished it back to Knell for the follow-up.
Knell didn't even think twice before letting it fly — and the Cougars were off and running.
"Coach Pope says if we go 0-for-16, we keep shooting. We've got to just keep owning our shot, and trust the process.
"I didn't even know we missed that much. I just knew that if I got it back, I was shooting again. Coach Pope trusts us so much that he trusts us to shoot the next one, as long as we own it and do everything else on the court."
Barcello took care of the rest, hitting 5-of-6 3-pointers to help turn a 10-point deficit into a lead that ballooned as high as 22.
BYU ended the half on a 25-4 run, holding the Wolverines to two field goals in the final 9:33 before Barcello hit his fourth 3-pointer of the game at the halftime buzzer.
"That five seconds was like a video game, wasn't it? Didn't you feel like 2K with Alex Barcello?" Pope asked, rhetorically. "It was pretty spectacular."
HUGE 3 from @AlexBarcello23 to put the Cougars up 21-20 over the Wolverines 🔥#BYUHoops#GoCougspic.twitter.com/rY0V2roGXN

— BYUtv Sports (@byutvsports) November 29, 2020
After building a lead as high as 20 points in the second half, BYU went cold late down the stretch. The Wolverines used an 11-0 run, capped by Overton's layup with 5:33 left, to pull within 68-57.
But Barcello cut the three-minute scoring drought with a pullup jumper moments later, and the Cougars held UVU scoreless for three minutes down the stretch to secure the double-digit victory.
Down low, the Cougars also went to work.
BYU outscored the Wolverines 28-20 in the paint, with five blocks, holding UVU standout post Fardaws Aimaq to just 3 points and 7 rebounds on 1-of-9 shooting.
"Our focus was mostly on the bigs was on Fardaws," Haarms said. "Him and Woodbury really stood out to us as their 1A and 1B options. I think they have two really talented players, and we did a great job of containing one.
"Woodbury starts at the four, but he's basically a guard. We did a good job on one, but have to be a lot better on the other."
Injury update
Gavin Baxter was ruled out for the season Saturday with a confirmed ACL tear, the worst-case scenario and what the Cougars hoped wouldn't happen to their starting power forward with a 7-foot wingspan.
On a night BYU lost one of its top post players for the season, the Cougars gained another one in Haarms, who played through a 10-minute limitation to put in 10 points and three fouls in 12 minutes.
"He really helped us, too; losing Gavin, we knew that would be a big problem," Pope said. "That's a huge loss for us.
"The best thing for Matt is that he made it through the night injury-free, and his ankle was OK. I'm super grateful that he's back in the mix, for sure."
Next up
BYU will travel to "Bubbleville" in Uncasville, Connecticut to face USC in the first of three-straight road games Tuesday, Dec. 1. The game, which will tip off at 12:30 p.m. MT, will be broadcast on ESPN2.
The Cougars' next home game is Wednesday, Dec. 9 against Boise State.
×
Photos