SALT LAKE CITY — Failure to address needed repairs in infrastructure like high hazard dams, bridges, wastewater treatment systems and even levees designed to hold back floodwaters costs the average U.S. family $3,400 in disposable income each year, according to findings by the American Society of Civil Engineers.
And in extreme cases it costs lives.
In a report card grading Utah's infrastructure released Wednesday, the state received a cumulative grade of C+, which is the same overall grade it received five years ago when the last assessment was released.
While receiving the same marks might indicate a lack of progress by Utah, the society says that assumption shouldn't be made.
"The grade is one of the highest in the nation," said K.N. Gunalan, past president of the American Society of Civil Engineers. "Utah should be very proud."
Wonder how those costs add up for families?
The easiest place to point is roadways in disrepair, which can throw up rocks and other debris to damage vehicles, said Craig Friant, chairman of the 2020 Report Card for Utah's Infrastructure and past president of the Utah section of the American Society of Civil Engineers.
Another is unsafe drinking water systems that force people to the grocery store to seek an alternative supply of potable water.
The report card delivers grades in 12 infrastructure categories: aviation, bridges, canals, dams, drinking water, hazardous waste, levees, solid waste, stormwater, roads, transit and wastewater.
Utah's highest grade of B+ was given in categories of bridges/roads and transit, which the engineer society said are demonstrative of the state's strong commitment to moving motorists around more efficiently.
"Utah is home to some of best performing transportation infrastructure in the nation," Friant said.
Specifically, the report card points to the state ramping up to fix structurally deficient bridges over the last five years, resulting in a 40% decrease in the number that need attention. That effort resulted in Utah being ranked fourth in the nation for the least number of deficient bridges with only 1.7% graded as deficient.
The state has also directed its energy to expand bridge capacity, the report card said, noting that it has demonstrated leadership by adding 30 to 40 bridges each year to handle population growth and the resulting increase in traffic.
"By alleviating congestion we are also reducing emissions and improving air quality," Friant said.
Friant also pointed to the massive improvements made to I-15 along the tech corridor in Utah County and the widening of U.S. 89 that is underway in Davis County.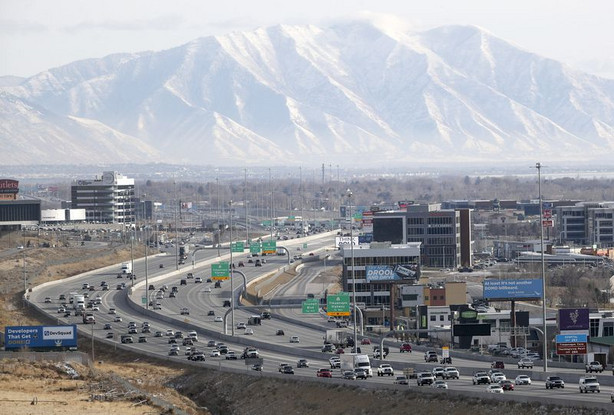 The state also ranks fourth in the nation for the condition of its "arterial" roadway pavement, which Friant said signifies the state's attention to keeping those alternative routes in good shape.
Utah's worst grade came in the levee category, with the state getting dinged with a D- for not instituting fixes that would help avert property damage, injuries or even loss of life due to floods.
The report card said there are an estimated 125,000 residents in Utah who are protected by the levee flood control system that should it fail, risks $10 billion in property damage.
There are between 102 and 112 miles of levees across the state, with 252 segments that are 60 years or older.
Floods are the greatest natural disaster threat to Utah residents, with 30 recorded deaths since 2000, the report card notes.
The state has not concentrated its efforts to improve these levee systems, but rather has directed its limited planning to emergency response, the society emphasized. With the absence of state and federal funding, however, the report card did note that local areas have taken on the task to institute improvements. Those areas include Cache, Weber, Iron and Salt Lake counties.
Canal infrastructure received a below average grade of D, with many of these canals over 100 years old and in danger of collapse.
There are an estimated 5,300 to 8,000 canals in the state, most of them earthen embankments and cut ditches. While the threat used to be flooded fields should they fail, population growth leaves homes, businesses and industry vulnerable, the engineer society noted.
Other grades include aviation, C, mostly for updates needed to regional airports; drinking water systems, B–; wastewater treatment systems, C; and dams at C+.
The report card recommends a number of steps the state could take, including the development of a comprehensive risk assessment and a mechanism to prioritize funding for levee flood control and canal projects.
It also recommends an accelerated schedule to make improvements to dams, which on the current pace in Utah will take 60 years to repair in contrast to more aggressively instituting fixes to safeguard dams within 25 years.
In addition, it advises Utah should implement a "life cycle cost" of stormwater, wastewater and drinking water systems by adopting statewide guidelines on construction, operation and maintenance that also includes seismic resiliency and sustainable practices.
In the area of transit, the society said increased attention is needed in improving access to underserved and multicultural communities.
The full report will be released in January.
×
Related Stories