Estimated read time: 7-8 minutes
This archived news story is available only for your personal, non-commercial use. Information in the story may be outdated or superseded by additional information. Reading or replaying the story in its archived form does not constitute a republication of the story.
PROVO — Not even a global pandemic could slow college football's coaching carousel.
Nine universities have cut ties with their head coaches in 2020, including Utah State, which fired Gary Andersen on Nov. 7 and formally replaced him with former Arkansas State head coach Blake Anderson on Saturday.
One of the latest coaching searches already has replacement candidates that span the Wasatch Front. When Arizona parted ways with Kevin Sumlin after the former Texas A&M coach's 0-5 season (and a 9-15 record in three years), it didn't take long for reports to peer toward the Beehive State to find his replacement.
BYU's Kalani Sitake and Jeff Grimes, as well as Weber State's Jay Hill, have all been fingered as potential candidates to replace Sumlin in Tucson. Would any of them take it?
According to USA TODAY Sports, other potential candidates include former Washington and UCLA head coach Rick Neuheisel; USC offensive coordinator Graham Harrell; and former BYU quarterback Steve Sarkisian, who is currently Nick Saban's trusted offensive coordinator at Alabama.
But here are the three highest-profile local names to keep an eye on.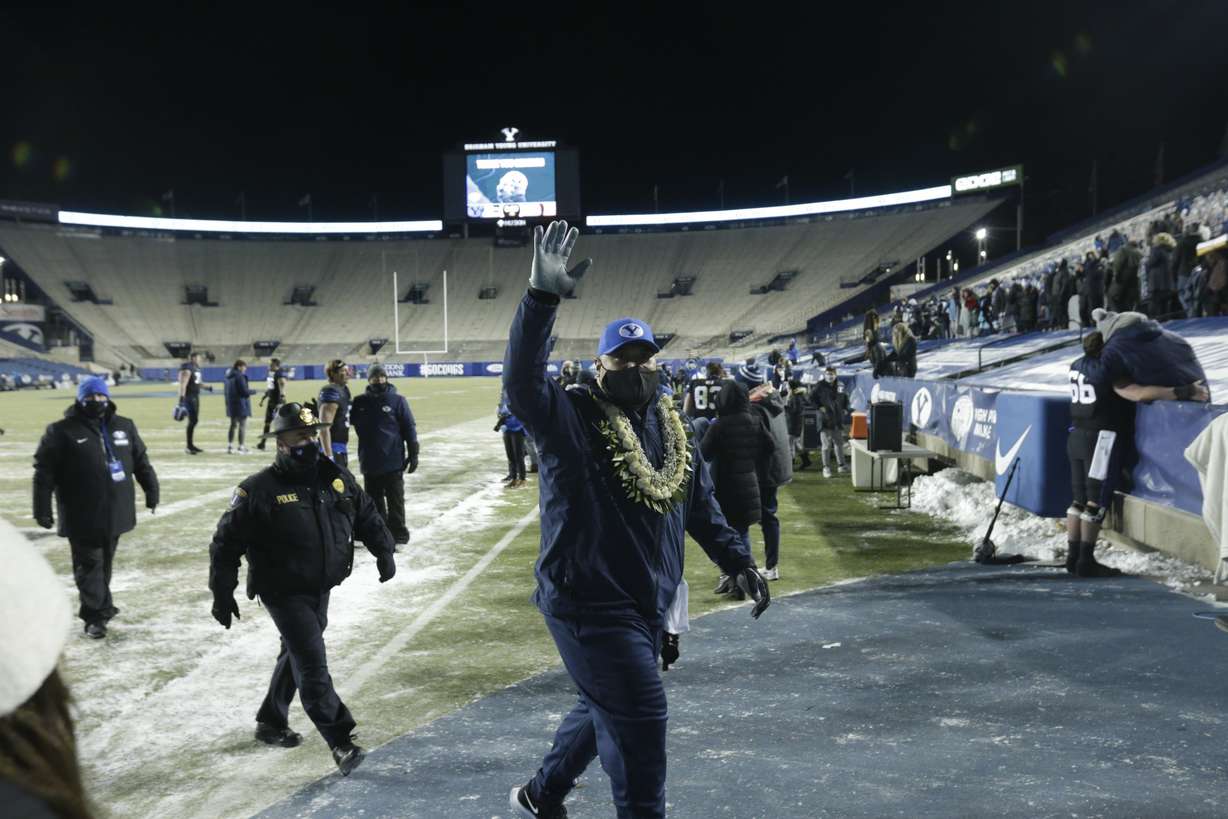 Kalani Sitake, head coach, BYU
The first name on the list is simultaneously obvious and also a shock.
According to a report first issued by Yahoo Sports' Pete Thamel, BYU head coach Kalani Sitake is one of a handful of sitting FBS head coaches who could be identified by the Wildcats.
The list also includes Boise State's Bryan Harsin, Nevada's Jay Norvell and San Jose State's Brent Brennan, so the early reporting could be constricted to coaches in the western United States.
Candidates to replace Kevin Sumlin at Arizona: Boise's Bryan Harsin, BYU's Kalani Sitake, Nevada's Jay Norvell, Navy's Ken Niumatalolo, SJSU's Brent Brennan, Oregon DC Andy Avalos, USC OC Graham Harrell and Weber State's Jay Hill.

— Pete Thamel (@PeteThamel) December 12, 2020
But the Arizona administration is extremely familiar with Sitake. In five seasons leading his alma mater, Sitake compiled a 37-26 record, including a 10-1 record and top-20 national ranking in 2020 — the Cougars' first 10-win season since 2011.
His tenure started, ironically or not, with a win over the Wildcats — a come-from-behind 18-16 victory on then-freshman kicker Jake Oldroyd's first collegiate kick at the home of the NFL's Arizona Cardinals in Glendale, Arizona.
Sitake and the Cougars added another win over Arizona, a 28-23 upset in Tucson in Sumlin's debut as the Wildcats' head coach. Even if the overall results haven't always been striking for Sitake, first impressions matter — and he has left two lasting impressions on the Arizona administration.
But Sitake is also a true blue Cougar — loyal, strong and true. The fullback on LaVell Edwards' final BYU team in 2000, Sitake recently signed an extension with his alma mater through the 2023 season.
He's even previously joked that he wants to be "the Polynesian LaVell Edwards," and that he would enjoy staying in Provo for as long as he is wanted. After a 10-win season, it's anticipated that the BYU faithful — not to mention university officials — would like to keep him around.
But in college football, money talks. And Sitake's reported annual salary of around $1.5 million (BYU contracts are not available to public records requests, as a private university) could easily be doubled — or more — by the Wildcats, if they want him enough.
How much would it take to lure Sitake away from what he once described as his dream job?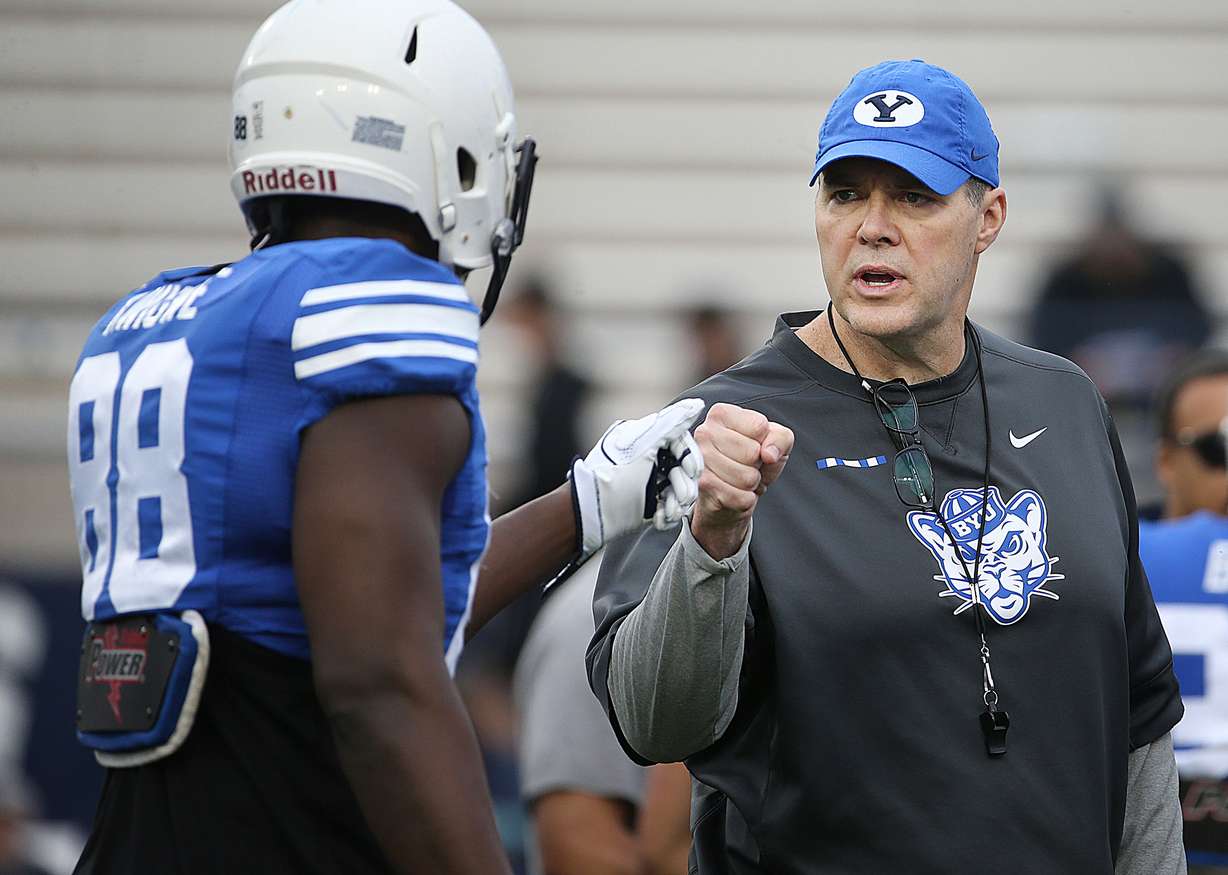 Jeff Grimes, offensive coordinator, BYU
It's hard to find an assistant coach who has revitalized a program like Grimes has with BYU.
Coming in after Sitake shook up his offensive coaching staff following the disaster 4-9 campaign of the 2017 season, Grimes led a complete turnaround of the culture and personnel in Provo. With a rising star quarterback like Zach Wilson, a veteran offensive line led by NFL hopeful Brady Christensen, and skill position players Dax Milne, Gunner Romney, Tyler Allgeier and Lopini Katoa, the Cougars have put together the 10th-ranked total offense in the country in 2020, averaging 510.1 yards and 43.0 points per game (a 16-point jump from 2019) en route to the first 10-win season in Provo since 2011.
"Grimes is bound for a promotion after leading the offense for the best BYU team in the last quarter-century," CBS Sports college football reporter Dennis Dodd wrote. "Quarterback Zach Wilson, left tackle Brady Christensen and receivers Dax Milne and Gunner Romney are considered future pros. Grimes has the distinction of being Les Miles' last offensive line coach at LSU."
According to several sources around the program, Grimes' tenure with BYU always had a time limit — though how long that limit will last has remained a mystery. His position as offensive coordinator with the Cougars is maxed out in terms of career advancement, because of BYU's policy requiring head coaches to be an active member of the school's sponsoring institution, The Church of Jesus Christ of Latter-day Saints.
Sitake has even openly admitted that his staff is "full of future head coaches," and he's extended the compliment to several players on the 2020 roster. Eventually, Grimes will get an opportunity to be a head coach, and Sitake won't begrudge him for jumping at the opportunity.
So while he's open to staying at BYU — Grimes and Sitake have formed a striking duo as head coach-offensive coordinator in three seasons — there's little doubt from those around the program that the one-time assistant at LSU, Virginia Tech, Auburn and Colorado, among other stops, will eventually depart to take over his own program.
Arizona also makes sense. In addition to his responsibilities running the Cougars' offense, Grimes, who was the offensive line coach at Arizona State from 2001-03, has also been in charge of recruiting Arizona for the Cougars. Among others, he helped bring in players like four-star quarterback Jacob Conover and wide receiver Gunner Romney, who were teammates at Chandler High School, from the Grand Canyon State to Provo.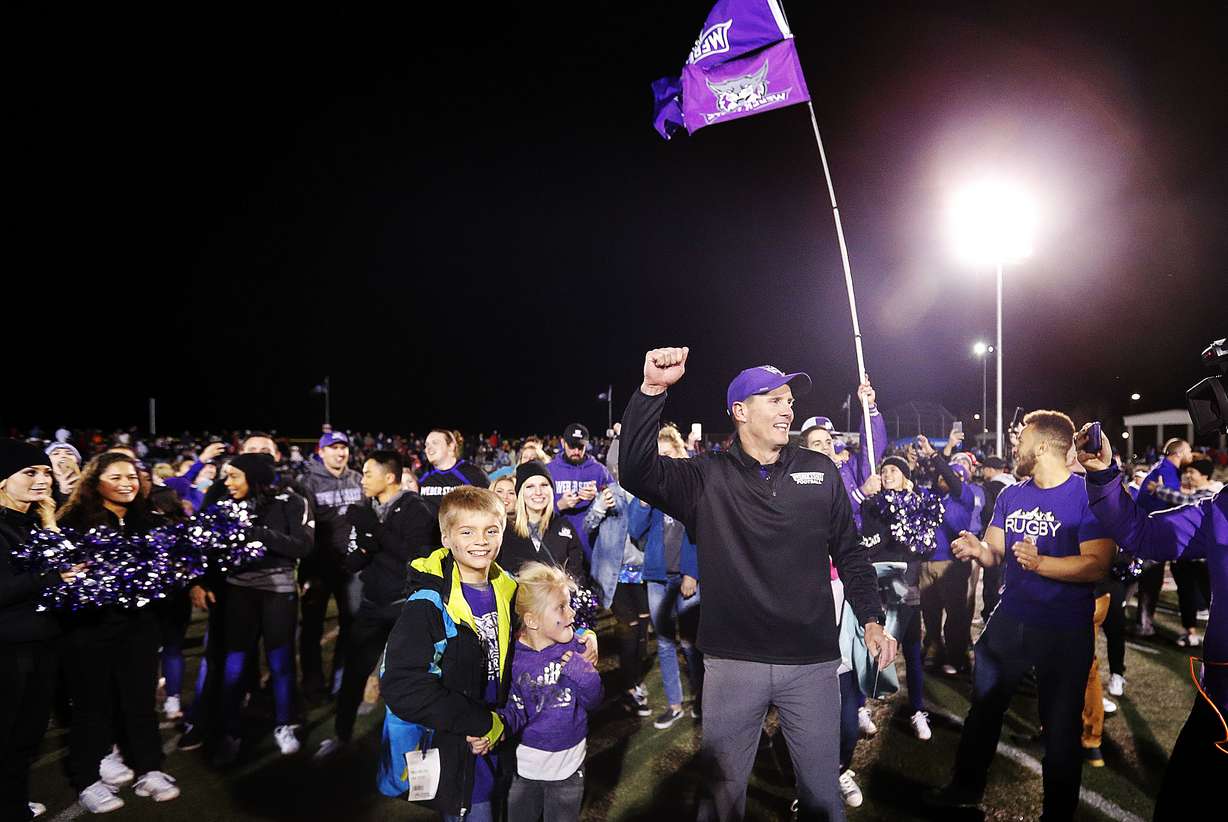 Jay Hill, head coach, Weber State
One of the top rising coaches in college football, Hill has "mutual interest" with the Wildcats in the Arizona job, as first reported by Wildcat Authority, the 247 website for Arizona sports.
In six seasons as a head coach, it's hard to argue the 45-year-old Hill doesn't have a bright future in coaching. The one-time Utah assistant hired in 2013 led the Wildcats to four straight appearances in the FCS Playoffs — half the program's total number of postseason bids, all-time — including a run to the semifinals in 2019. He's currently looking to build on that success when Weber State opens the six-game FCS spring season Feb. 27 against Idaho State.
After starting out 2-10 in 2014, Hill is 47-29 as a head coach in Ogden, including a 34-14 mark in Big Sky play that includes three straight seasons as a conference co-champion. He's currently under contract through the 2023 season.
But Hill, who was born and raised in Lehi and played cornerback at Ricks College and the University of Utah, has long been viewed as a strong candidate to replace Kyle Whittingham at the U. once the tenured defensive-minded coach elects to hang it up. It's for that reason that Hill, who lives with his wife Sara and four children in the Ogden area, has scarcely sought to leave the area, despite interviewing twice for openings at Utah State.
He's also never run a program on the FBS level, and has only coached at two institutions, including his alma mater where he started as a graduate assistant in 2001.
Would a big-money contract and chance to coach a Power Five team in Tucson finally tempt him to leave his comfort zone?
×
Related links
Most recent BYU Cougars stories