Estimated read time: 8-9 minutes
This archived news story is available only for your personal, non-commercial use. Information in the story may be outdated or superseded by additional information. Reading or replaying the story in its archived form does not constitute a republication of the story.
SALT LAKE CITY — More than 100 students who attend Salt Lake City schools rallied at East High School Monday, urging the school board and administrators to resume in-person learning.
Students read letters to administrators urging a return to classrooms because they are failing in school, struggling emotionally and having a hard time paying attention after months of online schools. The students were joined by about 20 adults, mostly parents.
Ella Fiefia, a seventh grader at Clayton Middle School, said students need to be back in school.
"Our grades are failing us, and we need to be in school because it just helps us learn more efficiently, and it's just a part of our life," she said.
Fiefia said she also misses the social aspects of school.
"I feel like when we don't socialize, I feel like we're losing a piece of ourselves. It's part of everyone's lives," she said.
Luke Williams, a ninth grader, said he asks his mother every day to enroll him in school that meets in person.
"This isn't working," Williams said in a press release. "I thought I would be OK, but I'm not."
There is growing evidence that many students in Salt Lake School District are struggling academically and socially.
The number of high school students who are completing assignments has plummeted compared to the first quarter of 2019.
Moreover, 4,057 junior high and high school students received an F or incomplete grade during the first quarter of school — up from 1,506 a year ago, according to school district data.
Salt Lake schools have operated solely by remote learning since the start of the academic year, the only Utah school system to select that option. Most public schools returned to in-person learning, at least part time, but most districts have also offered an online learning option to students.
In the Salt Lake District, remote learning has drastically reduced COVID-19 spread in elementary, middle and high schools compared to other districts that meet in person, according to Salt Lake County Health Department data. There have been 197 total cases, including adults, in Salt Lake schools.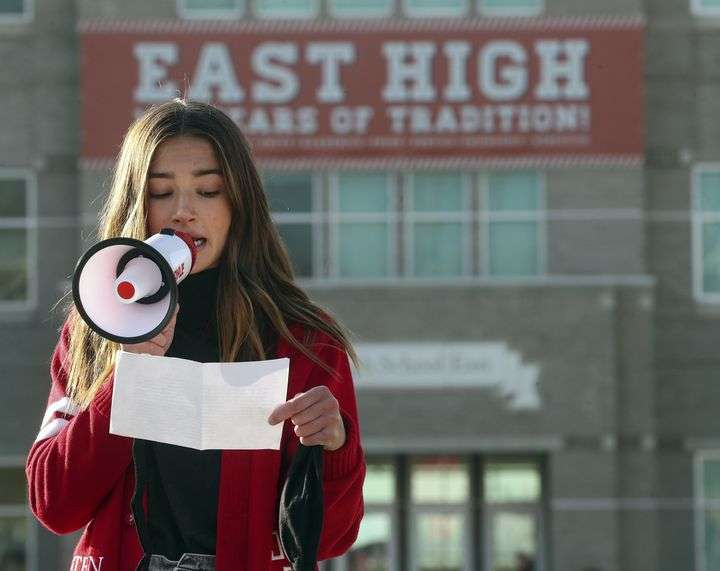 Jordan School District has exceeded 2,500 cases. Jordan District serves 56,102 and its students meet in person with teachers four days a week and learn virtually on Fridays.
Schools that meet in person have different challenges, such as the occasional need to pivot to online learning due to numbers of active cases that have exceeded state guidelines, numbers of students or staff in quarantine, or the inability to hire sufficient numbers of substitute teachers.
Weber School District officials, for instance, announced Monday that Bonneville High School was moving to online learning for the next two weeks because the school had 22 active cases of COVID-19. This is the second time the school had to pivot to online learning.
In Salt Lake, Masae Vatuvei, a mom of three children in district schools, said her kids have struggled academically and emotionally with online learning.
She cut her hours at work so she can be home to help her kids with their schoolwork. One of her children attempted suicide after learning that school would be conducted online, she said.
An older son who plays football for West High School has been offered Division I scholarships, but those offers won't materialize if he doesn't get his grades back on track. He's enrolled in a separate online program for credit recovery to make up for failing grades he received the first quarter, she said.
"His college depends on this, you know, and especially for me because I can't afford it," she said.
Vatuvei said she understands the risks of COVID-19. "We absolutely know it's real," she said, adding that she fully appreciates that some people would not risk their health in a school setting, but for others there needs to be an in-person option.
"For those who are pretty healthy, they just want that choice, you know, to choose for themselves to attend school," she said.
Viviena Wolfgramm, a junior at Highland High School, said she wants that option. If the school board doesn't act soon, she said she will likely transfer to Skyline High School in Granite School District.
This is the year she takes the ACT test, which some colleges use for admission purposes, and she's worried she won't be prepared after months of online learning last spring and this fall.
"It's been really hard. I'm no longer motivated. I used to be a student that enjoyed challenging myself but now I just kind of dread it," she said. Her younger siblings' enthusiasm for learning has also diminished.
Wolfgramm said the school district needs to give students options.
"I do have respect for the people that like online and they have an OK time learning on that. I think that's great. But I think for those who would like to learn in person that they should have an option, too," she said.
---
It's been really hard. I'm no longer motivated. I used to be a student that enjoyed challenging myself but now I just kind of dread it.
–Viviena Wolfgramm, a junior at Highland High School
---
Rysa Ly, a senior at East High School, where she is a student body officer, said she would support a hybrid model, anything to "just at least get one day back in."
Ly said she misses social connections and her grades have suffered.
"Learning on Zoom is kind of like teaching yourself. Instead of having sort of a teacher or professor or even just in elementary, being online is basically teaching yourself. As much as the teacher is trying to help you and trying to educate you on the subject or on the topic, you simply just can't get enough of it because you need that face-to-face interaction," she said.
She worries about how online learning will impact her ability to compete for scholarships.
"Not having that academic advantage like everyone else when they're going to school is very worrisome," Ly said.
An email to Clayton Middle School parents said about 30% of all Clayton students received one or more failing or incomplete grades while just under 10 students failed all their classes.
"Parents, if your family is experiencing extenuating circumstances, I urge you to share this information with me and/or with your student's teachers so we can find additional ways to support you," wrote Principal Dallin Miller.
Attendance is an issue. "The majority of the Fs are because students are not attending their classes," Miller wrote.
For November 2020, Clayton's average attendance was 89.8%, according to district data. According to the Utah State Board of Education school report card, Clayton's consistent attendance rate was 95.3% during the 2019-2020 school year.
Glendale Middle School recorded a 76.56% attendance rate in November, according to the school district, while its consistent attendance rate for the previous school year was nearly 91%.
The impacts of chronic absenteeism on academic progress are well documented.
"Students who are chronically absent are missing critical instruction time and are at the greatest risk of falling behind and dropping out of school," according to the University of Delaware Center for Research in Education and Social Policy.
The district's attendance data did show some positive trends. Some elementary schools had high attendance averages in November, with Emerson Elementary School at 98% and Meadowlark Elementary at 97%, both higher than last year's average, and Beacon Heights at 97%, which was consistent with that school's average for all of last year, according to state data.
Average attendance for the district's traditional high schools — East, West and Highland — hovered in the 80% range in November, with Highland at 84.3%, East at 82.6% and West at 80.9%, according to district data.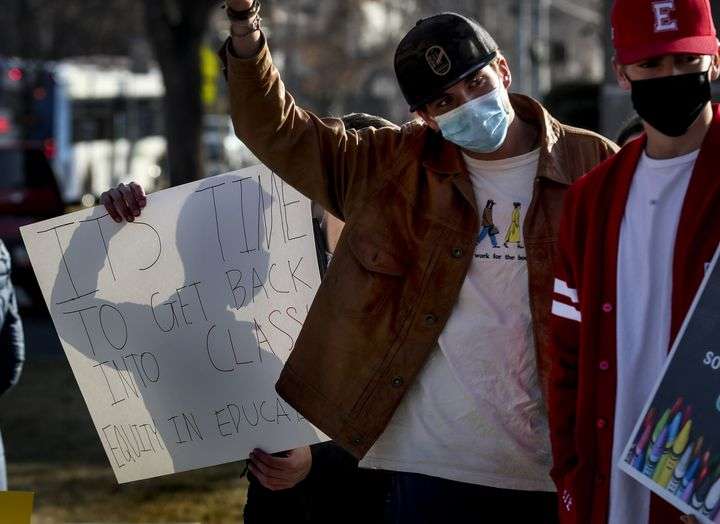 Peter Gardner, a high school senior, said fewer of his classmates show up to Zoom classes each day.
"I'm worried they're starting to disconnect from online school and I wonder if they're OK," he said.
Tucker McCormick, a ninth grader at East High School, said he prefers to be in school with friends and learn from teachers in person. If people follow safety protocols, in-school learning could resume, he said.
"I definitely don't want to get (COVID-19), but I think if everyone just wears a mask, I (would) feel comfortable," he said.
McCormick noted that it's been nine months since Salt Lake students have been in their schools between last spring's soft closures and the school board decision to start the school year by remote.
"I'm so sick of it. It's hard to focus. My parents work and I just hang out by myself. It's depressing," he said.
The Salt Lake School Board voted recently to allow elementary students to return to in-person learning in phases starting in January, but did not act on a specific plan for middle or high school students. The board's next scheduled meeting is Jan. 5.
Parent Emily Bell McCormick said even a hybrid schedule "would be so much better than nothing at all."
She wants kids back in school despite rising COVID-19 cases but wants online learning to still be available for students or families dealing with compromised health.
Giving kids a controlled atmosphere would be preferable to students doing whatever they want away from school.
"A lot of the studies that are coming out now are showing that it's not the school setting where kids are typically getting it because in the school setting, they have to abide by certain safety protocols. The problem is, these kids are getting together after school and hanging out anyway because they are going nuts. So they're not using those safety protocols when they're together," she said.
Interim Superintendent Larry Madden did not address issues raised at the rally specifically but said in a statement that "the district has always been supportive of students engaging in their communities and safely exercising their First Amendment rights. Today's student rallies are no exception.
"We welcome student voices — especially on issues that directly impact them — and encourage our students to continue to speak out on issues that are important to them."
×
Photos
Related stories
Most recent Education stories