Estimated read time: 2-3 minutes
This archived news story is available only for your personal, non-commercial use. Information in the story may be outdated or superseded by additional information. Reading or replaying the story in its archived form does not constitute a republication of the story.
PROVO – Volunteers from the nursing school at Brigham Young University have tested 8,000 students for COVID-19 before they head home for Thanksgiving. It is a huge effort that they pulled together with very short notice.
The university has asked as many asymptomatic students as possible to volunteer for the tests. The testing center opened only two days ago and already thousands of students already have been given their results.
Doing the right thing may look a bit unusual in 2020. It may include getting a swab shoved up your nose.
"I don't want to feel bad and get anyone sick, you know," said Seth Rios, one of the students checking his health ahead of the holiday.
Henry Vanslooten was one more than 100 volunteers who signed up to make this happen.
"This is, I guess, kind of what nursing students live for," he said.
A few days ago all of this might have seemed like a long shot to pull off.
"This is what we do as nurses. We jump in and help when help is needed," said Dr. Julie Valentine who has been training the volunteers.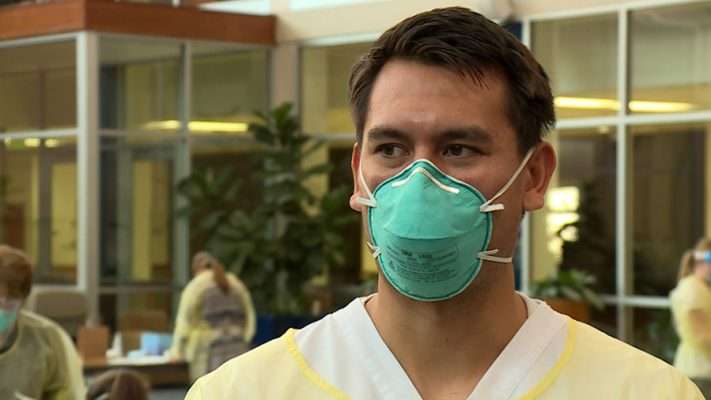 Many of these students are preparing for finals, Valentine said, yet many still jumped at the chance to help. They signed up for a total of 144 shifts in just a few hours.
"It warmed my heart. I mean, it just made me think, 'what amazing nurses they will be.' That they saw a need, that nursing care and healthcare was needed and they said 'alright, tell us what to do,'" she said.
They felt it was important work — checking for asymptomatic carriers to reduce the holiday spread of COVID-19.
Related:
"Especially among college students and the college population. I think people our age have a tendency to be not as good at social distancing or wearing masks," Vanslooten said.
It takes just a few minutes once students get through the line. Now some of them know how to handle their time away.
"Being with Grandma and Grandpa," Dr. Valentine said. "We need to know, for those students that are asymptomatic, if they're a positive test – if they could possibly be a carrier."
×
Related stories
Most recent Utah stories