Estimated read time: 12-13 minutes
This archived news story is available only for your personal, non-commercial use. Information in the story may be outdated or superseded by additional information. Reading or replaying the story in its archived form does not constitute a republication of the story.
SALT LAKE CITY — Utah's universities are gearing up for expanded testing as a part of a state emergency issued by Gov. Gary Herbert that went into effect Monday afternoon.
At the same time, state officials said the increased testing for students and staff with or without symptoms may be just the beginning of increased testing of younger individuals in the state.
How Utah's universities plan to test students regularly
The state of emergency, which was revealed by the governor in a pre-recorded message Sunday night, was issued as state leaders say Utah hospitals are at the brink of overcapacity. It offers four points, including a plan for all public and private higher education students and staff who attend campuses in person or live on campus at least once a week.
Dr. Angela Dunn, the state's epidemiologist, explained that the idea came from a meeting between Utah leaders and leaders from the U.S. Centers for Disease Control and Prevention held at the end of October.
"They assured us that if we use all of our rapid testing, that they would supply us with more; and they pushed us — as they didn't with a lot of other states — to increase our rapid testing among university students in that setting in particular," she said, during a press briefing Monday morning.
"It is a little bit easier to get it off the ground because the infrastructure is already in place at a lot of our universities," she added. "And we do know that age group has been responsible for a lot of our cases in the start of the surge we're currently in."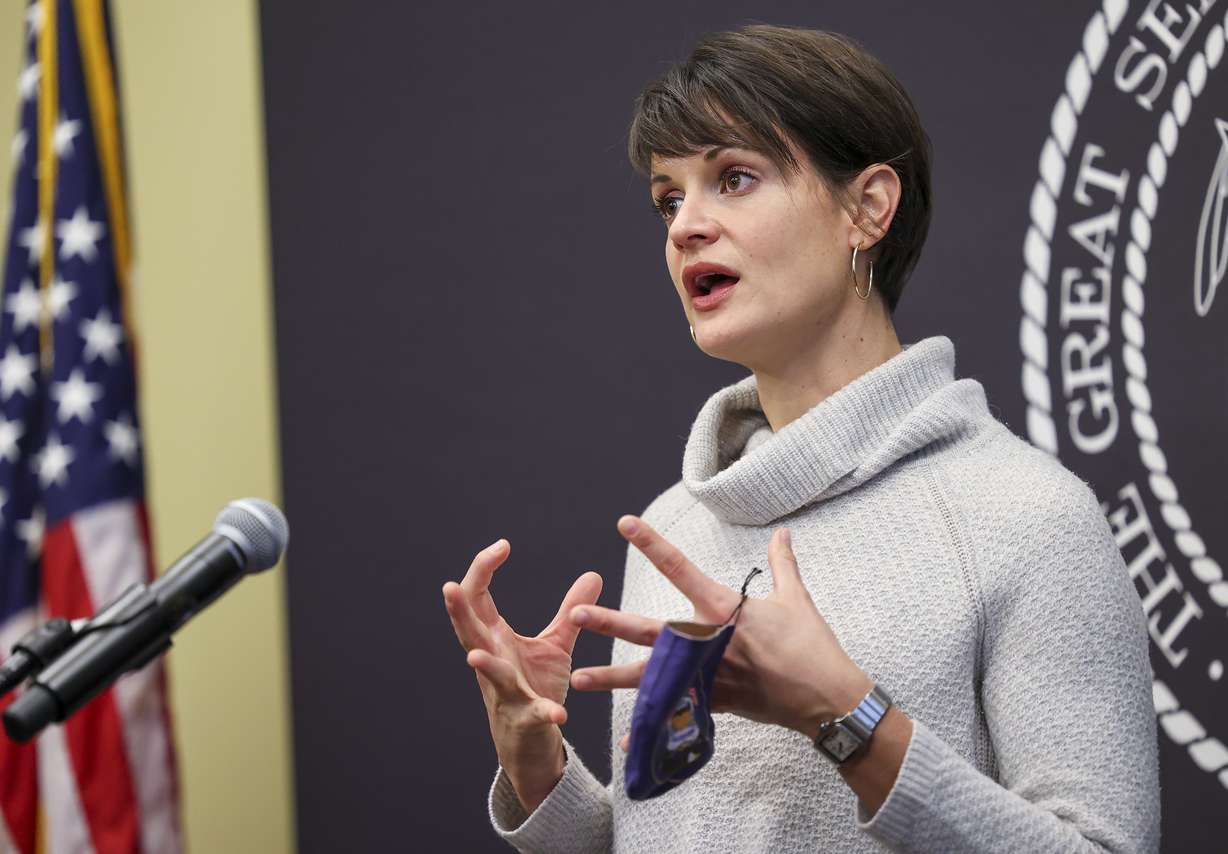 Higher education institutions have until the start of 2021 at the latest to get their plans in place; while most of the order's effects last through Nov. 23 at the earliest, it's expected that the higher education testing will remain in place for the foreseeable future.
Dave Woolstenhulme, commissioner of the Utah System of Higher Education, issued a prepared statement after Herbert's order was issued Sunday night. In it, he noted that universities can "reach a large portion of Utah's population" through campus communities.
"Through increased and consistent testing, we can slow the spread of COVID-19 in the State of Utah," his statement reads, in part. "We are supportive of the requirement to test our students weekly for COVID-19, and we are in the position to make a positive impact."
USHE institutions hold about 230,000 students statewide, including universities, community colleges and technical colleges. That figure doesn't include private universities like BYU or Westminster College, which enroll close to another 40,000 students combined.
It wasn't immediately clear how many people would be subjected to weekly testing. But BYU, as an example, estimated earlier this semester that about 85% of its enrolled students had at least one in-person or hybrid class. That's about 30,000 students alone.
The University of Utah announced mass testing of its students prior to Herbert's announcement. Meanwhile, other higher education institutions began working to figure out how to implement rapid testing on campus.
University of Utah
University of Utah officials announced over the weekend that they will be asking all of their more than 32,000 students to get tested between Wednesday and Nov. 23.
In a public letter to students, university officials explained the measure was about safety. The state provided the university with enough rapid tests so that it could test everyone and search for possible asymptomatic spreaders.
"The more often we can conveniently get the students tested, the more quickly we can help identify those who we can support in isolating and keeping those around them safe as well," the letter reads, in part. "And then as an extension of that, the more programming we can keep available, which is really the value of this university experience. So, the more we test, the safer we keep everyone, the more quickly we can respond, the more programming we can keep online and available to our campus community."
BYU
BYU officials told KSL.com Monday the school will comply with the executive order. Full weekly testing of students and employees will be in place by the deadline of Jan. 1, 2021 at the latest, but may be put in place before then. The university is still finalizing details on how the testing will be conducted, and those details are expected to be released "in the near future."
The university already began conducting some random testing and "focused, risk-based evaluation and testing" prior to Sunday's announcement. That's in addition to its requirements that students or staff get tested if they develop COVID-19 symptoms or have been in direct contact with someone who tested positive for COVID-19.
"We believe that testing is an important component to successfully preventing and managing the spread of COVID-19," a spokesperson for the university said in an email to KSL.com.
BYU officials tweeted Monday afternoon that the university has canceled all remaining in-person events planned to be on campus — outside of classes — until those events are "re-approved through the established approval process or changed to remote delivery."
Per the university's COVID-19 statistics page, there were 185 active COVID-19 cases among BYU students as of Saturday, which accounts for less than .05% of the student population. The university reports another 2,232 students are no longer in isolation due to the coronavirus.
Utah State University
USU President Noelle Cockett issued a public letter to students Monday afternoon about its increase in testing ahead of Thanksgiving. It began its free weekly testing for Logan on-campus residents on Wednesday. The tests will begin testing for off-campus students next week. The university plans to provide students with an update on how they can schedule a test "in the coming days." The school has a testing site outside of Maverik Stadium in addition to the other COVID-19 testing locations that can be found in the state.
Student-athletes — who are already subject to regular testing — and anyone who tested positive for COVID-19 within 90 days, as well as students who left to study remotely, are exempt from the pre-Thanksgiving testing.
Testing will continue next semester based on the state's guidelines.
Meanwhile, in-person classes will remain in session until the school moves to remote learning to end the semester on Nov. 21. All extracurricular activities — student clubs, intramural and club sports and speaker events not tied to classes — through Nov. 30 are to move to online events or otherwise be postponed or canceled. A plan for testing on its Eastern (in Price) and Blanding campuses is expected to be announced within the next few weeks.
Weber State University
Weber State University began testing students and employees who were symptomatic after it received test kits two weeks ago and will now expand to asymptomatic testing after the order issued Sunday, a spokesperson for the university told KSL.com Monday. That testing, much like other in-state universities, will begin ahead of the Thanksgiving holiday.
University officials tweeted Monday that testing for "all members of our campus community" will begin Nov. 16. Free testing on its campus will be available at Marriott Allied Health Building.
Beginning Nov. 16, Weber State University will be making COVID-19 testing available for all members of our campus community.

All WSU students living or working on campus and those attending classes in person are expected to be tested for COVID-19 weekly. [1/3]

— Weber State University (@WeberStateU) November 9, 2020
"Our initial goal is to have every Weber State student living or working on campus and those attending classes in person this semester tested prior to the Thanksgiving break and to implement weekly testing of on-campus students no later than Jan. 1, 2021," officials said, in an email to KSL.com. "Faculty and staff are also encouraged to lead by example and get tested as well."
In addition to increased testing, the university is again offering online learning or hybrid formats for those who want to limit possible exposure during the spring semester. The university also installed plexiglass barriers and spaced our chairs and tables to promote social distancing on campus. Many events that would normally be held in person went virtual.
Also on Monday, the school's athletics department announced that all of its men's and women's basketball games scheduled through Dec. 31 will be held without fans in attendance. Its athletics program participates in the Big Sky Conference along with Southern Utah University. The conference already postponed fall athletics — such as football — to spring 2021.
Southern Utah University
Southern Utah University President Scott Wyatt sent an email to all students Saturday that addressed the possibility that testing would be required, per an email KSL obtained. In it, Wyatt explained universities had been informed there were concerns of people aged 18 to 35 getting the virus and spreading it to their parents and grandparents, who would be more susceptible to worse outcomes from the virus, such as hospitalization, intensive care unit usage or death.
He explained that data showed spread wasn't coming from classrooms or even campus-organized activities; rather, they are happening at "small, social gatherings where wearing masks and maintaining social distancing requirements become relaxed." State officials reached out to universities to improve mask usage.
"State officials have determined that colleges and universities are in the best position to reach out to people between the ages of 18 and 35 in order to help reduce the spread as we move into colder weather," Wyatt wrote in the email.
A spokesperson for the university told KSL.com Monday that SUU officials are still working on the logistics of its plan, which will be released as soon as it's finalized. The university is awaiting to receive tests from the state before testing begins.
Wyatt also said testing would only apply to students taking in-person courses and not anyone inside or outside of Utah taking online courses. He pleaded to students to help the university by getting tested every week.
"An added benefit to you with regular testing is some confidence that you can go home and gather with family or friends for the upcoming Thanksgiving holiday and not accidentally pass on the disease to them," he wrote.
Utah Valley University
Utah Valley University President Astrid Tuminez penned an open letter to students Monday that also explained that social gatherings outside of campus were the largest spread of the coronavirus. She said the university was in the process of getting its COVID-19 testing plan in place by Jan. 1, 2021, and that it is gearing up for testing before Thanksgiving.
"Thanks to additional test kits from the Utah Department of Health, we are now rolling out more testing opportunities to reach as many students, staff, and faculty as possible, especially before Thanksgiving, and our shift to remote instruction," she said. "These tests are free, less invasive than those offered in the past, and provide results within hours. They will provide valuable information and knowledge that could change behavior and potentially save lives."
There are four testing centers at the university's Orem campus. Anyone with an active university ID can schedule an appointment to get tested for free, university officials said Monday.
Dixie State University
Dixie State University leaders announced Monday they will begin weekly testing on its campus "as soon as possible." Officials said the school is awaiting kits from the state before that happens.
"While we don't know all the specifics at this time, we do know that the self-administered nasal swab tests will be available on campus, results will be available in 15 minutes, members of the University community will not incur any fees, their privacy will be maintained throughout the process, and anyone who does test positive will be asked to immediately quarantine," officials said in a news release.
Officials added that all student events and extracurricular activities are postponed for now.
The university is listed as the site for Utah's 4A, 3A and 2A high school football championship games later this month. Officials said that they expected to provide an update to those event plans later. They added that they will also release plans for the school's next commencement ceremony at a later time.
Westminster College
The school released a statement on its website that says mandatory testing of college students will be in effect at the start of the new year. Westminster College's Student Health Services began regularly testing student-athletes, on-campus residents, students who asked for testing, and any employee who were required to be tested for their job prior to Sunday's announcement, a spokesperson for the college told KSL.com Monday.
Masks and social distancing on campus are also required.
A spokesperson for the private college said the school provided both in-person and remote learning during the fall semester, but the semester's remaining semester schedule was already scheduled to move to full remote ahead of Thanksgiving, on Nov. 26. The mixture of online and in-person learning will begin again for the spring semester.
Officials said they are still working to complete new guidelines for the spring semester that will include mandatory weekly COVID-19 testing for those who live on campus or go to in-person classes. Students will be informed of the new guidelines shortly after they are finalized.
"The college expects our community to now follow the new state restrictions that apply off-campus," the college's spokesperson wrote in an email to KSL.com.
More rapid testing in the future?
Universities may just be the beginning of the state's effort for rapid testing of large groups who may not have symptoms of COVID-19. The state is in the process of expanding the program to K-12 students beginning with testing ahead of extracurricular activities, Dunn said Monday.
That's because the data shows the virus is more likely to spread outside of classrooms than within them.
"We want to make sure we can provide a safe environment for students to engage in those extracurricular activities, and testing will be a part of that — but starting with universities first," Dunn said.
The state put a pause on any extracurricular activities at schools while the state sorts out "the pros and cons" of continuing such activities. It began Monday and excludes college sports and high school playoff sporting events. It will last through at least Nov. 23 but could go longer than that as the health department and state evaluate the effectiveness of the order.
During Monday's briefing, Herbert explained state leaders didn't know how the state would continue to allow sporting events without regular testing. He likened what the state wants to do to processes conducted in professional and collegiate sports.
"That probably gives us some guidance, as far as what we can do," he said. "We're going to review that and see if we can put together a protocol that will allow these activities to resume after two weeks."
But it's safe to say there will be more rapid testing in the future.
×
Related stories
Most recent Education stories