Estimated read time: 6-7 minutes
This archived news story is available only for your personal, non-commercial use. Information in the story may be outdated or superseded by additional information. Reading or replaying the story in its archived form does not constitute a republication of the story.
PROVO — When Yoeli Childs pulled his name out of the NBA draft and announced he was returning to BYU for his senior season, he did so with enthusiasm, fire and a promise to do something special with his final year of eligibility.
But Friday wasn't what he had in mind.
Childs will be suspended for the first nine games of the 2019-20 season, BYU announced Friday afternoon, as a result of a review of NCAA agent and draft rules and reinstatement standards by the governing body of college sports.
"I just want everyone to know that my intent was never to do something wrong," Childs said. "I was trying to do the right things; I was trying to do things the right way. I was going through this new process in the way I thought you were supposed to go through it."
The 6-foot-8, 225-pound Bingham High product appeared forthcoming and contrite in addressing the sanctions before a small group of local media Friday, just a few days before the Cougars depart on a preseason exhibition tour in Italy beginning Aug. 16.
"If they said I couldn't play the whole season, I would be here and be the greatest practice player ever," said Childs, who averaged 21.2 points and 9.7 rebounds as a junior. "I want to lead these guys as much as I can. I'm grateful to be here. I'm excited to go to Italy, to play in these preseason games. But these guys will be fine. We're working so hard right now."
BYU is "one contract away" from releasing its entire 2019-20 schedule, according to head coach Mark Pope. But the schedule already includes a road game Dec. 4 at in-state rival Utah, a Dec. 7 tip with UNLV in Salt Lake City, and a newly announced home game Nov. 13 against Southern Utah as part of the Maui Invitational.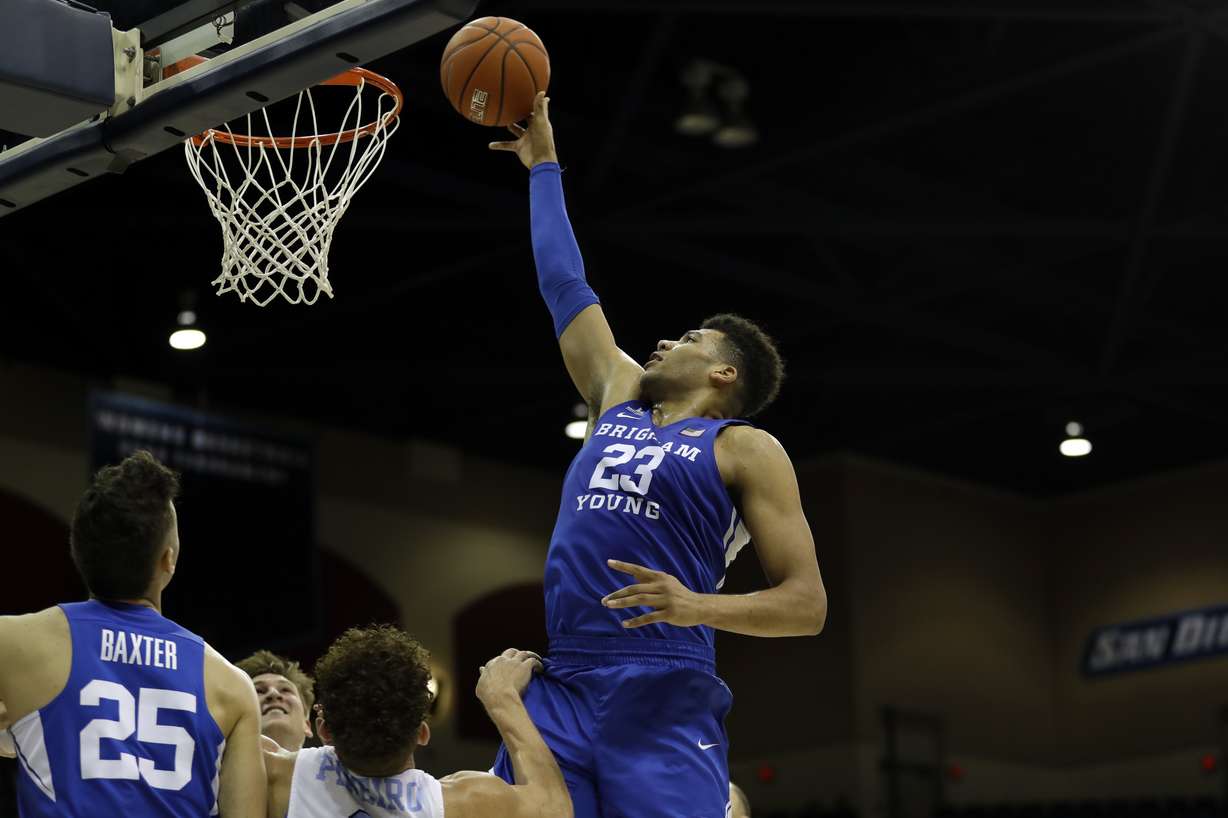 It's likely the SUU game, which is the first between the two in-state opponents since 2007, will be missed by Childs. How many more is still unknown.
If it's anything like Nick Emery's nine-game suspension, handed down by the NCAA a year ago in response to the former BYU guard's violations that included trips, cars and cash received by several perceived "boosters." BYU was also required to vacate 47 wins as a result of the Emery case, in addition to recruiting restrictions and two-year probation. Childs, then, would return around the time of the Utah State game, or a similar set of games coinciding with early December.
Emery's return also coincided with the Cougars' hosting of the Aggies at the Marriott Center, and he helped BYU to sweep their in-state opponents, with wins over Utah, Utah State and Utah Valley.
Emery, who retired from basketball this offseason, responded to Childs' suspension the way many BYU fans did: with righteous indignation against the Indianapolis-based governing body on Twitter.
"Are you kidding me?!," Emery tweeted. "The NCAA is an absolute joke!"
While BYU has yet to announce it's full non-conference schedule, Childs will certainly miss some big games, as well as the handful of low-majors that come to Provo every year for "guarantee games." The Cougars opened the season at Nevada a year ago in the first of a home-and-home series with the Wolfpack that was presumably set to be returned in 2019-20.
Scheduling news
If the schedule holds to form, BYU could still face a team like the Wolfpack — a team that lost its head coach, Eric Musselman, to Arkansas — without their leading scorer and rebounder. The original contract called for the Cougars to host Nevada Dec. 10 in the Marriott Center, according an records obtained from the Silver State school.
If his teammates are concerned about that, Childs isn't. He's vacillated recently between anger and upset feelings — toward the NCAA, toward the decision, toward his own mistakes and reasoning for coming back.
Now he's over it. And he's trusting his teammates will be fine without him.
"At the end of the day, you have to have faith," Childs said. "This was something I prayed about for so long, fasted over … and I have to trust that this is what was supposed to happen.
"These guys are going to grow. Guys are going to step up to the challenge. Guys are going to make huge plays, develop their games, and in March, we're going to look back and realize that throughout all adversity, we did it."
The suspension stems from miscommunication of new rules surrounding agents and pre-draft prospects that are newly in place by the NCAA, according to Pope and BYU officials. Following the 2018-19 season, Childs signed with an agent — as was permitted at the time — while keeping open his options of returning to school by the NBA's pre-draft deadline.
Under the rules, agents are permitted to cover certain expenses for their clients during the pre-draft process, including workouts with NBA teams. But the NCAA determined that Childs did not file the requisite paperwork with the organization to sign with his representation; and when he announced his intention to return to school on May 30, Childs paid back all expenses, plus interest, for travel and basketball training made at the time.
There was a lot of miscommunication and uncertainty around the regulations, Pope said, though he tried not to blame any singular person or institution. Neither did Childs, he said.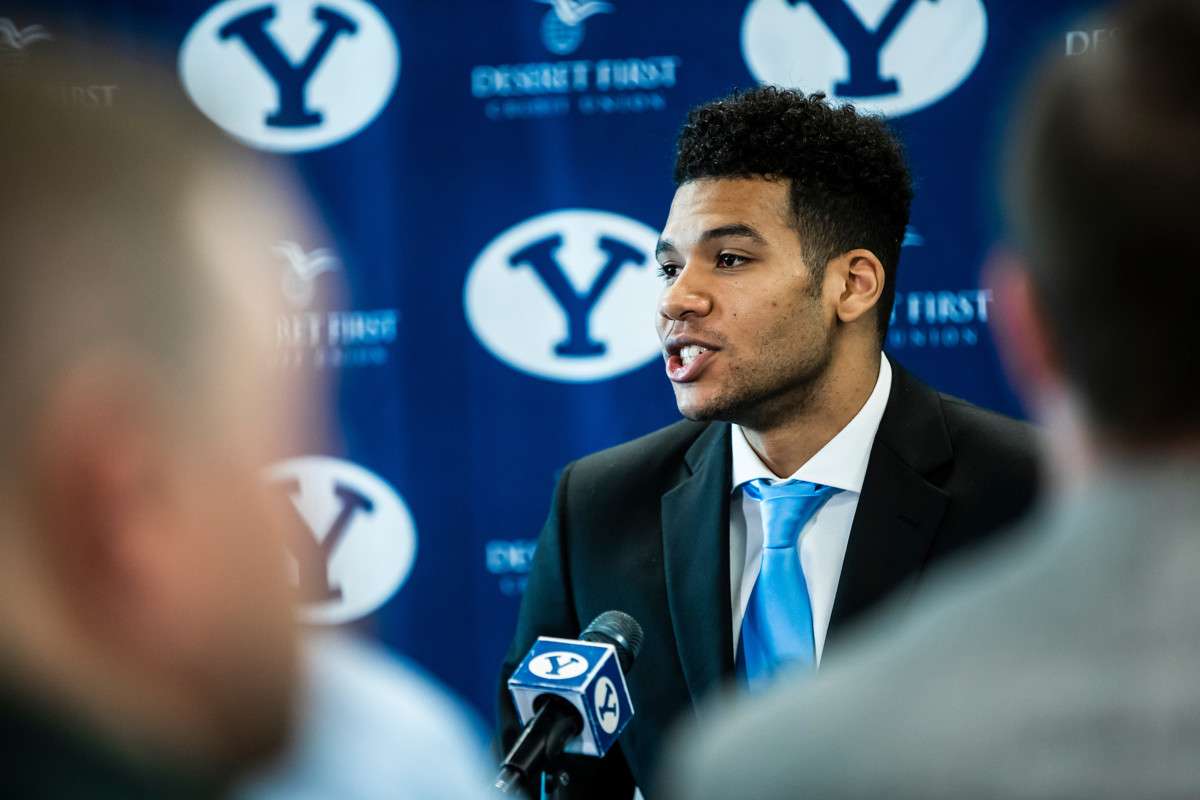 "You're not going to find a young person anywhere that has tried so hard to do things exactly the right way, knowing that there were going to be complications coming," Pope said of his star power forward who has eyes on winning West Coast Conference defensive player of the year. "He's the model guy that you want to be around, to coach, to be in your program. Yoeli will be the first one to say that he made some mistakes, but they were unintentional. And that's where we're at."
BYU exhausted every appeal possible before Friday's announcement, and now accepts a suspension that will see Childs miss "significant" games of the 2019-20 non-conference schedule.
The school is also currently appealing for one-year suspensions to Utah Valley transfers Wyatt Lowell and Richard Harward to be waived. Those decisions haven't come yet, so Pope can't comment on them. But if they remain ineligible, the Cougars will be with just four post players for the first nine games — including presumed starter Gavin Baxter, a sophomore from Timpview who took big leaps a year ago as a freshman.
BYU officials also expressed disappointment in the NCAA's decision but said they would no longer fight the suspension.
"Amid the confusion of the NCAA allowing student-athletes to sign with agents and still return to school, Yoeli was caught in the transition of a changing landscape," BYU athletic director Tom Holmoe said in a statement. "We are disappointed with the NCAA's decision to withhold nine games of his senior season. Yoeli was honest and forthright throughout the reinstatement process. He clearly communicated his desire to return to BYU to graduate and compete with his teammates.
"Yoeli Childs is an outstanding student-athlete with a bright future."
Now Childs heads to Italy for a slate of four scheduled games against professional, semiprofessional and university competition that will also be his official playing time for the first nine games of the season.
"I refuse to not let this be a magical season," he said. "Nine games is not going to stop that. Nothing on this earth is going to stop that."
×
Related Stories