SALT LAKE CITY — It's no secret that COVID-19 is on the rise in Utah.
With Wednesday's update, the state's seven-day running average is now 3,161.4 new COVID-19 cases per day — an all-time high. Previous upticks in new coronavirus cases were a result of more testing for a while; there was even a decline in new cases due to drops in testing leading up to Sept. 5, which is when the current rise in cases began.
The state health department reports drastic increases in COVID-19 cases and COVID-19 testing since Sept. 5. But the data shows the increase of testing didn't cause the spike of new cases over the past two months.
For example, the running-seven day average of new COVID-19 cases quintupled in the two months from Sept. 5 to Nov. 5 (404 to 2,053), while the number of daily COVID-19 tests taken on Sept. 5 to Nov. 5 tripled (6,373 to 20,234). The seven-day running average, as of Wednesday, was nearly eight times higher than Sept. 5, while the highest single day of testing was close to four times higher than Sept. 5.
It's why the test positivity rate is a better indicator of coronavirus transmission and the disease's spread in the state than test totals are. The higher the percentage, the more likely that cases are underreported. The lower the percentage, the more likely it is that spread of the disease is dying down. Utah's positivity rate has skyrocketed after a short plateau in October; it's now at 24.1% (through Nov. 12) — a percentage 2.5 times higher than it was on Sept. 5.
Another way to look at it is close to one in 10 people tested were positive for COVID-19 prior to the autumn rise in cases. Now, a little more than two months later, nearly one in four people who get tested for COVID-19 come back with a positive result.
Here's why more testing will likely soon result in the reporting of higher numbers of cases, more in line with the actual number of infected people.
Adding in asymptomatic testing
The state announced earlier this month it would start asymptomatic testing of college students as a part of a state of emergency issued earlier this month. A handful of universities planned to do major testing ahead of Thanksgiving break, with rapid testing already underway at institutions like the University of Utah.
This may result in a drastic spike in newly reported COVID-19 cases initially as a result of more rampant testing, but the hope is to identify all positive cases and quarantine those individuals until they are healthy, and that will lead to a decline in the spread of the disease.
All higher education schools will start weekly testing of all students who attend in-person classes or live on campus, beginning at the start of 2021, regardless if they have symptoms or were recently exposed to the virus. That will mean the number of tests taken each week will remain higher than what the state has reported thus far. Asymptomatic testing of K-12 students for extracurricular activities is also in the works.
"We think more testing is going to help us, in fact, isolate — or contact tracing efforts have to be expanded so we can isolate — those who have got it so we can slow down the spread," Herbert said during a press briefing last month.
So, how many more tests are we talking about?
Nathan Checketts, deputy director of the Utah Department of Health, provided a testing uptick update during a Health and Human Services Interim Committee hearing at the Utah Capitol on Wednesday. He said the state was allotted 900,000 rapid tests by the federal government earlier this year. That agreement has led to about 30,000 to 60,000 tests per week for health departments, first responders and homeless shelters.
When Utah leaders met with the leaders of the U.S. Centers for Disease Control and Prevention late last month, the state was promised 250,000 additional tests for higher education institutions and high school extracurricular activities.
About 100,000 tests have already been sent out to universities, while 1,800 were used last week for high school playoff sporting events. Checketts said more high school sports testing will continue this week and testing for more extracurricular activities will begin next week.
State officials said previously that the CDC would provide more tests for these activities, which is why college students will test weekly next semester.
KSL.com reached out to the Utah Department of Health this week about the asymptomatic testing program. A department spokesperson said it wasn't exactly clear when those results will be reported on the health department's data dashboard — but they will be added to the data.
The University of Utah, Utah State University, Weber State University, and Utah Valley University are among the schools conducting testing before Thanksgiving. According to the Deseret News, a little more than 13,500 tests were already conducted through Tuesday. Positivity rates ranged at the schools from 1% to 8-9%.
Early data is showing that asymptomatic testing is doing its job. It's adding new cases only because it's finding people who had no idea they were infected. For example, USU spokesperson Emilie Wheeler told the newspaper that the positivity rate for their rapid testing was 1.4%, and it found some people who likely would not have been tested.
"From the rapid antigen testing, we are seeing about 10 positive tests each day, and nine of those have no known exposure or have mild symptoms they didn't readily connect to being ill with COVID-19," Wheeler told the Deseret News.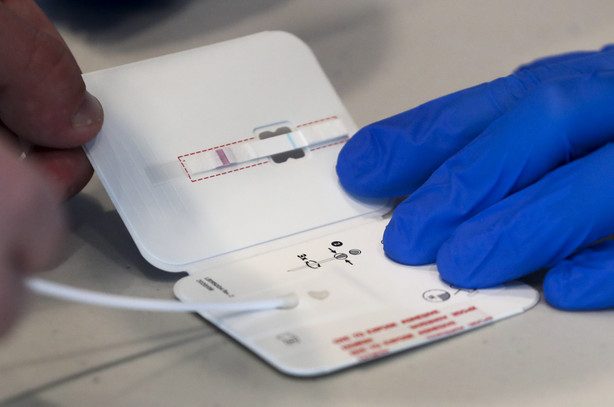 The St. George News reported that Southern Utah University and Dixie State University may begin testing as early as next week, as well. Testing is also "strongly encouraged" for BYU students traveling for the holiday, but it's unclear how much testing has happened.
Combined, the schools reported enrollment of about 190,000 students for the fall 2020 semester. That doesn't even include additional schools like Salt Lake Community College or Snow College, which add in another 33,000 students.
If all students were tested at once, it would dwarf last week's unofficial total test figure of 137,753, which is also the state's most tests conducted in a week since the pandemic began.
Of course, the state won't just add 100,000 additional tests in one day. It's important to acknowledge that these will be spread out over many days. For example, the U. planned to conduct its 30,000 tests from Nov. 11 through Nov. 23.
In addition, it doesn't mean the 100,000 or 250,000 will be tacked on to what is already happening. We don't know how many students covered in the massive 15- to 24-year-old age range accounted for COVID-19 tests prior to asymptomatic testing. Based on the total number of positive cases and the state's test positivity rate, it likely resulted in a sizable portion of the state's previous testing.
It's not just rapid testing. Checketts said Intermountain Healthcare and the Test Utah program are both increasing daily testing capabilities, which will expand Utah beyond 20,000 to 25,000 tests per day.
This is why there's a strong possibility of a major spike in COVID-19 cases reported in the near future even if the ratio of positive tests to tests taken goes down. It's why that positivity rate is a very important statistic to look at, especially once asymptomatic testing becomes a weekly norm.
White House Commission's latest report on Utah
Utah entered Sunday with the 11th-highest rate of new cases in the country per 100,000 residents, according to a White House coronavirus task force report obtained and published by the The Center for Public Integrity on Tuesday. Utah is among the 47 states considered in the task force's "red zone" for new cases but not among the 28 states in the "red zone" for deaths.
Still, the report blasted the state's current migitation efforts as "inadequate" and suggested that they "must be increased to flatten the curve to sustain the health system for both COVID and non-COVID emergencies."
"The upcoming holidays are likely to further amplify transmission," the report warned. "Utah should vigorously expand public health messaging across all media platforms, including SMS auto-texting, to warn citizens about the risks of social gatherings, advise people to avoid or limit them, and reinvigorate the practice of universal face covering and social distancing."
Another suggestion included more use of hospital staff providing information and stories to convey the message better.
×
Related Links
Related Stories