Estimated read time: 2-3 minutes
This archived news story is available only for your personal, non-commercial use. Information in the story may be outdated or superseded by additional information. Reading or replaying the story in its archived form does not constitute a republication of the story.
HARRISVILLE – The current nationwide spike in COVID-19 cases has hospitals taking a closer look at a northern Utah company that turns shipping containers into mini triage units.
At HHI in Harrisville, you can hear the hum of a generator that powers a portable triage unit. It's an idea that will allow hospitals to add much-needed space as the growing number of COVID-19 patients fills hospital rooms in nearly every state.
Cliff Hokanson, executive president at HHI said it's a strange niche to fill.
"We hope the need goes down. That's the reality. I don't want to see this," Hokanson said.
Still, he wants to help where he can.
"But as we're seeing the numbers just skyrocket out of control and a lot of hospitals are saying, 'We didn't think it was going to go this big, so fast for the fall,"' Hokanson said.
Now, the demand is there. Hokanson said several hospitals from around the country may be ready to buy soon, and they're waiting to see if federal money will be available to pay for it.
Jackson Memorial Hospital in Miami already has funding.
Some of HHI's units are being used as testing labs.
"And it literally sits right outside like an emergency room department, or outside the hospital," Hokanson said.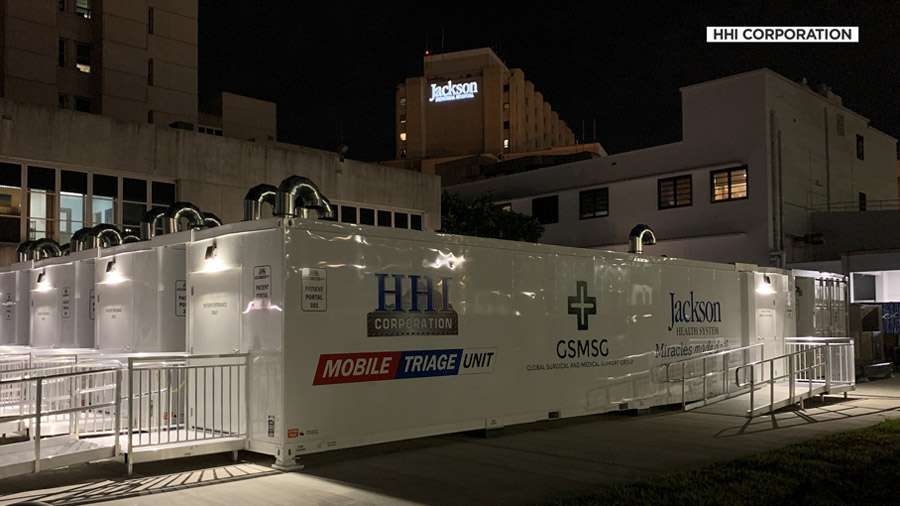 HHI has units ready to go with more being built inside the warehouse. The company is stocked up on generators, HVAC and other components that go into the units.
"This is a temporary solution that fills the gap between what they have now, to what they should have in the future for isolating from infectious disease," said Hokanson.
One of HHI's specialized containers was used to transfer American COVID-19 patients by plane from Japan in February. Hokanson said they now have contracts to build four more, made to house two patients each.
These mobile triage units have separate air filtration set up for each container so they can be used to treat more than just COVID-19, if needed.
Hokanson added that's how they're set up in Miami, though the hospital there has not had to use it yet.
×
Photos
Related links
Related stories
Most recent Utah stories