PROVO — A lot has been made of BYU's schedule amid its rise to the No. 8-ranked team in the nation in the latest Associated Press Top 25.
With respect to Navy, Troy, Louisiana Tech and even Boise State, the Cougars' strength of schedule rates just 91st nationally in Jeff Sagarin's rankings at USA Today, which simultaneously rates BYU as the No. 6 team in the computer-based rankings.
With a season on the brink as little as three months ago, that's no knock on the job that BYU athletic director Tom Holmoe has done in assembling a schedule that was down to as few as two games at one point. With conferences and schools canceling almost daily amid the coronavirus pandemic, Holmoe deserves a medal for his accommodations to fit in a 10-game slate that has put the Cougars in a position for their first New Year's Six bowl bid in the modern era, or at least since 1997.
He's still working to add 1-2 more games, the athletic director has told head coach Kalani Sitake. But when Monday came around, Sitake revealed to his team that Saturday would, indeed, be an off day for the program, there was some consternation among the fan base. With every Power Five conference now playing — or at least, scheduled to play, with COVID cancellations and postponements happening almost daily — the Cougars could find themselves falling behind without playing any games.
But after seven-straight weeks of football, it's time for a bye week. No matter the opponent, BYU's players have put in seven-straight weeks of running, passing, tackling, hitting, blocking, punting, kicking and everything else involved in today's modern games.
With few exceptions, the Cougars aren't seriously injured. But a lot of the players are tired.
"For me, it's just (about) getting healthy," said wide receiver Gunner Romney, who has managed soreness in his hamstring while posting 648 yards and two touchdowns, a top-10 mark nationally. "I've had a lot of bumps and bruises throughout the season. So for me, this week came at a perfect time — to get my body back to where it was when the season started."
The Cougars are 8-0 for the first time since 2001, and only two teams — FCS North Alabama and San Diego State — stand in the way of the program's first undefeated season since 1984.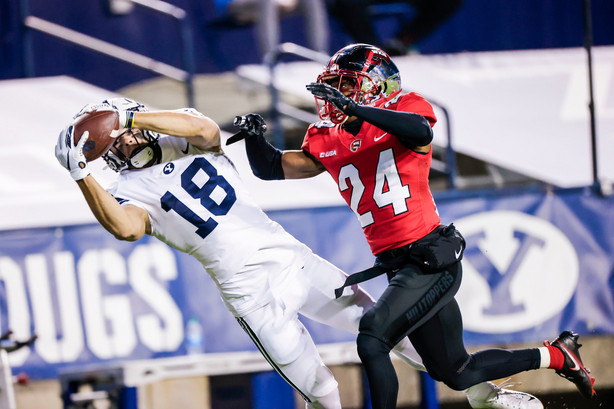 The bye week also comes at a good time for what may be the most pressing injury concern in the Cougars' camp: running back Lopini Katoa left the field during last week's 51-17 win at Boise State after rolling his ankle in the second half.
Sitake said if No. 8 BYU had to play a game this week, Katoa would "probably" be out. With the bye week, his staff is hopeful the co-starter at tailback and leading pass-catcher out of the backfield will be healthy to face their lone opponent from the Football Championship Subdivision.
"Everyone else should be good," Sitake added. "(BYU safety) Zayne Anderson is close to returning, and I think we'll have more.
"I'd be surprised if (injured defensive lineman) Tyler Batty is not on the field against North Alabama."
The bye week represents a "great opportunity for our players to recover," assistant head coach Ed Lamb said Monday during his Coordinators' Corner show on BYUtv. The coaches, meanwhile, will fine-tune the program and hit the recruiting road — without actually hitting the road, due to travel restrictions during the pandemic.
"We've had a long strait of the season," Lamb said. "Normally, we'd be on the road recruiting. Now we'll be at home … and we'll do our recruiting in-house, with the phone, Zoom and social media."
Sure, the Cougars would love to be playing this week. While the cliche is true most years, in 2020 it bodes more prescient: any game could be your last.
10-Game Schedule
But they'll take advantage of the bye week, too.
"If there was a game to play, we would be ready for the game," Sitake said. "We've had guys get banged up or test positive (for COVID-19); that's just part of the deal now. But we feel like our team has been deep this year."
From the perspective of the College Football Playoff and its selection committee, there also aren't a lot of opponents that could help the Cougars anymore. Power Five conferences are only playing league opponents, and the same is true of the Mountain West and Mid-American (with few exceptions, such as two that benefit BYU against Boise State and San Diego State).
A game against No. 7 Cincinnati could benefit both the Cougars and Bearcats, but a rescheduled date against Tulsa pushed to Dec. 4 makes arranging such a pairing virtually impossible. The same is true of AP Top 25 teams Coastal Carolina and Liberty, the latter being an FBS independent like BYU and one that faces many of the same scheduling problems in 2020.
The Cougars do share an open date over Thanksgiving weekend with No. 15 Marshall. But would a win over the Thundering Herd from Conference USA provide enough of a benefit to BYU to offset the chance at a loss?
ESPN's FPI currently projects BYU with an 89% chance of finishing the season undefeated. Because they are an independent, the Cougars are not guaranteed a New Year's Six bowl bid by finishing as the top-ranked Group of Five team — but similar to Notre Dame in most seasons, they would be a near-lock to finish in one of those lucrative bowl games as an at-large selection by finishing in the top-12 of the CFP rankings.
So would it be worth it for BYU to jeopardize its shot at the New Year's Six for an outside chance at the Playoff?
That's a question for others to debate — while Sitake and Co. are enjoying the bye week.
"I know Tom's always been working on filling this week with a game. We're just ready for it," Sitake said. "We knew if we got past Sunday without a game on the schedule, it wasn't going to happen. Now we'll take advantage of the bye week, to make sure we get our guys healed properly.
"I think there's still opportunity for us to improve as a team, and we're looking forward to taking advantage of it."
×
Related Links