SALT LAKE CITY — State wildlife officials announced proposals to remove a cap on unlimited any-bull elk permits and a few other hunting changes that would go into effect for the 2021 season if passed.
Changes to the elk hunt were proposed after a committee was tasked to review the state's elk management plan, said Covy Jones, big game coordinator for the Utah Division of Wildlife Resources, in a video posted by the state agency Tuesday.
The state currently limits any-bull elk hunts to 15,000 permits statewide. The permits allow for hunters to harvest bull elk using any legal weapon on any-bull hunting units. Spike bull elk hunts would remain capped at 15,000 permits statewide.
Jones explained it's a popular hunt and the change would remove barriers in people being allowed to hunt. He contended that state wildlife biologists don't believe there is a "biological concern" in allowing unlimited permits.
"The elk have enough refuge areas. We're going to have enough bulls on the landscape and it won't affect the populations," he said. "It doesn't mean it's going to be an easy hunt; it does mean that we'll still have a big game hunt where families can participate and have opportunity to go hunt."
The agency also proposed to add four new any-bull elk hunting units across the state, in the following areas:
Box Elder, Sawtooth
Nine Mile, Anthro
Oqurrih-Stansbury, East
Southwest Desert, North
"We know that making this recommendation will cause some frustration to the folks that these units are really important to," Jones said. "But after discussing this, we all came to the conclusion that it would serve our public better to move these units available."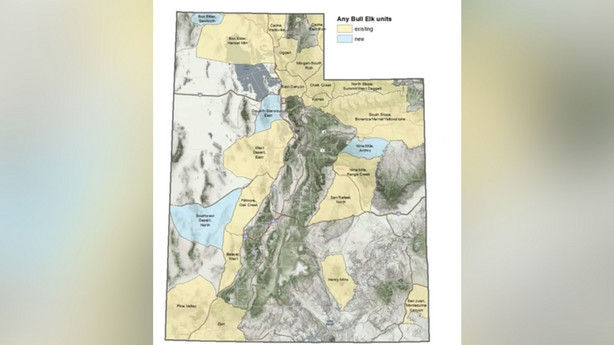 Other changes include more September archery and handgun/archery/muzzleloader/shotgun opportunities. The proposed hunting dates for elk begin as early as Aug. 21, 2021, and go as late as the muzzleloader hunt in early November 2021.
The agency isn't proposing many adjustments to deer hunting for 2021. There are more changes proposed to regional deer management plans than hunting. For example, biologists recommend changes to population objectives within two-thirds of its 38 deer hunting units. It would decrease the statewide deer population from 454,100 to 403,800.
It released its proposal for deer hunting dates, which includes nearly two more weeks of archery compared to this year. The proposed dates are:
Archery: Aug. 21-Sept. 17, 2021
Muzzleloader: Sept. 29-Oct. 7, 2021
Any weapon (early): Oct. 13-17, 2021
Any weapon: Oct. 23-31, 2021
"We're hitting the latest deer hunt that we've ever had in the state of Utah," Jones said.
The proposed changes include a new early legal weapon mule deer hunts in North Slope in northeastern Utah from Oct. 13 through Oct. 17, 2021, according to Jones's presentation. It would replace a limited-entry hunt for mule deer in that area, which would be discontinued. The proposal would also eliminate the Henry Mountains management buck hunt in southeastern Utah because the buck-to-doe ratio dropped in that area.
The division will also seek to add two new muzzleloader pronghorn hunts in the state. One of those would be at the Fillmore, Oak Creek South location in central Utah and the other at the North Slope, Three Corners/West Daggett location in eastern Utah.
There would also be new archery, muzzleloader and any legal weapon hunts for the species at Plateau, Highlands near Parker Mountain in southern Utah. The hunt at Parker Mountain would be discontinued as biologists try to drive pronghorn back to better habitat in the area, Jones explained.
In addition, the agency is proposing a new bison at the Book Cliffs, Wild Horse Bench location in eastern Utah. It would discontinue cow-only hunts at the Book Cliffs, Bitter Creek/South location, as well as cow-only archery and archery/hunter's choice hunts at the Henry Mountains as bison populations there have reached targets set up by the agency.
The DWR would also discontinue the desert bighorn sheep hunt at Zion. It would add a new Rocky Mountain bighorn sheep hunt at the Fillmore, Oak Creek location and discontinue the Box Elder, Pilot Mountain hunt — an area that would be managed by Nevada wildlife officials in 2021.
The division is also proposing a few waterfowl hunt changes. Blair Stringham, DWR's migratory game bird program coordinator, said the division is proposing to allow permanent blinds on Willard Spur Waterfowl Management Area with a permit from the division and the Utah Division of Forestry, Fire and State Lands. The management area would be included in the "non-toxic shot list."
"That would be precluding lead shot and any other shot types that are toxic to waterfowl," he said.
The other change would create a retrieval zone at the Farmington Bay Waterfowl Management Area rest area, where hunters can retrieve birds but cannot actively hunt in that location.
The DWR began accepting public comment on the proposed changes, in addition to announcing the proposed changes Tuesday. People can submit public comments on the division's website until 11:59 p.m. on Nov. 26.
The Utah Wildlife Board will meet to discuss the proposal on Dec. 3. The meeting will be broadcast on the Utah Department of Natural Resources' YouTube channel.
×