Estimated read time: 3-4 minutes
This archived news story is available only for your personal, non-commercial use. Information in the story may be outdated or superseded by additional information. Reading or replaying the story in its archived form does not constitute a republication of the story.
PROVO — The first game of a new season is often about finding yourself, about answering questions, about figuring out what works in a new group and a new scheme and sometimes a new coaching staff.
BYU women's basketball coach Jeff Judkins felt that in his team's exhibition opener against Division II Westminster.
The Cougars found themselves a little bit — a team with a mostly returning roster still reeling from the offseason loss of Shaylee Gonzales, the freshman star whose torn ACL over the summer threatened to derail a season for BYU.
Tuesday night's first half against the Griffins was all about finding themselves.
By the second half, they started to do just that.
Shalae Salmon had 16 points, and Jasmine Moody added eight points and 10 rebounds as BYU pulled away from the Griffins, 69-61 in the exhibition home opener at the Marriott Center.
And that might be how the Cougars have to play a lot of games this year, especially after losing Gonzales and last year's senior Caitlyn Alldredge from the shooting lineup.
"We lost a heckuva good player, and this is the first time we've had the opportunity to play without her in a game," said Judkins, whose team ended the game on an 8-0 run. "Shaylee made so many plays when we needed it, and I could always go small with her.
"Hopefully Babulu (Ugwu) and Signe (Glantz) will get better at that, too. I wanted to play my bench more, but I didn't want to lose this game tonight. I wanted to win it."
Gonzales wasn't the only one who hit 3-pointers last year. But she was the key loss in the offseason, and BYU felt it early, trailing by as much as 10 points at halftime.
The Griffins, meanwhile, took advantage of their superior shooting — especially from the posts. Colorado Christian transfer Sarah McGinley had 22 points, including six 3-pointers, to lead the D-II upstarts who beat BYU in an exhibition game last year. Former Sky View standout Hunter Krebs scored 10 points on 4-of-7 shooting, and Alta alumna Mariah Martin added 10 points and five assists for Westminster, which outshot BYU 12-8 from 3-point range.
Brenna Chase Drollinger finished with nine points, including 2 of 6 from 3-point range, and Paisley Johnson erupted in the second half to finish with 15 points, five rebounds and five assists on 4 of 5 3-point shooting in the win over the Griffins.
But there's no doubt, the Cougars were hurt by the loss of the third "Splash Sister." They're still learning to overcome that loss.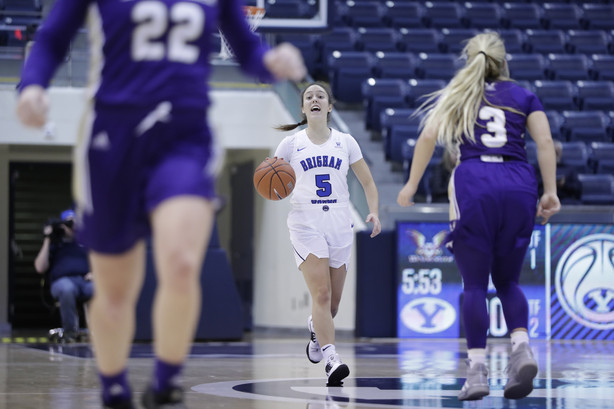 So the Cougars seemed more apt to play inside. With posts like 6-foot-7 Sara Hamson and Salmon, the 6-foot-3 leading rebounder of last year's NCAA Tournament win, that's manageable.
"Losing Shaylee was a big loss for us," Salmon readily admitted. "But we thought as bigs that we can step up, as well. If we can get the ball inside, it will give us more range instead of just relying on the guards. Our mentality this year is to help the team more; we want to win as much as everyone else.
"Sara, Jasmine and I have really worked hard so that the guards know they don't have to take all the workload."
The extra dimension in the post is helping BYU overcome its offseason attrition, and has brought an extra "spark" to a team once reliant on shooting, Johnson said.
"The posts have worked so hard this summer and this preseason to get their feet right, to play through contact; I see them in the gym every day, playing one-on-one. That's kudos to (assistant coach) Lee Cummard, as well," the junior guard said. "It's really fun to watch. I've been playing with Shalae for two years, and her growth this summer was more than I saw the rest of the time I've been playing with her."
×
Related Stories