This archived news story is available only for your personal, non-commercial use. Information in the story may be outdated or superseded by additional information. Reading or replaying the story in its archived form does not constitute a republication of the story.
PROVO — Every day in practice, the BYU women's basketball team checks out with 10 free throws.
Head coach Jeff Judkins tells the players they need to make 9-of-10 of them before they can go. Every day, Sara Hamson is one of the last to leave — but she does it.
On Friday afternoon, she made 10-of-10 from the foul line.
Maybe it was an omen of Saturday's regular-season finale. Or maybe it was just Hamson naturally getting better, experiencing a "growth mindset," as she calls it, to bouncing back from a preseason knee injury that caused her to miss the BYU women's volleyball season and much of the Cougars' non-conference slate in women's basketball.
But she made those 10 free throws — and then on Saturday afternoon against Santa Clara, she made 10 more.
Hamson had 18 points, seven rebounds and nine blocked shots, and the junior went 10-for-10 from the free-throw line to help the Cougars close out the regular season with a 69-64 win over Santa Clara.
"Something just clicked," said Hamson, who made just 3-of-5 free throws two days prior in a win over San Francisco. "And thank goodness it did; I shot a lot. We did that yesterday, and it took me a while. But I got 10-for-10 before I left, and conveniently enough, I shot 10-for-10 today."
Hamson set a career high in scoring and free throws, and tied a career high in blocked shots.
"I think it was one of Sara's best game she ever played," BYU coach Jeff Judkins said of his 6-foot-7 senior. "Defensively, she was a force. Offensively, she was a force, too. She got in that zone and made those baskets."
Double threat! @HamsonSara ties career blocks as @shayleegonzales gets a double double! Great job @byuwbb! pic.twitter.com/UkKAFzrx6T

— BYUtv Sports (@byutvsports) March 2, 2019
Paisley Johnson added 17 points and seven rebounds, and Shaylee Gonzales supplied 14 points, seven assists and three steals for the Cougars (23-6, 15-3 WCC), who already clinched a top-two seed in the West Coast Conference Tournament in Las Vegas and won't play again until a week from Monday in the tournament semifinals at Orleans Arena.
But Saturday's game wasn't about the tournament. Nor was it about the NCAA Tournament, which the Cougars are currently projected to visit as an at-large pick, according to ESPN.com.
Saturday's game was about the regular season, and honoring a pair of seniors — one who didn't play this season, and one who finished her first season on the hardwood after transitioning from the softball diamond.
"We really wanted to close out these two games and win both of them," said Gonzales, whom Judkins called one of the five-best freshmen in the country. "This game, we wanted to do it for our seniors. They've been around for a long time, and they've been helping us through everything.
"It's really awesome that we could win that game for them."
The Cougars honored their lone active senior after the game, former BYU softball star Caitlyn Alldredge, who started the final game of her only season of eligibility with the BYU basketball team. Alldredge finish with 8 points and eight rebounds for the Cougars, and teammate Brenna Chase added 6 points and three assists.
"Caitlyn is the perfect player to have on your team," Judkins said. "She has all the tangibles; she's athletic, she's smart, she's tough, she's a gamer, and she doesn't care about anything else but winning. You need players like that."
BYU also included departing senior McCayla Hanks-Longson. The 6-foot-4 center from Millville, who is married to BYU offensive lineman Kieffer Longson, injured her ACL this season and joined the team on a medical hardship waiver.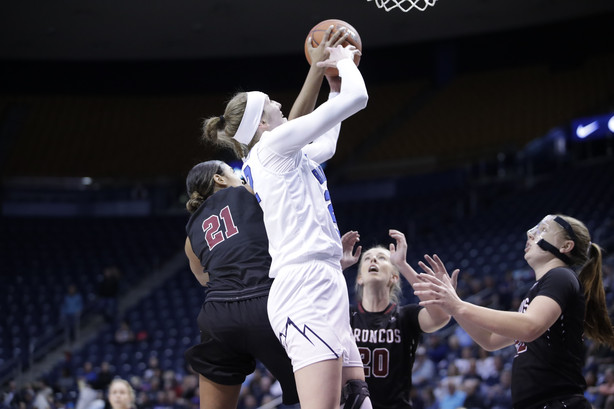 Tia Hay led Santa Clara (13-16, 6-12 WCC) with 18 points and five assists, and Ashlyn Herlihy supplied 13 points and four rebounds.
Santa Clara opened the second quarter on a 7-0 run to turn an 18-15 deficit into a 20-18 edge as both teams shot in the 30 percentile range.
Johnson hit a pair of threes in the second quarter, the second tying the game at 25-25 with 3:25 to go in the half.
That sparked a 6-0 spurt that gave the Cougars a lead on Jasmine Moody's runner in the paint, and BYU took a 32-27 lead into halftime despite shooting just 36 percent from the field.
But the Cougars forced seven turnovers, including four steals, and kept the Broncos just nine first-half field goals.
The Cougars opened the third quarter on a 14-0 run, stretching the lead as high as 46-27 when Gonzales scored on the fast break for her 11th point of the game.
The Broncos didn't score until Herlihy's 3-pointer nearly four minutes into the quarter. By then, BYU was off and running, and Santa Clara never fully recovered, making just one of its first 12 shots in the second half.
Last Thursday
"I knew we could beat them, but man it was scary," Judkins said of the Broncos. "I've got a young team, and I've got to do a better job of telling them a situation. When you're up, you don't give up threes. You make people score two-point baskets, and don't let them get back so fast."
The Broncos used a late 13-3 run to cut the deficit as small as 63-58. But Gonzales ended the run, finishing a feed from Hamson, and the Cougars held on to secure a bye to the semifinals of the West Coast Conference Tournament in Las Vegas.
The Cougars will open up the tournament Monday, March 11. And they'll do it with from their dual-sport shot blocker who was last year's WCC defensive player of the year at full strength.
"She blocked shots today that nobody in the country could've made," Judkins said of Hamson. "Her timing is amazing; she's gotten better and better each week, and she's at the right spot at the right time now.
"She's a totally different player now. Our defense can be more aggressive, and she's getting rebounds out of nowhere."
×
Related Stories