OGDEN — More than 30 million Americans suffer from heart disease, putting them at risk for premature death. Despite setbacks, one Utah man is living life to its fullest and reaping the benefits of a healthy lifestyle.
"He's my biggest cheerleader, he really is," Bob Quick said of his boss, Jeremy Barker, as the Weber Fire District Chief presented Barker with the Gift of Life Award.
Quick has always had a deep admiration for first responders. "Because if it wasn't for them, I wouldn't be here today," he said.
He feels lucky to be alive today and to have the chance to celebrate his 60th birthday next year. Quick credits his life to Station 31 Roy City Firefighters after suffering a massive heart attack in 2004. That's when Quick dedicated his life to honoring firefighters.
"I ride a bicycle coast to coast, and I thank our first responders," he explained.
He's crossed the country three times. "Each time I go to a different fire department, they sign the bicycle," he said. "It was amazing to see all the firefighters there on the beach as I dipped the back tire into the ocean."
On the fourth ride, he started experiencing heart pain and didn't finish the ride. "We made it to Ogallala, Nebraska," he said. Then his coworkers brought him home to get better.
"I'm a cardiac nightmare. In the past 16 years, I've had 32 heart procedures, 20 stents put inside of my heart, have died twice, have had a stroke, have had an ICD, which is a pacemaker defect put in my chest," he explained.
This summer, his condition only got worse. On Aug. 24 while at work, Barker — who's also a firefighter — noticed Quick didn't look healthy and rushed him to the hospital.
"You don't look good. We need to call rescue. Let's get you on a heart monitor and see what's going on," Barker recalled saying.
This time, Quick had quadruple heart bypass surgery. Today he's doing well.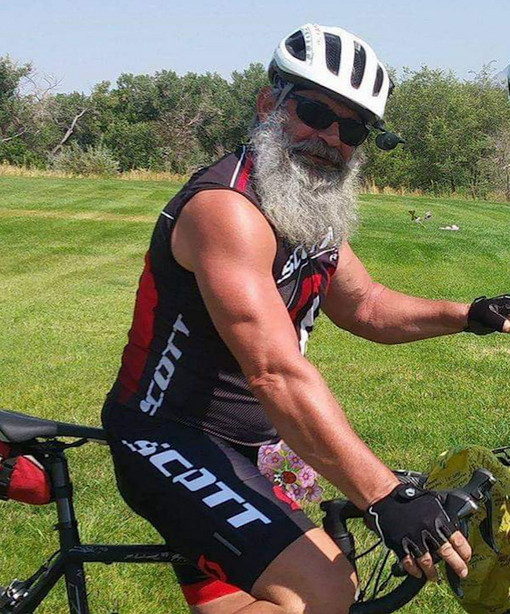 "I feel like a brand new man," he said. "It's amazing. I feel so good right now."
Intermountain Healthcare's Dr. David Goff, a cardiothoracic surgeon at McKay Dee Hospital, credits Quick's swift recovery to living an active lifestyle before surgery.
"People who go into the operation in good physical shape come out and have a much easier time recuperating afterwards," he explained.
Goff encourages people to live heart-healthy lives by eating a relatively healthy diet and getting regular exercise.
"It's the little things we do every day, the small decisions we make — whether we're going to have the extra cookie, whether we're going to light up the cigarette, you know, whether we're going to be active physically," Goff said.
While Goff says people can't control their genetics, they can control other risk factors. "We try and concentrate on those things that we can make a difference in, and that's controlling blood pressure, diabetes, cholesterol, and trying to get people to stop smoking and try to get them to lose weight," he said.
"People who get overweight and are not very active, physically, have higher risk of developing heart disease," Goff added.
More Your Life Your Health:
Quick is still healing but remains active. "Each day, I push myself to walk even though it hurts," he said. "Then I take gallon jugs, and I'm doing curls."
On some days he walks up to 6.5 miles. "Just keep walking. Even if you have to walk from your front door to your mailbox, that's the beginning. That's a start," he said.
He hopes to inspire others. "Please do not let your condition define your life," he said. "Never give up."
"You only get one life, live it to the fullest," he added.
Quick is determined to get back in the saddle next year. "Because I've never left a bicycle ride undone. It's time to finish this," he said. "I can't wait to ride in 2021."
×
Photos
Related Stories