OREM — The pandemic has posed unique challenges for everyone, but especially for one Orem man with Down syndrome whose routine was flipped upside down. With one goal in mind, a little exercise and some Disney magic, things are now looking up.
From the outside, it may just look like 21-year-old Kai Papenfuss and his mom, Junko, enjoy walking the streets of their Orem neighborhood, but they're actually on a much bigger journey.
Kai was born with Down syndrome.
"He's a happy guy," Junko said. "He always smiles to people." Kai had a reputation for always being kind to people, showering friends and teachers with hugs in the hallways, and was nominated prom king at Timpanogos High School.
After Kai's high school graduation in 2018, Junko noticed a change in his normally happy behavior. Many of his friends left for college, LDS missions, or got married and Junko said he felt discouraged he wasn't doing the same.
Kai Papenfuss started attending a special education school after high school for job training and to develop life skills. Junko said it helped, but only for so long.
"He started kind of showing depression symptoms," Junko described, and said he lost interest in some of his favorite activities. He no longer played the piano, he stayed home from social functions and had a hard time getting out of bed.
When COVID-19 hit, things only got worse. Kai's school was temporarily shut down and he couldn't do some of his favorite things.
"He loves going to see a movie, he loves going to shopping with me, but — nothing," she explained.
Junko decided they needed to get out of the house, and if they couldn't go anywhere, at least go somewhere.
"So I told a Kai, 'Do you want to go to Disneyland?" Junko asked. "He said, 'Oh, yeah!'"
They set a goal to walk to "Disneyland" — not to California that is, but the distance to the Happiest Place on Earth.
"That is 647 miles!" Junko said. They made a big poster with a map and pictures of Disney characters to remind them of their goal.
The whole neighborhood grew interested in their new endeavor. They started leaving him encouraging rocks painted with Disney characters along his daily walk and cheering for him from their windowsills.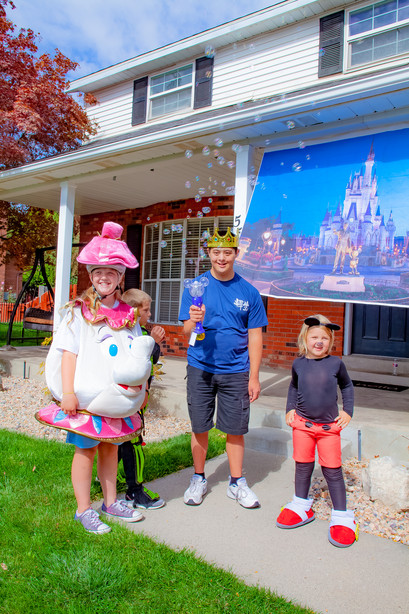 "And so every day somebody said, 'Where are you guys?"
"We just passed Fillmore, Utah, we're in St. George, we are in Nevada now!" Junko replied.
"So that was a big help for him. He was looking for something," she added.
Intermountain Healthcare's Julie Roberts, a nurse practitioner at the Salt Lake LiVe Well clinic, said setting a goal is sometimes all it takes.
"It gives a lot of sense of personal accomplishment," she explained. She says tracking daily progress is vital for success.
"Something that can prompt you to stay consistent is key," she said.
Everyday Kai recorded how many miles he had walked on his poster. Junko said her son loves it when people notice what Kai is doing and applaud his success.
"We started walking a little bit longer, a little bit longer every day," Junko noticed. Some days they walked up to 6 miles!
Junko said Kai lost some weight and became more physically fit during the process, but even more importantly, his mental health improved.
Related:
"When you can get outside and interact with your environment and breathe and feel the sunshine, it's just rejuvenating," Roberts explained.
In just six months, Kai made it to "Disneyland"!
"Oh, he was so happy!" Junko said.
To celebrate, Kai Papenfuss' neighbors dressed up as Disney characters, paraded through the neighborhood, and welcomed him across the finish line to Disney's iconic castle in his own front driveway. They played classic Disney tunes on a loudspeaker and ate Mickey Mouse-shaped ice cream bars.
Kai proudly wore a crown as he marched with his supporters. "He thinks he's a king!" Junko said.
Junko expressed deep gratitude for the outpouring support of her neighbors. "It's amazing, so incredible. Everybody's love helped my son and our family," she said.
Today Junko says Kai is doing much better. He now pops out of bed at 6:30 in the morning to catch his school bus with no problem.
"This whole thing helped us to heal," Junko said, describing the heartbreak her family had experienced watching Kai struggle. She said the whole experience was a "quarantine time blessing."
"He's happier," his mom said. "He's mentally and physically both healthy, and emotionally."
Kai Papenfuss found the happiest place on earth, right in his own neighborhood. But that's not the end for Kai. He's now on his way to Disney World!
"That's more than 2,000 miles," Junko said laughing.
The Papenfuss family has plans to actually make it to Disneyland in person one day when it's safe. Junko says she is in no rush since "we already had the, kind of, Disneyland experience," right in their own front yard.
×
Photos