Editor's note: This article is a part of a series reviewing Utah and U.S. history for KSL.com's Historic section.
SALT LAKE CITY — As the former director of Utah's history division and publisher of "Utah Historical Quarterly," Brad Westwood thought he had a pretty good understanding of the history of neighborhoods surrounding the Rio Grande Station.
But Westwood, now a senior public historian for the Utah Department of Heritage and Arts, said he learned that was wrong as he dove into the history of the area for an ambitious project telling a more complete story of Salt Lake City's original "west side."
"There's so much history. It extensively was the city's international district, but it wasn't necessarily intentional," he told KSL.com. "It really was the one place that many immigrants could come to, rent, buy property, associate with people from their community. Just about every immigrant group outside of the traditional Mormon story, when they came to Salt Lake City they usually started in Salt Lake City's west side or Pioneer Park neighborhood."
Why diverse groups of people from across the globe came to Salt Lake City and how they ended up intertwined in the same neighborhood is at the center of a new project called, "Salt Lake West Side Stories," which the Utah Department of Heritage and Arts launched Sunday. It's a 34-part blog series about the special history of an area with unrivaled diversity in the late 1800s and early 1900s.
The blog posts detail various stories of the city's original west side, which wasn't as large as it is today. For example, the original west side of the city consisted of areas west of West Temple a few blocks to the city's railroad yards until about a century ago. It's what is now known as the Pioneer Park neighborhood.
The west side of the city has only grown in recent decades to include the Glendale, Poplar Grove and Rose Park neighborhoods — all areas west of the rail yards where farmland and industrial lots once existed. While a much smaller space, the initial west side still held places like "Greek Town," "Little Syria" and "Little Tokyo." It's also an area that included references to the various industrial jobs one could find in the neighborhood.
Historians quickly pieced together eight themes that appeared, such as that it was a homeland for Native Americans or a starting point for many immigrants seeking the American dream. Railroads were another important theme. The transcontinental railroad, which was completed in Utah at the end of the 1860s, made the city more industrious.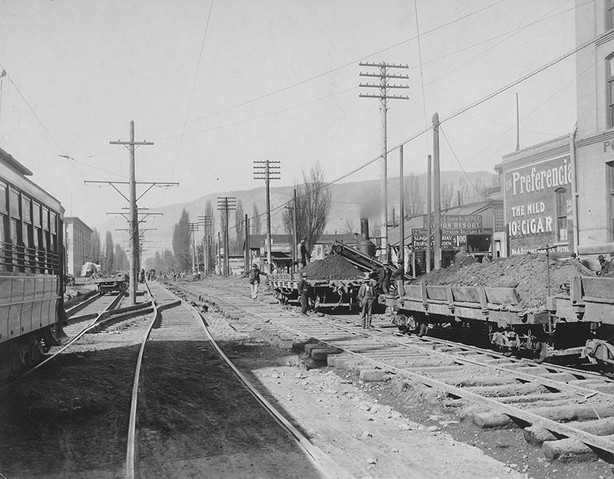 While a melting pot, the area was also a contested space as groups fought for social, political and economic command of the neighborhood in its earliest days. That struggle also appeared while compiling the area's history.
The series is a byproduct of discussions between the Pioneer Park Coalition and the state's heritage and arts department that began in 2018. They sought to find ways to improve Pioneer Park — one of the city's worst-reviewed parks, per Google Reviews.
Amid those talks sparked an idea to look deeper at the history of the neighborhoods near the park, Westwood said. Historian Randall Dixon wrote an initial history of the park, but it quickly became clear from those interested in the project that the original west side of the city had a rich history that needed to be told.
Community members representing Latino, Greek, Italian, Japanese and Chinese backgrounds asked to include aspects of their heritage in the city. Slowly but surely, those perspectives were integrated into Dixon's research.
As historians looked into each angle, more aspects of the city's west side appeared. It became clear that they needed a larger project if they wanted to showcase the true history of the area.
"It was just like a thread that we just kept pulling at until it became clear that we needed to have something maybe with a fuller treatment," Westwood said. "But we didn't want to do a book. We wanted to do something that was accessible to the general public, so we came up with this idea of a serial blog."
There are posts about various ethnic and racial groups and their role in the neighborhood, including early African-Americans, Chinese-Americans, Japanese-American and Latino members of the community. In all, there were about a dozen groups that found the city's west side as a "base camp" before spreading out across the state and region, he added.
Some of the racial, ethnic and immigrant groups were pulled in by The Church of Jesus Christ of Latter-day Saints, joining the city's early settlers. Others were brought in by employment.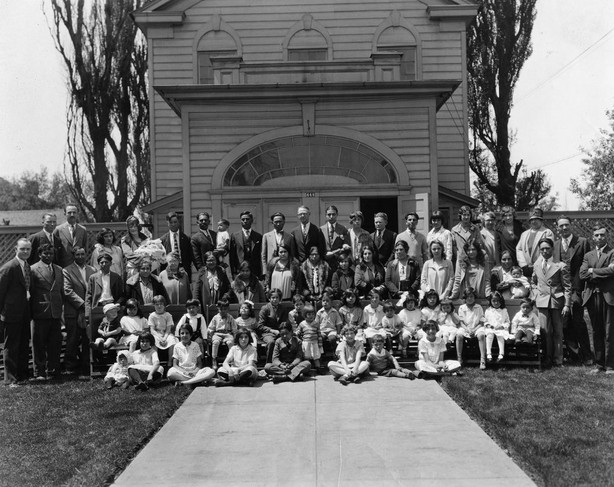 There are posts about the growth of industry and how it molded the city. As Westwood noted in one blog post, railroad depots built on the west side ultimately led to the construction of dozens of hotels, as well as apartments, tenement houses and boarding houses as the earliest settlers moved out.
It led to many unique micro-communities with homes, stores and places of worship centered within blocks of each other. Not all of history is pleasant, though. There are posts in the series about how various groups faced discrimination in the 19th and 20th centuries.
Some pieces of this era, like the Salt Lake Buddhist Temple, remain in place today; however, a good chunk of these vibrant micro-communities no longer exists. Westwood points out that the city — including the current west side neighborhoods — is rich with diversity and different backgrounds once again.
It's a reminder that current events almost always rhyme with something in history.
"Utah in the 1890s was in some ways more diverse than, say, mid-20th Century — and it's now changing again," he said. "As the Talking Heads said, 'same as it ever was.'"
The posts also include various references that state historians pulled information from and want people to read for more information. In putting together the project, they said they hope they can better explain how the neighborhood came to be so it helps better explain why Salt Lake City is what it is today, and that it will provide a better understanding of the neighborhood's history for city developers.
At the same time, they also hope it tells stories that people didn't know about the city.
"I guarantee people if they read through every one of those each week, I think they'll really come away knowing a lot about Utah that they may not have heard (about) before," Westwood added. "Good things to know about if you've been here for generations or if you're new. I think it will (help residents) sort out and understand why Salt Lake City is, well, Salt Lake City."
×