PROVO — There will be no style points for No. 15 BYU this week.
Sometimes you've got to win your clunkers, and the Cougars' fourth game of the season was just that: a clunker.
But it was also a win.
Zach Wilson threw for 292 yards and two touchdowns and ran for 19 yards and another score to help No. 15 BYU hold off UTSA, 27-20, Saturday afternoon at LaVell Edwards Stadium.
Tyler Allgeier ran for 116 yards and a touchdown to lead the Cougars (4-0), and Dax Milne caught seven passes for 102 yards for a BYU team that piled up a season-low 470 yards of offense and added six penalties for 50 yards.
Lowell Narcisse threw for 229 yards and two touchdowns, including a 32-yard strike to Zakhari Franklin that pulled the Roadrunners (3-2) within a score, 21-13, on the first play of the fourth quarter.
But BYU's defense held UTSA to 359 yards, including just 72 on the ground. Sincere McCormick averaged just 3.8 yards per carry for 42 yards for the 'Runners, who had 527 yards and four touchdowns in the four previous games from McCormick.
While BYU's offense struggled — at least in the red zone, a surprise from one of the more efficient offenses nationally — the Cougars' defense was on point. Gabe Summers' sack on the 'Runners' next offensive series was BYU's eighth tackle for loss of the game, and Allgeier's 6-yard touchdown scurry with 2:18 remaining helped secure the Cougars' first 4-0 start to the season since 2014.
And that's why when head coach Kalani Sitake went into the locker room and saw his players downtrodden, upset and even fuming, he picked them up and forced them to dance.
A win is a win, even in humbling circumstances. The Cougars will learn from it, but that will come Monday in the film room.
For now, enjoy being 4-0.
"You can't disrespect this game, and not celebrate the wins," Sitake said. "The fact that we got the win goes to competing. And credit goes to UTSA for playing really well in all three phases.
"They had a great game plan that caused us some issues, on both O and D. But I'm proud of the way our guys fought through it to get a win."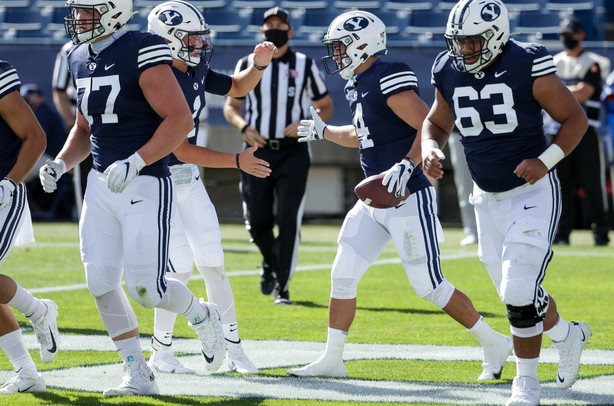 BYU, which led the nation in total offense leading into Saturday, had scored in 12-straight quarters to open the season. But the Cougars couldn't find the end zone after the first quarter, and trailed UTSA 3-0 on Hunter Duplessis' 39-yard field goal at the first quarter break.
Wilson out-dueled UTSA starter Frank Harris 107-42 in the first quarter, but Neil Pau'u lost a fumble on its first series and Wilson finished the second with a turnover-on-downs in falling behind for the first time in 2020.
Were it not for Troy Warner's interception in the red zone on Harris' off-balance floater on UTSA's opening drive, it could have been worse, too.
After the fumble, and by the time Warner had negated it with his second career pick, Milne told Pau'u to shake it off. Much like two games previous when the Bingham High product had muffed a punt before becoming Wilson's go-to target and scoring touchdown, Milne told Pau'u to do the same thing, essentially.
"I told him we're going to come back to it, and it was just like if we had punted it the first possession," Milne recalled. "We had a good feel for the game, but we'll be alright."
Pau'u redeemed himself with a toe-tapping 4-yard catch in the back of the end zone on fourth down to give the lead back to the Cougars. BYU had 300 yards of offense before the break, but managed just two scoring drives, including Lopini Katoa's 11-yard touchdown from Wilson that gave the hosts a 14-3 lead.
Katoa finished with 47 yards on nine touches as the Cougars' starting running back, though Allgeier finished with more than twice the number of carries. When Wilson snuck into the end zone with a 4-yard scramble to give the Cougars a 21-6 lead, it felt like things were better.
"I felt like we were back to where we were supposed to be," Wilson said about that third touchdown drive.
While BYU's offense struggled, the Cougars' defense held UTSA out of the end zone until the first play of the fourth quarter.
That's when Franklin hauled in an otherworldly catch 32 yards from Lowell Narcisse to cap a five-play, 65-yard drive in less than 90 seconds for the Roadrunners.
Meep meep.
Narcisse added a 34-yard touchdown to Brennon Dingle with 1:17 left in the game. Keenan Pili, who had five tackles, recovered the Roadrunners' on-side kick attempt and BYU put the game away.
"I think they just found something with Lowell," said linebacker Isaiah Kaufusi, who had a game-high nine tackles, including six solo stops and shared a tackle for loss. "He was slinging it around and was confidence. They just attacked some of our coverages, and Lowell seemed a lot more confident. He started slinging the ball.
"That's a really good team, well-coached and physical."
BYU will face its second of three-straight opponents from the state of Texas next Friday at Houston. Kickoff is scheduled for 7:30 p.m. MT on ESPN.
Scoring summary
First quarter
4:55 — UTSA: Hunter Duplessis 39 field goal
Second quarter
13:41 — BYU: Neil Pau'u, 4 pass from Zach Wilson (Smith kick)
4:44 — BYU: Lopini Katoa, 11 pass from Wilson (Smith kick)
Halftime: BYU 14, UTSA 3
Third quarter
11:01 — UTSA: Duplessis 36 field goal
4:27 — BYU: Wilson 4 run (Smith kick)
Fourth quarter
14:26 — UTSA: Zakhari Franklin, 32 pass from Lowell Narcisse (Duplessis kick)
2:18 — BYU: Tyler Allgeier 6 run (Smith kick)
1:17 — UTSA: Brennon Dingle, 34 pass from Narcisse (Duplessis kick)
Final — BYU 27, UTSA 20
×
Photos
Related Links