PROVO — South Florida. Toledo. Northern Illinois. UMass.
BYU has shown some clunkers during the past three years, when the favored Cougars walked into a smaller venue than LaVell Edwards Stadium or onto their home turf against what many considered a lesser opponent, and quite simply, laid an egg.
The brief history of head coach Kalani Sitake is replete with a BYU football team sleepwalking by an opponent, and taking an "L" in the process.
And the Cougars threatened to add Texas-San Antonio to that list Saturday afternoon.
But then a funny thing happened: BYU won. Sure, the Cougars didn't look like the No. 15 team in the Associated Press Top 25 and Zach Wilson didn't look like the first-round NFL Draft pick that some expected him to potentially be. In many ways, Saturday's win was a clunker.
But the Cougars won that clunker.
So when BYU linebacker Isaiah Kaufusi says the Cougars didn't feel like celebrating a 27-20 win over UTSA immediately following the game, it can be understandable why Sitake made them all stand up and dosey-do in a line dance.
"After a game like this," Kaufusi said, "we just started thinking about how we could have done better and played to the best of our capabilities."
But winning college football games is hard — and no one knows that more than the Cougars. So even when your high-powered offense misfires, you don't cover the spread, and the over-under is more "under" than even "push," it's important to celebrate the win.
From the outside, much of BYU's victory over the Roadrunner was a failure: a season-low 470 yards, a season-high seven penalties for 55 yards, and the first-ever scoreless quarter of the 2020 season.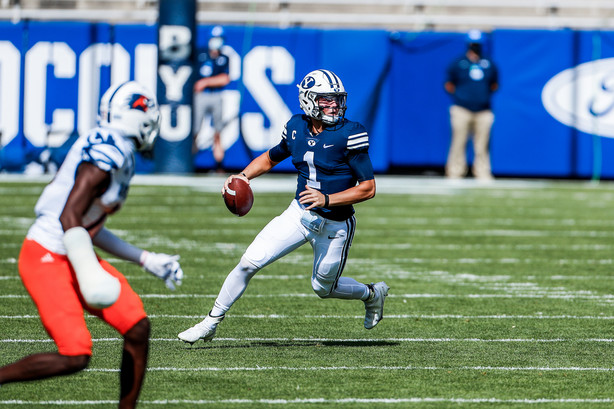 But the first goal of every game is to win. Style points are a distant afterthought, even when you're ranked in the AP Top 25 at the highest point since 2009.
"Obviously, there are some things that we need to fix and I wish we could have performed a little better in a lot of different areas," Sitake said. "But you can't disrespect this game and not celebrate the wins. I was proud of the team for competing."
Just three years removed from a disastrous 4-9 season, and coming off back-to-back 7-6 campaigns, the Cougars know better than to take any win for granted.
Heck, they know better than to take any game for granted in 2020, said Wilson, who threw for 292 yards and two touchdowns and ran for another score, surpassing 5,000 career yards in his three-year BYU career.
Just ask next week's opponent: Houston had five games canceled before they finally kicked off Thursday, pulling away for a 49-31 win over Tulane. Nothing is guaranteed this season, when not even eligibility counts for the majority of college football players that are trying to salvage a season amid strange guidelines designed to mitigate the spread of COVID-19.
"I wouldn't say that we fell into the hype at all," Wilson said. "The guys knew we had a team that was coming out here ready to play. Credit to those guys (at UTSA) for coming out and being ready. You can't take these games for granted. They fly by and the ones that you expect to win comfortably sometimes don't happen.
"BYU, for sure, knows that over the past. We've had games in the past that didn't work out that way. So we just need to take it one game at a time."
Part of why the Cougars felt so down in what could've been a jubilant locker room simply at winning a football game is because they've been in those tough positions before. They've lost those games they shouldn't have lost.
Saturday was on the verge of being one of those losses. BYU should have won that game, and big, according to the 34.5-point projected margin of victory by several smart people in the Southern Nevada desert.
But they didn't.
"I think the veterans were able to lead the team because in the past we've seen games where we've played teams we should've beaten. We knew that it was in the back of our head," said Dax Milne, who had a game-high seven catches for 102 yards. "We just didn't want to make that happen again. Everyone was able to lean on the veterans and focus up and make plays.
Me personally, I hate losing more than I love winning. We were able to be mature with this game and a win's a win."
It wasn't all bad, either.
The Cougars held a UTSA squad that averaged 209.2 yards per game to just 72 yards on the ground. Leading rusher Sincere McCormick, who averaged 131.75 yards through the first four games, had just 41 yards on 11 carries.
Stopping the run was a clear goal of the BYU defense. For all their foibles in other areas, the mission was accomplished in that one, even if UTSA backup quarterback Lowell Narcisse completed 17-of-20 passes for 229 yards and two scores.
"We definitely did a good job and when Frank (Harris) went out and Lowell came in they definitely found something there," Kaufusi said. "They adjusted very well coming out of halftime. I don't think that we played our best in the second half.
"We did stop the run and that was one of our goals. But we needed to stop the pass."
The Cougars will hit the film room Monday, when each penalty, poor read and misrun route will be dissected and examined.
Until then, they'll enjoy the taste of Saturday's victory — as sour as that taste may be.
"If there is any silver lining to this, it's that we were able to be uncomfortable a little bit," Sitake said. "I told the team that we'd been in this position before and lost these type of games. It felt good to get this win.
"It feels good to be 4-0 and learn from this. I think we'll perform a lot better next time."
Next up
BYU (4-0) at Houston (1-0)
Friday, Oct. 16
Kickoff: 7:30 p.m. MT
TV: ESPN
Radio: BYU Radio, KSL Radio
×
Photos
Related Links