PROVO — Any conversation about BYU's planned home game Saturday afternoon against UT San Antonio (1:30 p.m. MDT, ESPN2) in front of an empty stadium starts with quarterbacks.
Take, for example, BYU signal caller Zach Wilson, the 6-foot-3, 210-pound passer who has completed 85% of his passes and accounted for as many touchdowns (11) as incompletions.
"He is a dude now. He can really spin it," UTSA head coach Jeff Traylor said. "He is the best quarterback we have played. He is an NFL quarterback. He will get drafted. I would say he is a third-round guy or better.
"They have two NFL linemen, the center and the right guard. If you look at all of them, they are all redshirt seniors. They are grown men. They are mature and strong, physically imposing. Two really good receivers in (Dax Milne) and (Gunner Romney)."
In other words, the Roadrunners (3-1) are 34-point underdogs for a reason against a team that has ascended to No. 15 in the Associated Press Top 25, its highest ranking since 2009.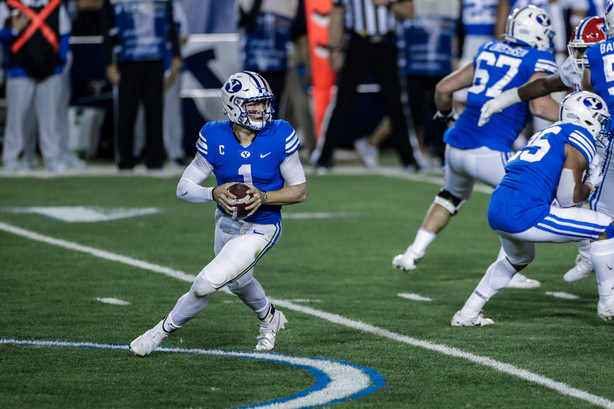 "It is opportunity to look at this as an opportunity," Traylor said. "It is kind of like our season, and we are going to look at this as an opportunity. We are going to go up there and find a way to scrap and see if we can hang in there with them and pull off a shocker."
Similarly, UTSA's offense starts, in many ways, with the quarterback: all four of them.
The 'Runners have played four quarterbacks in 2020, with redshirt junior Frank Harris leading the way. The Schertz, Texas, product is completing 66.2% of his passes for 508 yards and three touchdowns with just one interception.
But Harris did not finish last week's 21-13 loss to Alabama-Birmingham. In his absence, UTSA relied on Josh Adkins, Jordan Weeks and Lowell Narcisse under center.
Harris, for his part, said he feels healthy despite battling a sprained knee. But he'll defer to Traylor's decision at the end of the week, for obvious reasons.
"I'm feeling amazing, just getting back out there playing with my guys," Harris told San Antonio media this week. "It's an unbelievable feeling — I'm feeling blessing.
"I was thinking the worst. So when I went in and did stuff with the doc, he didn't suspect anything. Come to find out, he was correct."
Ideally, a team has an established quarterback and identity by the fifth game of the season. But part of the shuffle has been injury-related — Harris will be a game-time decision Saturday, Traylor said — and BYU will be preparing to face each signal caller.
"Like this week, there's a high likelihood that we can't prepare for a single quarterback with an opponent. So we have to prepare for each one," said BYU assistant head coach and linebackers coach Ed Lamb, who added coaches sometimes have to rely on high school film to adequately prepare for a QB with less experience in the college system.
Adkins, a 6-foot-2 transfer from New Mexico State, appears to be the clear-cut No. 2 quarterback in Traylor's system, with 233 yards and a touchdown in two games. With Harris being a game-time decision, Adkins seems a likely replacement starter, then.
But the Cougars won't know until game time.
"They all have unique skillsets," BYU head coach Kalani Sitake said. "But they really want to establish the run game, with a big O-line and big tight ends."
Harris is the more established running quarterback, with 190 yards and five touchdowns in four games. That's second on the team to running back Sincere McCormick, who averaged 5.9 yards per carry for 437 yards and four touchdowns as a sophomore.
Of course, football is an 11-man game, and a quarterback can only be as good as the cast around him. If there's another strength of the UTSA squad, it's the defensive line. The Roadrunners have forced 11 turnovers and created pressure on the quarterback with 11 sacks.
"Theirs is an aggressive style of defense," BYU offensive coordinator Jeff Grimes said of UTSA. "They're going to challenge you with their scheme, with extra pressures, linebackers in the front — really, everyone on the field can be a blitzer. And in every scenario, not just certain down and distance … and it may come back-to-back-to-back, particularly if you don't handle it."
HOW TO WATCH, STREAM, LISTEN
UT San Antonio (3-1) at No. 15 BYU (3-0)
Kickoff: 1:30 p.m MDT
TV: ESPN2 (Anish Shroff, Tom Luginbill, Taylor McGregor)
Streaming: WatchESPN
Radio: BYU Radio, KSL NewsRadio (Greg Wrubell, Riley Nelson, Mitchell Juergens)
Series history: First meeting
Live stats: KSL.com Game Center
Venue: LaVell Edwards Stadium (natural grass, capacity: 63,725)
Forecast: Partly cloudy, high of 81 degrees
×
Photos
Related Links