PROVO — The brightest star on a college campus is always the starting quarterback.
At BYU — once called "Quarterback U." based on the passing plaudits of Robbie Bosco, Jim McMahon, Steve Young, John Beck and a list of others too lengthy to name — that is especially true.
But one name stands out right now, and not just in the local lexicon of college sports: Zach Wilson.
The 6-foot-3, 203-pound junior from Draper has been the toast of college football during the No. 15 Cougars' steep rise in the first three games of the college football season, completing 85% of his passes for 949 yards and six touchdowns — good for a 221.85 QB efficiency rating — in a 3-0 start to the season.
He's accounted for as many touchdowns (11) as he has incompletions. If Wilson maintains his current completion percentage through the 10-game season as currently scheduled, he will easily surpass Young's record of 71.3% set in 1983. Other top marks on the list include John Beck, Max Hall and Steve Sarkisian.
Either way, he's joining rare air for a BYU quarterback.
"He's playing out of his mind right now," said BYU offensive coordinator Jeff Grimes, the architect behind the Cougars' explosion that currently ranks No. 1 in the Football Bowl Subdivision in total offense. "It starts with him being healthy; I think he has a lot of confidence. He has the arm strength and confidence he had as a freshman combined with the maturity and experience he had since last year."
Wilson has also attracted national headlines, too. After leading BYU to a 45-14 win over previously unbeaten Louisiana Tech, the Corner Canyon product was named the Walter Camp national offensive player of the week — BYU's first recipient of the award since Max Hall in 2009 — while earning his second-consecutive Davey O'Brien Great 8 honor and third straight week as a Manning Award Star of the Week.
Of course, a quarterback is only as good as his teammates. Wilson knows that and fully admits it.
"I feel like the guys came out; they did what they were supposed to do," Wilson told BYUtv after beating the Bulldogs. "The O-line held their own, the defense got stops, and the receivers made some big-time plays."
When you put up numbers like Wilson has through three games fo the season, you're bound to attract attention. But it's not just college football media and watch-listers who are keeping an eye on Wilson.
NFL types are, too.
Wilson was listed as a first-round NFL draft prospect by CBS Sports this week, being labeled as the No. 60 overall prospect and No. 8 quarterback in the class of 2020.
The junior, who could be eligible for the NFL draft this year as a third-year player but could also return for up to two more seasons of eligibility due to COVID-19 guidelines impacting eligibility, was labeled as a player NFL scouts and executives will keep an eye on in the future, CBS writer Chris Trapasso wrote.
"Get to know Wilson," writes Trapasso, who projected Wilson to join former BYU star Taysom Hill in New Orleans as the No. 27 overall pick this week. "He's played as well as any quarterback in the country to begin the season — he's thrown only 11 incompletions in three games — and is only 21 years old. He's showcased high-end scrambling ability, a big arm, and good downfield touch.
"The Saints swing for the fences here."
It's not just that BYU is undefeated. Many have remarked about the Cougars' strength of schedule, which is currently ranked No. 51 nationally — just behind Notre Dame (2-0) and just ahead of South Florida (1-2).
Again, the starting quarterback is often the most popular man on campus. In BYU's case, that popularity is spreading over to the national media.
"I really think Zach Wilson could be rocketing up as an NFL quarterback. I don't know if he'll crack the top three, but he's put on a show," said Yahoo Sports' Pete Thamel, who named Wilson a small-sample Heisman candidate, a tongue-in-cheek recognition given to the player with the most impressive week in college football each season on the Yahoo Sports College Podcast. "He's put on a show. He, to me, is one of the most fun players to watch. He has an improvisational style, there's a swashbuckling, Manzelian way about him that has just been really captivating."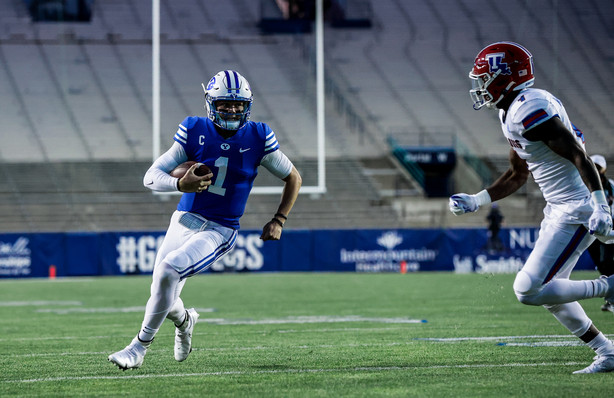 BYU also ranks 16th nationally by ESPN's Football Power Index, with an average rating of 13.6. The system projects the Cougars with an average of 9.1 wins and 0.9 losses, with their road tilt Nov. 7 at Boise State as the most difficult game currently on the schedule.
That's why BYU players address any questions about rankings, fast starts or lofty offenses the same way: We haven't done anything yet.
"The attention is great, and we love it," BYU safety Troy Warner said. "But at the end of the day, we haven't done anything yet. That's what keeps us grounded.
"For Zach, he's doing things that I knew he could do from the get-go. He's one of the only quarterbacks I know who can make some of those insane throws. I get in his ear all the time to stay humble; I just want to see him do really well this year, and I think he will."
Wilson knows that as much as anybody, at least according to a conversation he had Monday with BYU coach Kalani Sitake.
"I just talked to him in the hallway," Sitake said Monday during his weekly pregame media briefing. "He's already moved on to the next game. Stop patting him on the back. He gets enough of that already.
"We celebrate and dance in the locker room after we win. After we leave, we're back to business, grade the film, and get better."
×
Photos
Related Links