SALT LAKE CITY — With school starting again and kids running off to after-school activities, it can be difficult to find time to connect as a family. Something that might help? Family meals.
September is National Family Meals Month and having meals together as a family is not only a great way to connect with your children, it can also help you stay updated on what's happening in their lives. Researchers have found that there are great benefits to families who engage in meals together at least once a week. Here are some of those benefits.
They can improve physical health: Families who have meals together on a regular bases are healthier and less likely to develop an eating disorder or become obese. Having at least one meal together regularly can help improve the lifelong health of your children.
They can help improve performance in school: Studies have found that children who have family meals perform better in school than their peers who do not have regular family meals.
They can help improve mental health: Having regular family meals has been shown to decrease likelihood of depression and improve resiliency. With school starting again and the uncertainty of the current pandemic, doing things to improve our mental health is important. Taking time once a day to connect with family members around the table for a meal is a great way to check up on each other and help support one another during these difficult times.
Planning a family meal may seem overwhelming, so here are a few meal ideas to help get this tradition started in your home:
Roasted Vegetables, Meatballs and Brown Rice/Quinoa Bowl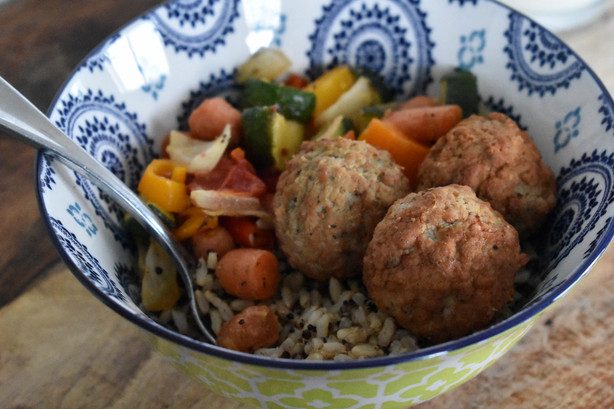 Ingredients:
1 medium zucchini
½ medium yellow onion
½ yellow bell pepper
½ red bell pepper
1-2 handfuls of cherry tomatoes
1 handful of baby carrots
1 tbsp. of olive oil
salt and pepper to taste
1 cup of uncooked brown rice
1 package of pre-cooked Italian meatballs
Instructions:
Prepare the brown rice according to instructions on the package. Cut the zucchini, onion, bell peppers and carrots into bite-sized pieces. Combine all the vegetables on a tin foil-lined cookie sheet. Drizzle the olive oil, salt and pepper over the vegetables. Toss the vegetables a few times to evenly coat the vegetables with the olive oil mixture. Then add the meatballs to the cookie sheet and place in the oven for 20 minutes at 350 F. Once the vegetables are roasted and the meatballs are warmed through, combine them with the brown rice and serve.
One-Pot Burrito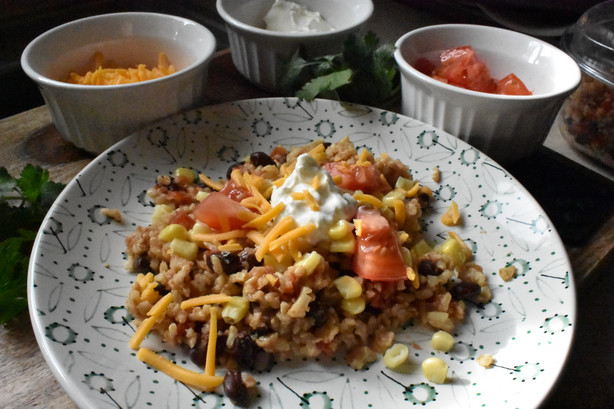 Ingredients:
1 cup of uncooked rice
¼ cup diced yellow onion
1 15 oz. can of black beans, drained and rinsed
1 14.5 oz. can of diced tomatoes and chiles
½ tsp garlic powder
½ tsp chili powder
½ tsp cumin
2½ cups of low sodium chicken broth
1 cup of frozen sweet corn
Optional toppings: cheddar cheese, sour cream and/or avocado
Instructions:
Sauté the onions in 2 tbsp of olive oil until soft about 2 minutes, then add the black beans, tomatoes, rice, chicken broth and all seasonings (garlic powder, chili powder and cumin). Bring it to a boil, stirring optionally. Then turn the heat down to simmer, cover the pot and cook on low for 20 minutes or until the rice is tender.
Zucchini, Squash, Tomato, and Angel hair Pasta
Ingredients:
1 package of angel hair pasta
1 medium sliced zucchini
1 medium yellow squash
1 cup of cherry tomatoes
5 tbsp. of olive oil
1 tsp. of Italian herb seasoning
1 tsp. of garlic Salt
¼ tsp of pepper
¼ cup parmesan cheese (grated parmesan cheese)
Instructions:
First, slice the zucchini and yellow squash into medallions. On the stove in a frying pan, heat 1-2 tbsp. of olive oil. and then add the zucchini, yellow squash, and cherry tomatoes and sauté until the vegetables are soft and slightly browned. While cooking the vegetables, boil the water to cook the pasta in. Cook the pasta according to the package's directions. Once the pasta is cooked, drain the water and toss the pasta with the remaining olive oil. You may need to add more to ensure that all the pasta is lightly coated olive oil. Then add the Italian herb seasoning, garlic salt and pepper and mix it into the pasta. Taste the pasta and see if you need more to add more seasonings. Finally, top the pasta with the sautéed vegetables and sprinkle the top of the pasta with the parmesan cheese.
These are a few of my favorite family meals from both my childhood and for my family right now. Family meals don't have to be ornate or served on fine china to provide your family with the proven benefits. Try to pick one meal to eat together as a family at least once a week and slowly increase the number of days you eat a meal together to help improve your family's mental and physical health.
---
---
Editor's Note: Anything in this article is for informational purposes only. The content is not intended, nor should it be interpreted, to be a substitute for professional medical advice, diagnosis, or treatment. Always seek the advice of your physician or other qualified health provider with any questions you may have regarding a medical condition; Any opinions, statements, services, offers, or other information or content expressed or made available are those of the respective author(s) or distributor(s) and not of KSL. KSL does not endorse nor is it responsible for the accuracy or reliability of any opinion, information, or statement made in this article. KSL expressly disclaims all liability in respect to actions taken or not taken based on the content of this article.
×
Photos
Related Stories