SALT LAKE CITY — A new online wildfire dashboard released last week now provides Utahns a better look not only at the fires currently burning in the state but also trends of previously reported wildfires — and that's quite a lot of information to take in this year.
State and federal officials report there had been 1,224 wildfire starts, as of 9 a.m. Thursday. The fires have collectively burned over 200,000 acres of land across the state, according to information provided by the Utah Wildfire Dashboard, which was publicly launched on Aug. 27.
The website says it was designed as a way to "show real-time fire information and aggregate data." The Bureau of Land Management, U.S. Forest Service, Utah Department of Natural Resources and its Division of Forestry, Fire and State Lands — the agencies that comprise most of the state and federal agencies that fight wildfires in the state and run Utah Fire Info — oversee the dashboard.
It was originally developed in July as an internal tool to provide state and federal fire officials with a better look at trends seen in fire data, said Julie Osterkamp, fire geospace ecologist for the Bureau of Land Management's Utah office and designer of the dashboard. But government officials quickly decided to release it to the public as an informative look at the fire season.
"All of our systems over the past three to five years have really started to integrate more, and we have better and better access to data," Osterkamp said. "It used to be all file systems and whatnot, but now that everything is being published in the cloud and people are given certain permissions — it's there, but now we're just starting to utilize it and present it so other folks can consume it."
Unlike Utah Fire Info's original map showcasing current active large wildfires, the Utah Wildfire Dashboard shows location and acreage information of all current fires and all previous 2020 fires, regardless of the size or duration of the fire. So, you can see where a 1-acre human-caused fire happened near Beck Street in Salt Lake City on Aug. 22 or where the 78,000-acre Canal Fire in Millard County started.
The map updates after a new fire is called in, as well. For example, there were two new fires within 24 hours of 9 a.m. Thursday that burned 41 acres in Utah. In addition, the map lists seven active large fires currently burning.
False alarms, abandoned campfires and smoke reports are not listed on the site.
The fires that are logged in are broken down into three categories: human-caused, natural-caused and unknown, which are indicated in red, yellow and blue, respectively. This allows the viewer a quick look at where human-caused and naturally-caused fires are occurring. The website even breaks down the number of fires by county and provides acreage and cause information regarding the 25 largest wildfires of the year.
So what does this website tell us about Utah's current fire situation?
Most fires this year have been human-caused
Human causes, such as leaving a campfire unattended or from the spark of a vehicle, are by far the primary reason for wildfires in Utah. This is something we've heard from fire officials already.
State and federal agencies report 816 fires have already been determined to be human-caused with another 101 unknown. Only 307 fires are believed to be natural, such as those caused by lightning.
Some of these figures are different from what the Forestry, Fire and State Lands released on Wednesday. Both have similar wildfire start totals, but the two agencies have different percentages for human-caused fires. For example, the state reports 905 of 1,210 fires as of Sunday were human-caused, which is about 75%. The Utah Wildfire Dashboard lists 66% of fires as human-caused — although, adding the number of fires listed as unknown leads to 75%.
Jason Curry, a spokesperson for the Utah Division of Forestry, Fire and State Lands, explained it's due to a difference in information at the time a fire is logged into the dashboard. The dashboard data shown reflects the initial report to a call center; it hasn't been updated to reflect that almost all of the fires listed as unknown were human-caused, he said.
This lag happens because the cause of a fire wasn't known at the time it was called in, and it may take days for investigators to determine a cause. Osterkamp added she hopes the data provided from both the dashboard and fire officials will eventually be unified to avoid potential confusion from information released by agencies.
No region is spared from wildfires
The data shows regions don't dictate wildfires — they're literally everywhere. Just look at the top five counties where wildfires have been reported: Washington County in southwestern Utah leads with 128 fire starts, followed by Uintah County in northeastern Utah with 118 fires. Tooele (93 fires) in northwestern Utah, Millard (87 fires) in central Utah, and Iron (73 fires) in southwestern Utah round out the counties with the most fires.
Duchesne, Summit, San Juan, Utah and Sevier counties have at least 50 fire starts this year.
At least one fire has been reported in every county this year, too. Piute County in southern Utah has the fewest with four fires. Wayne, Rich, Carbon and Davis counties round out the top five in fewest fires. Daggett, Cache, Morgan, Salt Lake and Emery counties all have had fewer than 20 fire starts reported.
Natural-caused fires have burned more acres on average
It doesn't matter what sparks a fire, natural and human causes have been equally destructive in terms of fire size this year.
The two largest fires so far, the 78.065-acre Canal Fire and the 20,941-acre Rock Path Fire, were caused by lightning. The human-caused Knolls (12,584 acres), Turkey Farm Road (11,993 acres) and Tabby Canyon (6,849 acres) rounded out the top five.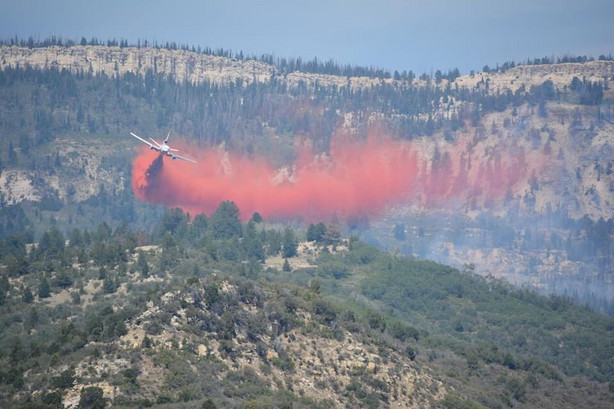 In fact, of the Top 25 fires by size, there wasn't really a difference by cause. Fourteen were human-caused, 10 were natural-caused, and one was listed as unknown.
But since there are significantly more human-caused fires, natural-caused wildfires are larger on average. The average natural-caused blaze was about 436 acres, as of Thursday morning. The average size for human-caused fires was about 81 acres, or close to 76 acres if you lump all unknown caused fires into that category.
It should be noted that while human-caused fires are smaller in average size, it still requires resources to contain or put out a fire that otherwise would not have been used, and that can cause a strain on firefighting services.
Human activity leaves interesting fire patterns
One quirk within the red dots is the patterns one can find with them. For example, a user can see a trail of dots along the path of I-15 as the freeway cuts through the state. Similar patterns follow the routes of different freeways and highways in the state.
Utah fire officials have noted for some time how sparks from vehicles or a flat fire can cause a fire.
"Obviously, human-caused fires are usually where humans live; but they're also pretty concentrated around major corridors like I-15 and I-70, and to like I-80 in Tooele County," Osterkamp said. "When you zoom in, it almost looks like the dots are just following the road."
It's not just roads. Popular camping and recreation areas are also located in areas where the red dots are bunched. Much like roads, it's not surprising because that's where people are, and they may be doing activities that can spark fires, like target shooting or misusing ATVs on public land.
Osterkamp sees the dashboard as an advantage for people heading out for recreational activities to curb wildfires. If you plan to go somewhere and participate in an activity that could spark a fire and see it's in an area surrounded by red dots, it's likely an indication that the fire risk is strong for that location.
That's the hope fire and land officials have from the dashboard, especially during an active fire season. They hope the data will lead to a better understanding of the situation firefighters currently face so people will make better decisions outside.
"It's really cool to be able to see exactly where the human starts are and how many we have had this year," Osterkamp said, referring to the dashboard data. "If they see that this (certain) area had a ton of human starts recently, I would hope that would register."
×
Related Stories