Estimated read time: 6-7 minutes
This archived news story is available only for your personal, non-commercial use. Information in the story may be outdated or superseded by additional information. Reading or replaying the story in its archived form does not constitute a republication of the story.
GREEN RIVER, Emery County — Federal land managers unveiled last week their final plans to boost the San Rafael Desert as a motorized recreation destination for years to come by selecting 700 miles of land pathway designation for off-highway vehicle use.
The massive plan has garnered praise from some hoping that the area will blossom as a recreation hotspot, while others blasted the plan they say will harm the grandeur and historic significance of the scenic region.
The Bureau of Land Management weighed four final options that dealt with varying levels of vehicle use on over 1,160 miles of road throughout the 377,609 acres of public land. The BLM-managed portion accounts for 86% of the entire 439,735 acres within the designated San Rafael Desert travel management area south of Green River in Emery County.
The plan the agency selected offered the most off-highway vehicle use of three alternates to an original 2008 plan. It calls for 701.6 miles of routes designated open for OHV use and another 65.2 miles with limited OHV use. In all, it's 65% of the 1,160 miles within the area. The remaining 35%, some 414 miles of routes, will be closed to OHV use.
People are able to be on any of the pathways for nonmotorized use unless otherwise posted for safety reasons or resource protection.
The San Rafael Desert is not only home to pristine landscapes, but it's also in a section of Utah with ties to Native American history. It's drawn interest as a recreation spot, especially as more people venture out across the state. In the 1980s, federal land management started addressing concerns of "unplanned roads and trails" on public lands. There was a 2003 San Rafael Route Designation Plan, and another plan in 2008.
In addition to releasing its final implementation guide, the agency also released its final 344-page environmental assessment document Friday. The document showed the four options the federal agency had considered for its 2020 plan.
The first, which offered no change from a 2008 plan, includes 302.6 miles of off-highway vehicle access on BLM land. That was on top of 878 miles of undesignated routes "that have seen continued OHV use since the BLM adopted the 2008 (resource management plan) and would be expected to see continued use if (this option) were adopted."
The three other options include a mixture of designations of land where off-highway vehicles are either open, limited or closed. These options range from 334.2 to 732.3 miles of land designated as open for OHVs (28-62% of all roads), 16.8 to 136.4 miles of land that has limits to OHVs (1-12% of all roads), and 311.9 miles to 829.6 miles closed to OHVs (26 to 70% of all roads). All four options would have granted dozens of routes for OHV access.
The plan selected was a modified version of the fourth option, which leaned toward more open OHV access than the two other alternatives to the 2008 plan. It offers more than double the open OHV routes than the 2008 plan but also offers specifically limited and closed routes that weren't included in that option.
Green River Mayor Travis Bacon, who said he grew up admiring what the area offers, also applauded the plan and measures to open the area to more recreation.
"The importance of the San Rafael Desert and its contribution to our sense of self — along with its value recreationally, economically, historically and culturally (to name just a few) — cannot be overstated," he said in a statement Friday. "I would like to thank the BLM for the opportunity to comment and advocate for openness and multiple use."
The Idaho-based nonprofit Blue Ribbon Coalition, which promotes responsible off-highway vehicle recreation, also supported the plan.
"As more and more Americans turn to outdoors to improve their mental and physical health in the midst of a global pandemic, it is encouraging to see the BLM stand up for increasing public access to Utah's beautiful landscapes," said Ben Burr, policy director for the organization, in a statement.
But leaders of a Utah conservation group that previously sued the BLM over the original decade-old plan weren't as enthusiastic about the revision selected. The Southern Utah Wilderness Alliance sued the Department of Interior not long after the 2008 plan was released due to qualms with off-road vehicle plans. The two sides eventually settled in 2017 with an agreement that the BLM would create new resource management and travel management plans for the area and other parts of Utah.
The San Rafael Desert plan was the first of 13 travel plans the BLM is set to release over the next few years, according to the settlement. That also includes a plan for the region's San Rafael Swell that is expected to be released in the future.
According to the BLM's final 2020 environmental assessment document, the conservation group offered three options for the land that were ultimately rejected because many of the points were absorbed into the agency's alternate ideas for varying use of the land — including the idea selected.
Southern Utah Wilderness Alliance legal representatives blasted the plan this week, saying it would double the miles of off-road vehicle trails in the area and create a web of trails that would be difficult to manage.
"We're disappointed with it," said Laura Peterson, staff attorney for the Southern Utah Wilderness Alliance. "It's going to have very significant impacts. San Rafael Desert is a pretty unique and interesting area of Utah's backcountry. It includes the newly designated Labyrinth Canyon Wilderness and other wilderness-quality lands. Unfortunately, this just designates just a spiderweb of routes, without much rhyme or reason, that are really going to impact that area."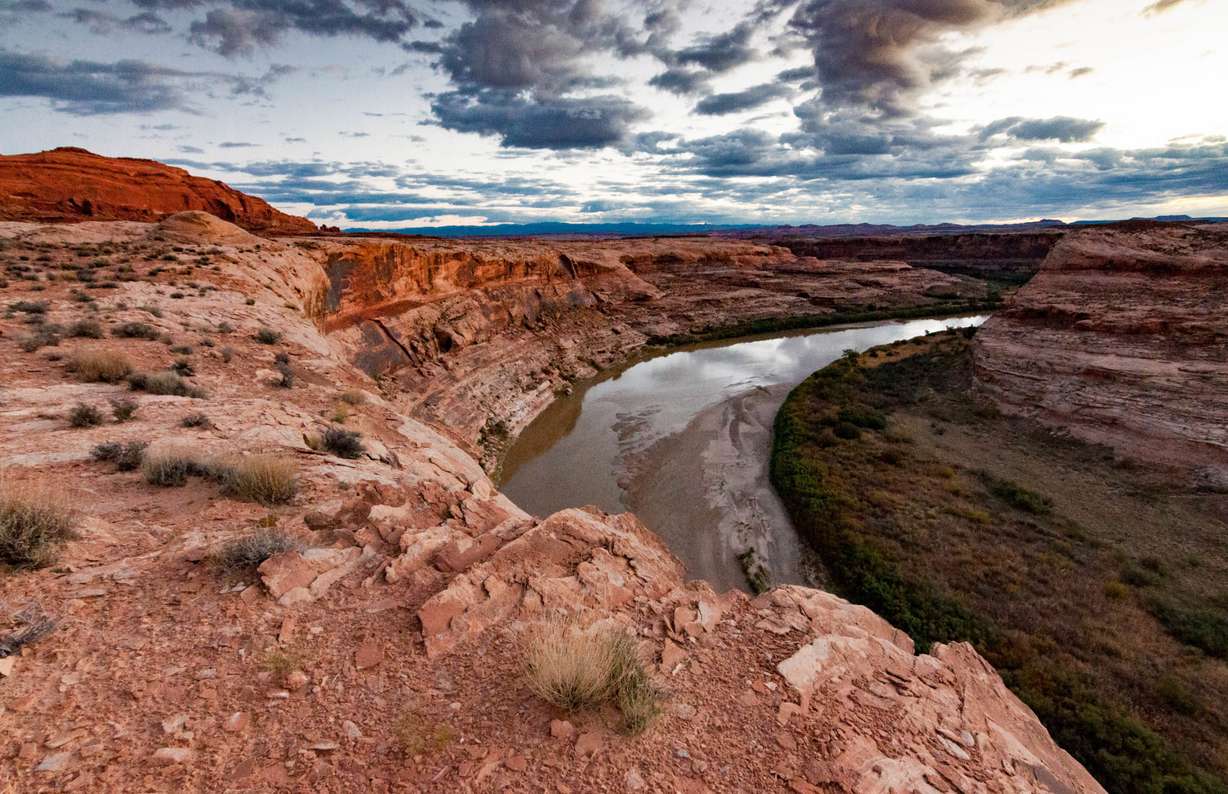 Given that the final plan came after a lengthy legal dispute, she said it was an opportunity for the federal agency to "get things right." In a statement Monday, the group's legal representatives instead called the final plan "short-sighted" and said that it falls "woefully short" of the agency's legal requirements to minimize harm to natural and cultural resources when crafting motorized vehicle routes.
Peterson explained that the Southern Utah Wilderness Alliance had hoped that the plan would better balance off-highway vehicle use while still preserving the landscape and minimizing impacts of vehicle use.
"That's the disappointing thing here. They didn't do that," she said. "They just, essentially just designated any land open on a map as open to motorized vehicles; and we were hoping that would not have happened."
The BLM's implementation guide report notes that impacts of OHV use on cultural resource sites as well as any impacts OHV has on plants, wildlife and soil erosion are issues of "particular importance" to the travel management plan. It also includes an objective to educate land users on the importance of respecting public land like following Leave No Trace principles.
It's unknown if the newly released plan will result in further legal action. Peterson told KSL.com Wednesday the group is still reviewing the entire document and before it makes any decisions. She added that she didn't know if any other conservation groups were looking to file an action against the plan.
A spokesperson for the Bureau of Land Management said there is a 30-day period after a travel management plan is signed before aspects of the plan begin to be implemented. If there are no legal holds after that period, parts of the plan will begin then.
×
Most recent Outdoors stories