Estimated read time: 4-5 minutes
This archived news story is available only for your personal, non-commercial use. Information in the story may be outdated or superseded by additional information. Reading or replaying the story in its archived form does not constitute a republication of the story.
SALT LAKE CITY — In what is being touted as one of the largest operations of its kind in state history, local and federal officers just wrapped up a two-week operation to track down Utah's sex offenders and make sure they were still following the law.
"Operation Reboot" involved 11 police departments "touching nearly every corner of the state," said Matthew Harris, head of the U.S. Marshals Service in Utah.
Starting on Aug. 3, officers worked overtime shifts going door to door, checking on approximately 1,000 of Utah's 8,000 registered sex offenders. The goals were to make sure that the offenders were in compliance with the terms of being a registered sex offender in Utah, meaning that personal information such as their home address, cars they own and people they were living with, was up to date in the state's database.
Another goal was to arrest any sex offender who had outstanding warrants.
"This is a big deal," Harris emphasized. "An operation like this sends a message to sex offenders that law enforcement is watching, and if you don't register and you don't pay attention to the law, we'll come to get you."
Approximately 20% of offenders were found to be noncompliant, Harris said, adding that 33 people now face additional pending charges.
Details of the operation were announced Tuesday during a press conference with U.S. Attorney for Utah John Huber, West Jordan Police Chief Ken Wallentine, St. George Police Chief Kyle Whitehead and Weber County Sheriff's Lt. Cortney Ryan.
While the operation was for all sex offenders, Huber said an emphasis was placed on making sure people convicted of child sex offenses were in compliance. Each of the five speakers stressed that the importance of the operation was keeping children safe.
"Before COVID-19, kids had school resource officers, teachers, counselors and friends to lean on if abuse was occurring in the home. In our current times, some kids are being exposed to unsupervised sex offenders. The purpose of the checks the U.S. marshals and local law enforcement are conducting is to make sure sex offenders are living up to the requirements the court has mandated. The whole objective of the visits is to keep our children safe," Uintah County Sheriff Steve Labrum said in a prepared statement.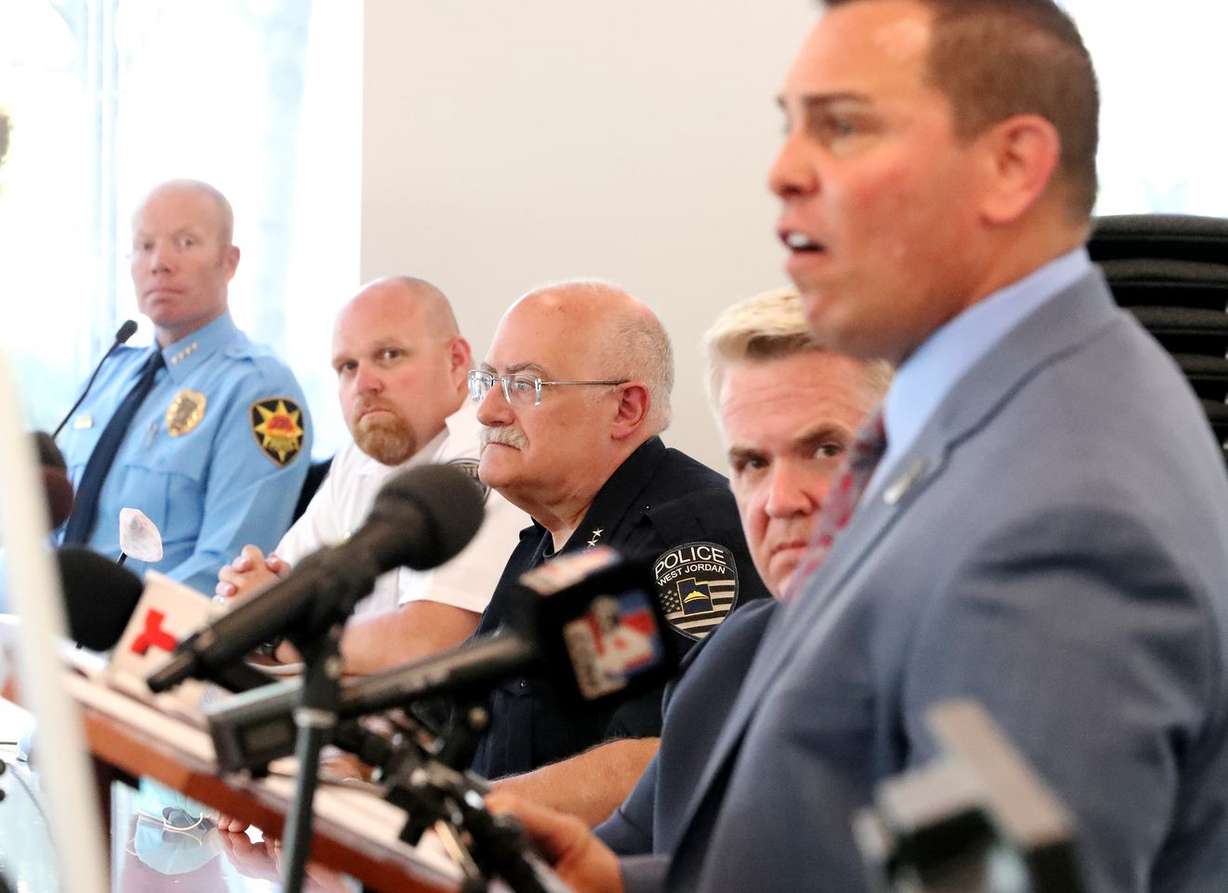 Huber said the operation was also about going after those who "who purposely try to leave the grid, to live off the radar," such as those convicted of sex offenses in other states who move to Utah.
"People in this category, they don't have a choice any longer. They can't say, 'I want to live away from the government,'" he said. "If a child predator goes off the grid, we will track them down and prosecute them."
Huber said "no good" can come from sex offenders purposely trying to live "off the grid." But even those who are simply trying to turn their life around without the stigma of being labeled a sex offender need to stay in compliance, he said.
"An offender cannot unilaterally decide, 'Hey, I'm ready to get a job, therefore I'm going to lie and live a lie in my life, I've had enough of the government.' They don't get that choice. Congress took that choice away from them," Huber said.
Utah's U.S. attorney also took time during the press conference to make a statement against the nationwide movement to "defund the police," saying these types of operations aren't possible if money is taken away from law enforcement agencies.
"This extensive, expensive operation brings into focus how ludicrous the demands and chants of the activists are. This type of operation shows how ridiculous the demands are to defund the police, to defund law enforcement. Who will protect our children in such a bizarre counter universe?" he asked.
But while approximately 1/5 of offenders whom police checked on were not in compliance, Huber said he feels good about the fact that approximately 80% were.
Wallentine said one offender who was checked during the operation even told his officers that he is not reoffending because of them.
"The fact that you come here to check on me, the fact that you come to find out if I'm still living where I'm supposed to be living, the fact that you come into my home and take a look at the conditions and the things that I'm doing, that helps keep me straight," he told the officers, according to Wallentine.
The operation ended on Aug. 14, but Harris said officers plan on making several hundred more compliance checks in the coming weeks.
The marshals service is responsible for keeping track of Utah's registered sex offenders. Huber said when the offenders are still "on paper" with the state, it's easier for agencies such as Adult Probation and Parole to help make sure those offenders are in compliance. But when those people are off probation or parole, sometimes only "happenstance and chance" lead to police finding an offender who is not in compliance. Huber said operations like the one recently completed help solve that problem.
The U.S. Marshals' Sex Offender Unit helped pay for the overtime shifts for local agencies to conduct the operation.
×
Photos
Most recent Utah stories