Editor's note: This article is a part of a series reviewing Utah and U.S. history for KSL.com's Historic section.
SALT LAKE CITY — It may seem like Aug. 18, 1920, carries more weight for America as a whole than it does for Utah. By the time the 19th Amendment was ratified and women all over the country were granted the right to vote, women in Utah had exercised the right freely for decades.
Ratification of the amendment was received as warmly in Utah 100 years ago as anywhere else in the country due in part to the state's influence on the amendment and as a trailblazer in women's suffrage. That's because the 19th Amendment was historic. At the stroke of a pen, a little more than a week after the 36th state ratified the amendment, millions of women were granted full suffrage for the first time.
"The 19th Amendment was the largest one-time expansion of the electorate in U.S. history," said Katherine Kitterman, a historian for the nonprofit Better Days 2020.
Here's a look at how the bill was passed, the role Utah played, how it wasn't the end of important voting legislation, and a new memorial that captures the fight for suffrage equality.
Race for ratification
Utah women long had the right to vote before Congress passed legislation to allow women's suffrage on June 4, 1919. When Seraph Young cast a vote in a Salt Lake City municipal election on Feb. 14, 1870, she became the first vote in a modern election open to men and women alike. Utah celebrated the 150th anniversary of that vote earlier this year.
Utah women briefly lost the right to vote when it was stripped from the territory in 1890 but regained it by the time Utah became a state in 1896 because women's suffrage was included in the push for statehood. It was officially the third state to grant women the right to vote.
There were just six states that allowed women's suffrage in 1911. By 1919, there were 15 states with the right to vote in all elections; another 11 states allowed women to vote for president only. The legislation needed 36 states to approve it to officially become an amendment to the Constitution.
Utah wasn't the first state to ratify the legislation. That honor belongs to Wisconsin, Illinois and Michigan on June 10, 1919. That was significant at the time because of the three, only Michigan allowed full women's suffrage; Wisconsin and Illinois only granted rights for presidential elections.
Pennsylvania became the first state without any previous women's voting rights on record to ratify the bill. That came two weeks later on June 24, 1919. Utah officially ratified the legislation on Sept. 30, 1919 — becoming the 17th state to ratify.
News accounts at the time show there was a lot happening as Utah ratified the bill. For example, it happened at a time when:
State leaders sifted through other national affairs, such as dealing with post-World War I regulations. In fact, reports indicate state leaders also argued heavily for the passing of President Woodrow Wilson's peace treaty during the same session they voted for suffrage.
Speaking of Wilson, questions of his health arose at this time. He had fallen ill during a visit to Colorado days before. Through the benefit of hindsight, we know Wilson suffered from exhaustion or a "mini-stroke" on Sept. 25 and suffered a massive stroke that left him mostly incapacitated for the remainder of his presidency just two days after Utah's vote.
There was a horrific race riot in Omaha, Nebraska, that followed the "Red Summer" of 1919.
There was also great interest in a World Series just getting underway between the Chicago White Sox and Cincinnati Reds, which would later become the infamous 1919 "Black Sox" scandal.
Nevertheless, news of Utah ratifying the bill made headlines — perhaps not as much because there was no question it was going to be ratified by the state. The Ogden Daily Standard reported on Sept. 30, 1919, that Utah's House of Representatives passed the ratification during a special legislative session after the state senate approved it unanimously the day before.
The bill was first introduced by state senator Elizabeth Hayward, who read the bill and didn't need to provide further context, according to the Salt Lake Herald-Republican.
"Mrs. Hayward in introducing the resolution simply said that no comment was necessary on the resolution as Utah had already granted suffrage to women and had been one of the first states to grant it," the newspaper printed in a Sept. 30, 1919, edition. "Therefore, she moved its adoption."
On Nov. 1, 1919, California signaled the halfway point in the race to 36. A handful of states ratified the bill in December that year and into 1920; however, it seemed to hit a snag after Washington became the 35th state to ratify the amendment on March 22, 1920.
"There were several states that met to vote on the amendment and didn't pass it or didn't even vote on it," Kitterman said. "Really, there was this question: Is this going to happen in time for women to be able to vote in the general election?"
This can be found in Utah digital newspaper archives. By August 1920, headlines turned to Tennessee and North Carolina, where debates involved national figures weighing in. On Aug. 17, 1920, North Carolina punted on voting on the measure; meanwhile, Tennessee voted the following day to become the 36th state to ratify the legislation.
After a messy summer of voting more than a year after Congress passed the measure, it was finally put into law nationwide. As a wire story in the Salt Lake Telegram noted, it meant 27 million women were to be eligible to vote just in time for the 1920 presidential election.
How Utah celebrated the 19th Amendment
As Kittmerman points out, there were plenty of suffrage movement leaders in Utah even though the state allowed women the right to vote.
"There were lots of women who were continuing to work for voting rights after Utah statehood, who were supporting the 19th Amendment and supporting the national movement," she said. "They had still been holding parades and meeting with legislators, signing petitions and doing things to keep suffrage in the public eye both here in Utah to put pressure on legislators in Congress, and to show support for the national organizations and other states that didn't yet have suffrage laws for women."
Aug. 18, 1920, isn't when the amendment was placed into the constitution. Although Tennessee had voted to ratify the measure, it was held up by last-ditch court efforts to challenge Tennessee's vote. On Aug. 26, 1920, Secretary of State Bainbridge Colby issued the official proclamation that the 19th Amendment passed and was now law, according to a Deseret News edition from that day. It noted that Colby signed the proclamation at his home that morning after receiving word Tennessee's vote was certified.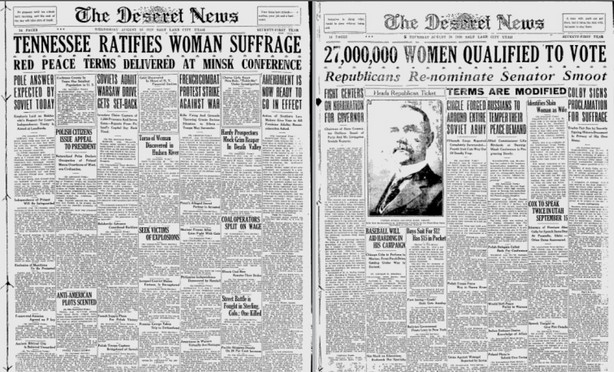 According to Salt Lake Telegram, the state's suffrage leaders celebrated the amendment on Aug. 31, 1920, with a meeting at the Utah Capitol followed by an automobile parade in downtown Salt Lake City that began from Hotel Utah. It came as newspapers ran stories of women in other states heading to the polls for the first time.
Kitterman said records indicate that the 1920 celebration was similar to previous Utah women's suffrage celebrations. Leaders gave speeches and read off poems. Among the speakers was Emmeline B. Wells, who was 92 years old at the time and one of the leaders of Utah's 1870 suffrage movement. Emily Richards, who fought to ensure suffrage was included in Utah's state constitution, also spoke.
It was a day that women got to celebrate all the work from the 1848 Seneca Falls convention in New York to Utah's movement, which awarded the right to vote 50 years before the national right, Kitterman explained.
---
Women of America, the battle you have so long fought for is won. The prize you have sought is yours. The hour of your triumph is sound. The hours of your tireless efforts are rewarded.
–Beulah Storrs Lewis, 1920
---
One of the speeches, entitled "Women's Victory" by Utah suffragette Beulah Storrs Lewis was printed in the Aug. 31, 1920, Deseret News.
"Women of America, the battle you have so long fought for is won," she wrote, in part. "The prize you have sought is yours. The hour of your triumph is sound. The hours of your tireless efforts are rewarded."
Kitterman added it's hard to know exactly how Utah women felt in August 1920. Newspaper accounts from the era help in knowing what happened but there are few writings available from Utah leaders that definitively show what was said in the meetings, as from Lewis's writing.
But the indications from the newspaper reports along with other materials available from the time show many Utah women were interested in ensuring women in other states got the same right to vote. Many Utah elected leaders in Washington also pushed for national suffrage, which indicated that Utahns were interested in a national measure, Kitterman added.
Why 19th Amendment didn't end voting inequality
Much like the 15th Amendment didn't solve all unfair tactics related to race in the voting booth, the 19th Amendment didn't quite mean all women were allowed to vote. In fact, it would take years before further legislation would close more divides in election equality. Many argue there are still gaps in voting equality today.
"A lot of women were still disenfranchised, especially women of color, after the 19th Amendment was passed because of additional barriers at the polls — for instance, poll taxes and literacy tests," said Neylan McBain, CEO of Better Days 2020, in relation to voting after the amendment was ratified. The nonprofit was created to better popularize women's history in the state.
"Regardless of gender, it still barred people from being able to vote or be considered citizens," she added.
Kitterman said some of the loopholes to prevent voting weren't written in Utah law books but there were many U.S. laws that prevented people of color from voting. That's not to say there weren't Utah laws that prevented some residents from voting.
For example, the Indian Citizenship Act of 1924 gave Native Americans citizenship and the right to vote. But Kitterman pointed out that Utah had a law in place that prevented residents of Native American reservations from voting until 1957.
Some of the U.S. laws barred immigrants from Asian countries from voting. The Immigration and Nationality Act of 1952 and the Voting Rights Act of 1965 helped close some of the remaining voting equality gaps.
New memorial remembers Utah's place in women's suffrage history
There's a new sculpture outside of Council Hall — the building where Young cast her historic 1870 vote — across the street from the Utah Capitol that will be officially unveiled this week. The memorial remembers key moments in the suffrage movements and continues outward to the 19th Amendment and other recent legislation that provided an equal right to vote.
Commissioned by Better Days 2020 and created by artists Kelsey Harrison and Jason Manley, the memorial has a few pieces to it that honor all aspects of women's suffrage. It includes a nod to early suffragettes Elizabeth Cady Stanton and Lucretia Mott, who drafted the Declaration of Sentiments in 1848 while in Seneca Falls, New York. Their work sparked the modern women's suffrage movement.
The memorial also pays homage to Young and her role in women's suffrage history. It also has doorways jetting outward toward the Utah Capitol with various advancements in equality from the 19th Amendment to the Equal Voting Rights Act of 1965.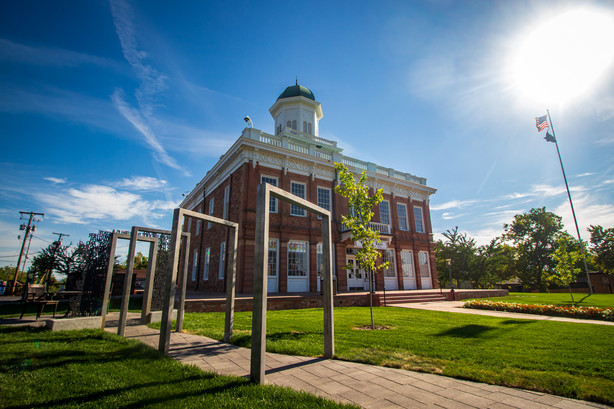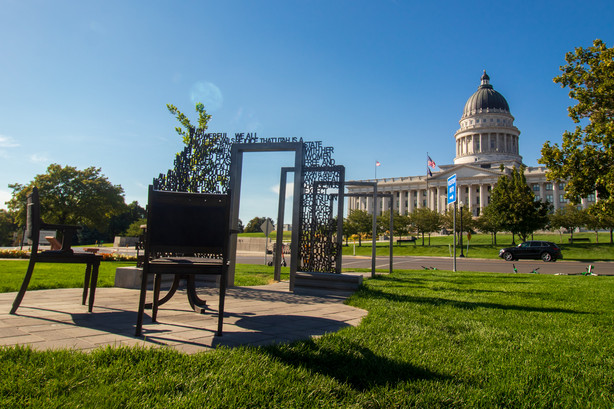 McBain explained that the goal was to include as much of the movement as possible, adding in reminders that the 19th Amendment wasn't the complete end to voting equality.
The doorways, which grow in size as you walk through to symbolize the growth of equality, include reminders of the legislation that improved voting access. The doorways lead out toward the Utah Capitol, as a representation of how new laws can be crafted to further equalize voting in the future.
The organization is hosting a two-day event to celebrate the anniversary Friday and Saturday, where people can explore the new memorial, learn more about women's suffrage history and play games. Due to COVID-19 concerns, pre-registration is required to prevent more than 50 people being at the event at the same time.
People can register for time slots online by clicking here.
What this anniversary means now
McBain said she often finds that Utah students are surprised to find out how relatively recent the women's suffrage movement was. The anniversary is, in her mind, an example of the power of civic engagement.
Even though Utah women had voting rights in advance of the 19th Amendment, they used their voice and experience to help many women who didn't have the same rights.
For Kitterman, the centennial is a reminder that the fight for suffrage equality wasn't easy. It's something that took years of fighting for. It's something that she believes brings power to the right to vote today.
"I think looking back 100 years ago and thinking about the millions of women and men across the country — and people right here in Utah — who made positive steps towards a fuller democracy. I think that's a big deal," she said. "I think they would be looking at us and saying 'what are you doing with that? What are you doing with your right to vote? With your voice? And how are you engaging in your own community to make things better?'"
×
Related Stories