Estimated read time: 5-6 minutes
This archived news story is available only for your personal, non-commercial use. Information in the story may be outdated or superseded by additional information. Reading or replaying the story in its archived form does not constitute a republication of the story.
SALT LAKE CITY — Week 1 of the 2020 Utah high school football season came, for every team but Bingham and Weber, that is.
That the Miners had three positive tests for COVID-19 that forced the first cancellation of the season was not unexpected; the Utah High School Activities Association put guidelines in place to allow teams to cancel games due to COVID-19 in a way that doesn't negatively affect their RPI.
But there were plenty of other things that stood out, too — like two shutouts by North Utah County rivals Lone Peak and American Fork, or the continuation of the train that is Corner Canyon.
We'll have a new list every week in the KSL.com Top 20+1 rankings. That's the Top 20 Utah high school football teams in the state, as well as one other game or result that caught our eye.
Here's what each team stands after the first week.
1. Corner Canyon (1-0)
Everyone is still chasing the defending champions in Class 6A. The two-time defending state champion Chargers jumped out to a 49-0 lead on Farmington before cruising to a 49-20 victory. Recent Roy transfer quarterback Jaxson Dart accounted for five touchdowns (three passing, two rushing) in the win.
2. American Fork (1-0)
The most eye-popping win of the opening weekend was the Cavemen's 55-0 rout of Lehi. American Fork quarterback and Cy Young candidate Maddux Madsen had five touchdowns in the win, while Noah Moeaki is an offensive and defensive threat.
3. Bingham (0-0)
The only thing stopping the Miners was COVID-19, which infected three players to cancel Bingham's opener against Weber.
4. Lone Peak (1-0)
John Henry Daley and Siale Tahi helped the Knights shut out Timpview 24-0 on the road, with a generous assist from defensive coordinator Ryan Denney.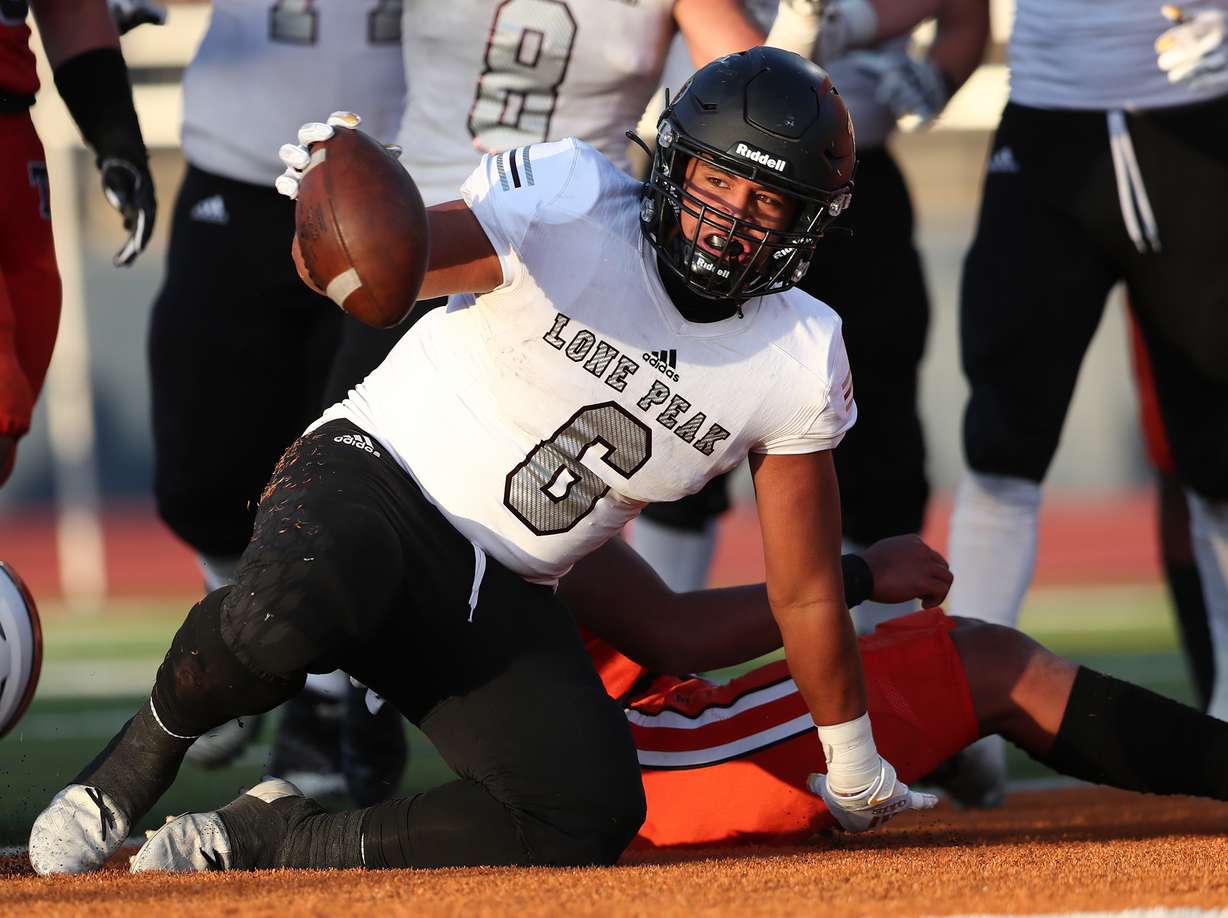 5. Orem (1-0)
Micah Fe'a threw five touchdown passes, and the reigning 5A champion Tigers jumped out to a 21-0 lead to run away from Mountain View for a 51-14 rivalry win in acting head coach Gabriel Sewell's debut. Sewell replaced Jeremy Hill, the fifth-year Tigers coach who was granted a temporary leave of absence by the school for personal reasons.
"We hope to have him rejoin the team in a few weeks," the school said in a news release. "We wish the team continued success on the field and at school."
Please read the attached picture! pic.twitter.com/KpDLkdcM7p

— Orem High School (@OHSTigers) August 15, 2020
6. East (1-0)
The Leopards clung to a 14-13 halftime edge over West Jordan before Amine Amone scored his first of two touchdowns on a 51-yard run to pull away for a 42-19 win.
7. Skyridge (1-0)
McCae Hillstead threw three of his four touchdown passes during a 21-0 first quarter to lead the Falcons to a 33-13 romp over Alta.
8. Sky View (1-0)
Kasen Carlson picked up where he left off for the reigning 4A champs, throwing three touchdowns during a 35-0 run before the Bobcats held off Stansbury, 35-27.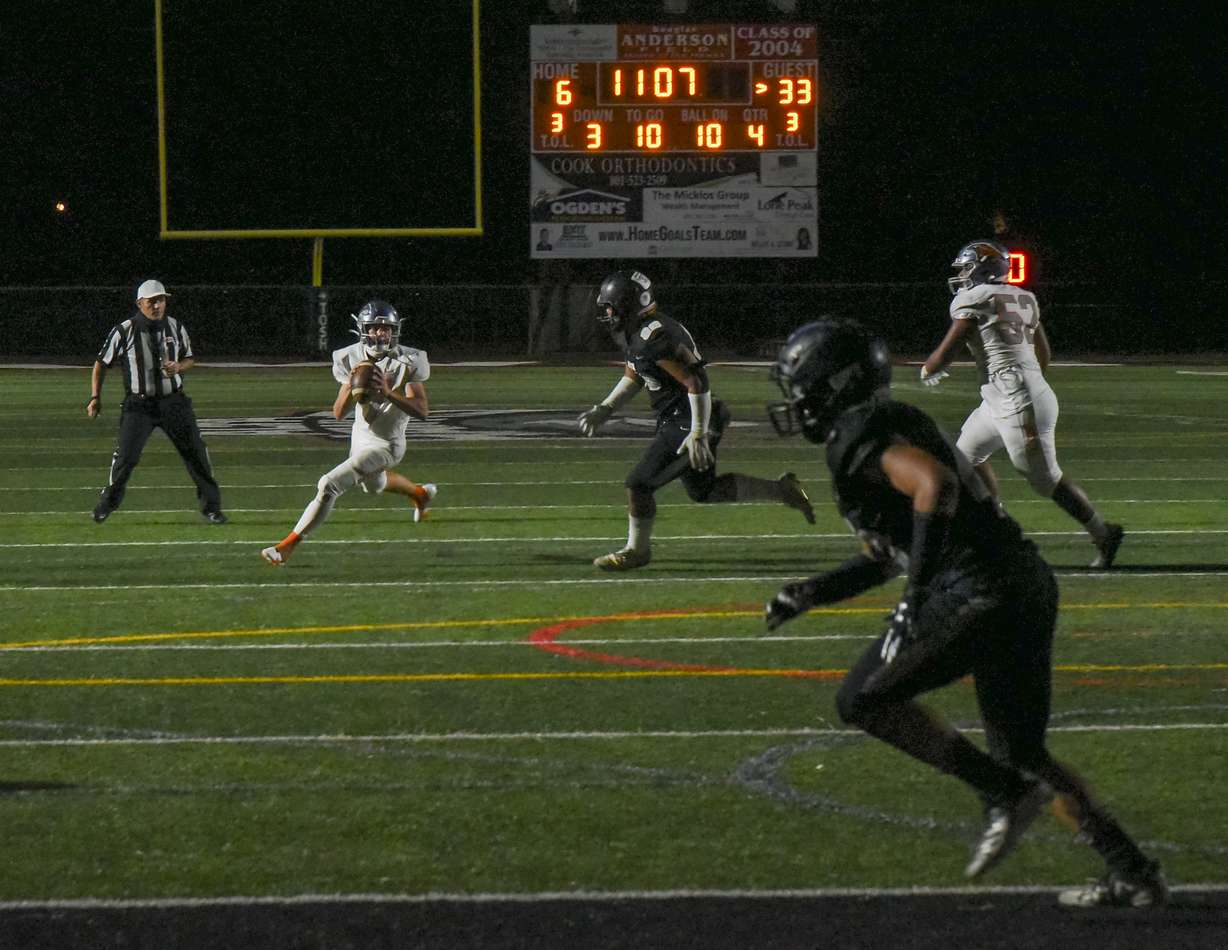 9. Pleasant Grove (1-0)
The Vikings held Riverton scoreless in the first half en route to a 35-0 lead before beating the Silver Wolves, 35-7.
10. Davis (1-0)
The inaugural sanctioned high school football game of the 2020 season, both in Utah and nationally, saw Chance Trujillo throw for a pair of first-half touchdown passes in rallying the Darts by Herriman on the road, 24-20.
11. Brighton (1-0)
Gabe Curtis accounted for six touchdowns, including four with his arm, as the Bengals out-dueled Fremont in a shootout, 56-42.
12. Kearns (1-0)
Charles Henderson scored on a 70-yard blocked kick return and a 55-yard pick six, but it was Jeff Bassa's 85-yard kick return that ignited the Cougars' 20-3 win over Box Elder.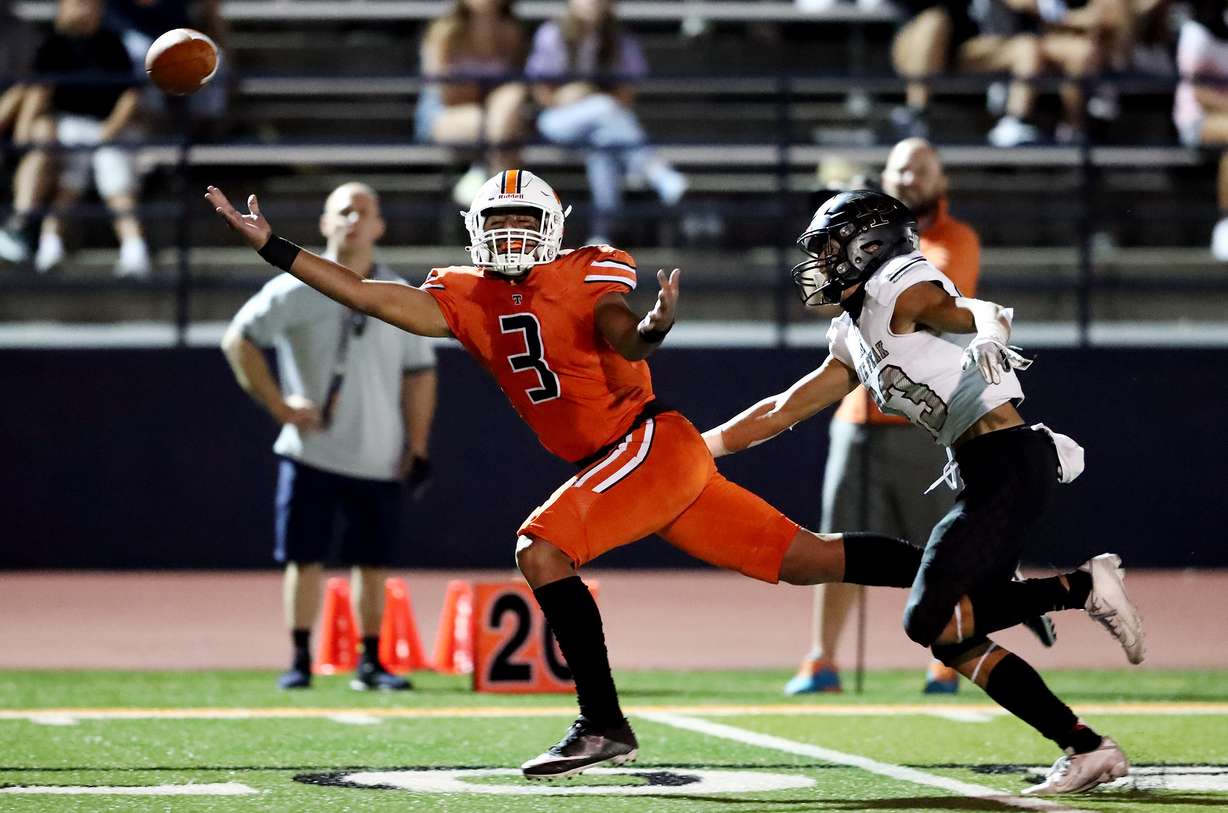 13. Timpview (0-1)
Timpview stars Raider Damuni and Carsen Ryan, both BYU targets, were mostly held in check by Lone Peak. Was that a product of the Thunderbirds' stagnant offense, or Lone Peak's defense? Turning attention to Thursday's trip to American Fork on a short week yields questions.
14. Maple Mountain (1-0)
BYU commit Kyson Hall caught three of Tyler Nelson's five touchdown passes en route to a 45-3 win over Cedar Valley that showed why some consider the Golden Eagles to be a darkhorse Region 8 contender.
Visit https://t.co/GNmTYGS2i0 for pics from the Varsity Football game against Cedar Valley.https://t.co/Y53LmXPUhJ#goldeneaglefootball#maplemountainsportspic.twitter.com/UTtke5Xym1

— MapleMountainSports (@MapleMtnSports) August 15, 2020
15. Snow Canyon (1-0)
Landon Frei passed for 210 yards and two touchdowns as the Warriors took the long road trip to Magna to shut out Cyprus, 42-0 and made a big statement about their Region 9 aspirations.
16. Roy (1-0)
Cade Harris and the Royals said plenty with a 42-7 win over Jordan.
17. Salem Hills (1-0)
Jarret Elmer threw for two touchdowns as the Skyhawks did all their scoring in the first half before cruising to a 34-8 win over Mountain Crest. Week 2 against Fremont should speak more to Salem Hills' region-title hopes.
18. Lehi (0-1)
Pioneers took one on the chin in a shut out loss to American Fork. Will Creyton Cooper rally Lehi in a long trip to St. George and Crimson Cliffs in Week 2?
19. Farmington (0-1)
Young Phoenix showed life with 20 points in the fourth quarter of a loss at Corner Canyon, but Chargers can do that to a lot of teams. Farmington can rally Friday against Syracuse.
20. Ridgeline (1-0)
Kaden Cox threw for three touchdowns in a 42-38 win over Pine View, and BYU commit Jovesi Damuni used a 74-yard TD grab to spark the Riverhawks, who get Cyprus, Farmington and Woods Cross to follow up.
We won!!! - We just had our first Sentinel Football win....27-17 against Olympus! Sentinel Strong!! https://t.co/wtdAM6uO6b

— Mountain Ridge High School (@MRHSSentinels) August 15, 2020
Plus-1
Mountain Ridge 27, Olympus 17
After a winless inaugural season, the Sentinels earned their first victory in program history with a 10-point win over a solid Titans squad. Ayden Helm threw for two touchdowns, and Cade Uluave ran for two scores for Mountain Ridge, which never trailed on the road in a game that may have meant more for the Sentinels than it did for Olympus.
×
Related Links