PROVO — After five months of quarantines, isolations and the constant threat of a global pandemic, Lone Peak's football team was looking forward to Friday night's season opener at Timpview more than the Knights have for years.
At least, their defense was.
John Henry Daley had four tackles for loss, and running back Siale Tahi rushed for three touchdowns to help Lone Peak shut out the Thunderbirds 24-0 in front of just under 1,000 fans in the KSL.com Game of the Week, one of 50 games that kicked off high school football across the Beehive State.
"I honestly think everyone was just hungry," said Daley, who also had a fourth-down sack. "With all this COVID stuff, we weren't practicing as much, and we were excited to get out and be able to hit somebody. We got after it tonight."
Lone Peak (1-0) didn't cross 100 yards of offense until early in the fourth quarter. But in many ways, the Knights didn't need it.
Between a defense that blitzed on every other play in the first half and a turnover margin that kept the Thunderbirds pinned in their own half for most of the night, Lone Peak's offense just had to be good enough.
"We knew they were a run-first team and look to pull a lot of people," Daley said of Timpview. "We thought if we could hit the gaps fast and get in the backfield, that would knock them off their game plan. I think we were able to execute that."
Daley, whose older brother Michael has signed with BYU, and Maxx Oborn made sure of that.
"Our defensive coaches did a really good job of mixing it up front," Lone Peak coach Bart Brockbank said. "And our D-line is really fast — John Henry and Maxx are … well, John Henry and Maxx. It reminds me of Michael at times.
"That Daley family, for whatever reason, has a motor that never stops. The difference between him and Michael is his motor also never stops with his mouth; Michael was a lot more quiet. But he doesn't take plays off, and it bugs him when he doesn't get in the backfield. He doesn't take plays off, and his upside is enormous."
After a scoreless first quarter in the earliest opening weekend of high school football in the country, Tahi gave Lone Peak all the scoring it would need with a 1-yard touchdown plunge with 3:47 left in the first half to take a 7-0 lead. Benjamin Miller added a 34-yard field goal less than a second before halftime to push the lead to 10-0 at the break.
Perhaps the first play of the second half encapsulated the entire game. That's when linebacker Luke Durfey recovered a fumble on the Thunderbirds' 18-yard line after just five seconds of game time.
A handful of plays later, Tahi rumbled into the end zone out of the shotgun for a 17-0 lead. The 5-foot-10 senior nephew of former NFL standout Fahu Tahi punched in his third touchdown from 3 yards out to ice the win with 2:50 remaining in the game.
ICYMI: @LPHSKnights opened the #UTHSFB season with a shutout at Timpview. Oh, and @Tahisiale6 scored a hat trick.

Here's his 3rd short-yardage touchdown of the night.

More » https://t.co/AxBTjeLqyypic.twitter.com/sk7n1iHrdg

— KSL.com Sports (@KSLcomSports) August 15, 2020
Of course, with a defense like the one the Knights displayed Friday night, scoring was easy. Lone Peak converted touchdown drives of 36, 10 and 30 yards into a Tahi hat trick to seal the win.
"Our defense is amazing," said Tahi, who also had a one-handed interception while moonlighting at linebacker. "We practice so hard every week, but I expect everything and more from them. I hope we continue every day and just get better."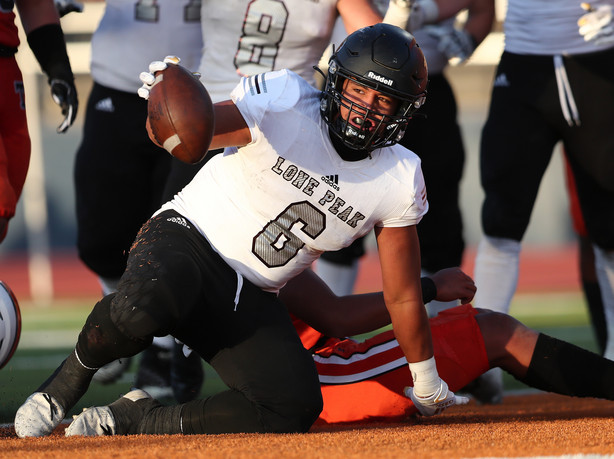 Everything leading up to Friday night was hardly normal for the Knights, from mask-wearing to social distancing to a spring season that was shut down before most of the then-underclassmen could start baseball, soccer or track and field.
Friday night brought a sense of normalcy. Even with increased guidelines to mitigate the spread of COVID-19.
"We were just so grateful this week," Brockbank said. "The most important thing was the kids were out. It's something normal for them; they've dealt with a lot of weird stuff, and I think they're confused with a lot.
"You could tell how bad these kids wanted it. For me, that was the best part of the night."
Daley, one of 32 seniors on the Knights' roster, agreed with his coach.
"We've been waiting our whole lives to play our senior season," he said. "It's a great opportunity."
Lone Peak will host Jordan next Friday at 7 p.m. MT. Timpview will play at American Fork on Thursday.
×
Related Links