Estimated read time: 5-6 minutes
This archived news story is available only for your personal, non-commercial use. Information in the story may be outdated or superseded by additional information. Reading or replaying the story in its archived form does not constitute a republication of the story.
SOUTH JORDAN — One day before the high school football season kicked off in Utah, a team has already canceled at least one game due to COVID-19 restrictions.
Friday's opener between Bingham and Weber has been canceled, a spokesperson for the Jordan School District confirmed to KSL. Three players tested positive for the novel coronavirus, the district said, and has canceled the contest out of an abundance of caution. Under current contact tracing protocols established by the CDC, anyone with direct contact to a confirmed positive case will be quarantined for two weeks, or roughly the life of the virus.
The Miners were scheduled to host the Warriors at 7 p.m. MT Friday.
Fifty games will kick off in the state of Utah this weekend, down from 51 as a result of the cancellation.
"They're doing the best that we can. There are some things we can control, some that we can't control," Bingham coach Dave Peck said. "Most of the cases we've had among the team have come from outside sources: family, friends. They haven't come from inside the team."
The outcome was not unexpected, even since the moment the Utah High School Activities Association approved reopening of high school sports back in July with Utah set to be the first state in the country to kick off prep football.
But in place of a complete prep sports cancellation like the one students endured in the spring upon Gov. Gary Herbert's soft closure of all Utah schools, parents, athletes and coaches agreed to abide by a strict set of recommendations by the UHSAA's sports medicine advisory council and other CDC-approved guidelines in order to play.
"The communication we've received from parents and educators both have said 'we're willing to do anything to allow our kids to participate,'" UHSAA executive director Rob Cuff said at the time. "We're willing to be part of the solution, not part of the problem."
Representatives with the UHSAA deferred comment on the cancellation or future makeup games to decisions handled by the teams involved and the district. No other cancellations are known at the time.
Bingham isn't the first high school team with an infected individual. On Tuesday, Davis School District said as many as 16 of its teams — which come from the second-largest school district in the state — had been quarantined or isolated while dealing with infections. Three of those teams were in quarantine this week.
A member of the football staff at Herriman, which opens the season Thursday against Davis, tested positive for the virus earlier in the summer. That positive test led to quarantines and a brief pause on all practices and activities until July 7.
Corner Canyon also reported a positive case of COVID-19 during the summer, as did American Fork's girls soccer program, which suspended workouts for two weeks at the time.
Two members of the Lone Peak girls soccer team also tested positive for the virus, leading the Knights to cancel two weeks' worth of matches.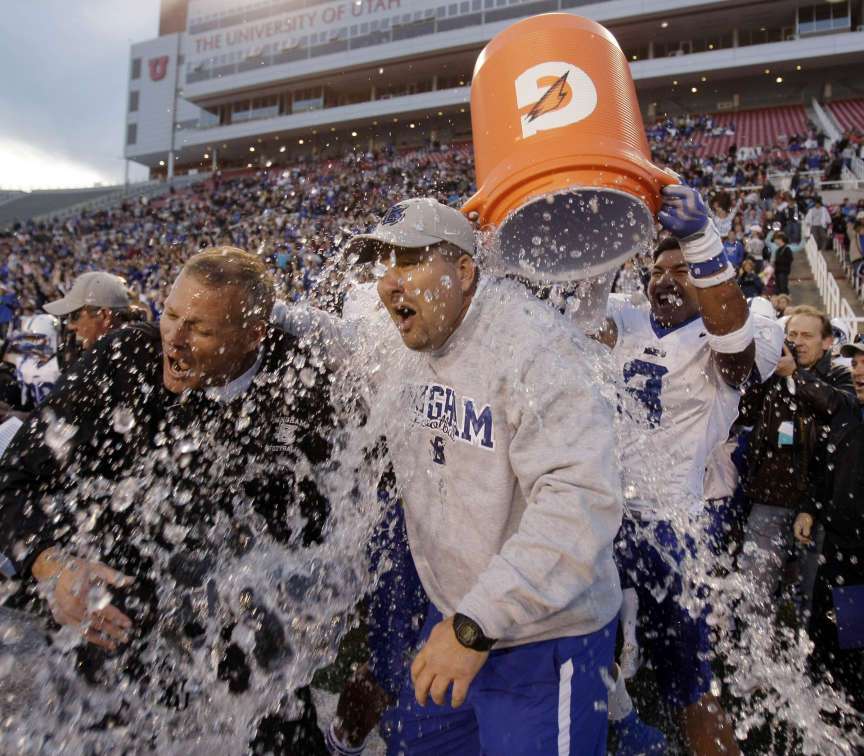 Bingham coach Dave Peck told the Deseret News that the Miners had "three or four cases" during the summer, forcing the cancellation of practices and scrimmages.
"We ended up having three or four cases when it was all said and done, so we kind of got shut down here and there a little bit," said Peck, who is in the first year of his second tenure with the Miners. "Our summer camp, we had some scrimmages planned and we ended up canceling them all. It's definitely been what I would say is the most challenging summer I've ever been through as a football coach."
Peck told the newspaper Wednesday that the three players did not exhibit symptoms, but were tested after a family member tested positive for the virus.
Games may be rescheduled where possible, but are not required to be. No team will receive a forfeit for canceled games due to COVID-19; the contest will simply count as a "zero" for RPI purposes.
Under the yellow phase of the state's COVID-19 response, which includes South Jordan and areas of Salt Lake County not within Salt Lake City's limits, players are monitored for symptoms of COVID-19 daily, including mandatory temperature checks and use of a district-approved app or form.
Practices are limited to no more than 50 participants while using "pods" to separate players and coaches from one another as much as possible, according to UHSAA guidelines. The sharing of equipment, from clothing to towels and water bottles, is strictly prohibited, and players are strongly encouraged to shower at home and wash all practice and game uniforms daily.
Pregame and postgame handshakes have also been prohibited under new UHSAA guidelines. Players and coaches on the sideline are strongly encouraged to wear a mask or face covering, as well as fans when social distancing is not feasible.
The pregame coin toss will include no more than one coach and one captain from each team. A "wave of sportsmanship" will conclude each contest, instead of a handshake line.
Sick players, coaches and spectators should also not be engaged in practices or games, and sent home if symptoms are manifest.
Hand sanitizer is also made readily available. During games, hand sanitizer will be available at the 50-yard line, and players will be encouraged to use it when entering and exiting the field of play.
Facilities are also sanitized regularly, including before, during and after practices and games, per regulations.
Bingham's Week 2 game is scheduled for next Friday at Skyridge, though that game could be subject to change.
Weber is scheduled to host Bountiful in Week 2.
Contributing: Matt Rascon, KSL TV
×
Related Links