Estimated read time: 4-5 minutes
This archived news story is available only for your personal, non-commercial use. Information in the story may be outdated or superseded by additional information. Reading or replaying the story in its archived form does not constitute a republication of the story.
HERRIMAN — For at least one night, Davis High's football team is the leading team in the nation.
Playing first has at least one advantage.
Chance Trujillo threw for a pair of first-half touchdowns, and Davis held Herriman to one second-half first down to ease into a 24-20 win over the Mustangs in 2020's first sanctioned U.S. high school football game of the COVID-19 pandemic Thursday night.
"Our defense played fast, they played sound," Davis coach Mitch Arquette said. "They did great things."
It also took a little maturity to respond after falling behind early. Good thing the Darts have a senior quarterback and returned five offensive starters from last year.
"That showed tremendous maturity from last year," Arquette added. "I think if that had happened to us last year, we would've been in the tank.
"We returned seven defensive starters and five offensive starters; guys who have had reps in these situations."
After a 60-yard punt return by Brock Hollingsworth, Herriman struck first with a 9-yard run by Nu'u Tafisisi.
But Davis responded just a few moments later when Trujillo found Ethan Healey for his first of two first-half touchdowns. Spencer Ferguson added a 10-yard touchdown run set up by David Spjut's 40-yard punt return midway through the second quarter to lift the Darts to a 21-7 halftime lead.
"It was big for us to put a drive together and get the momentum back," Trujillo said after the slow start. "Momentum was going good in that first half; we just need to keep building on it."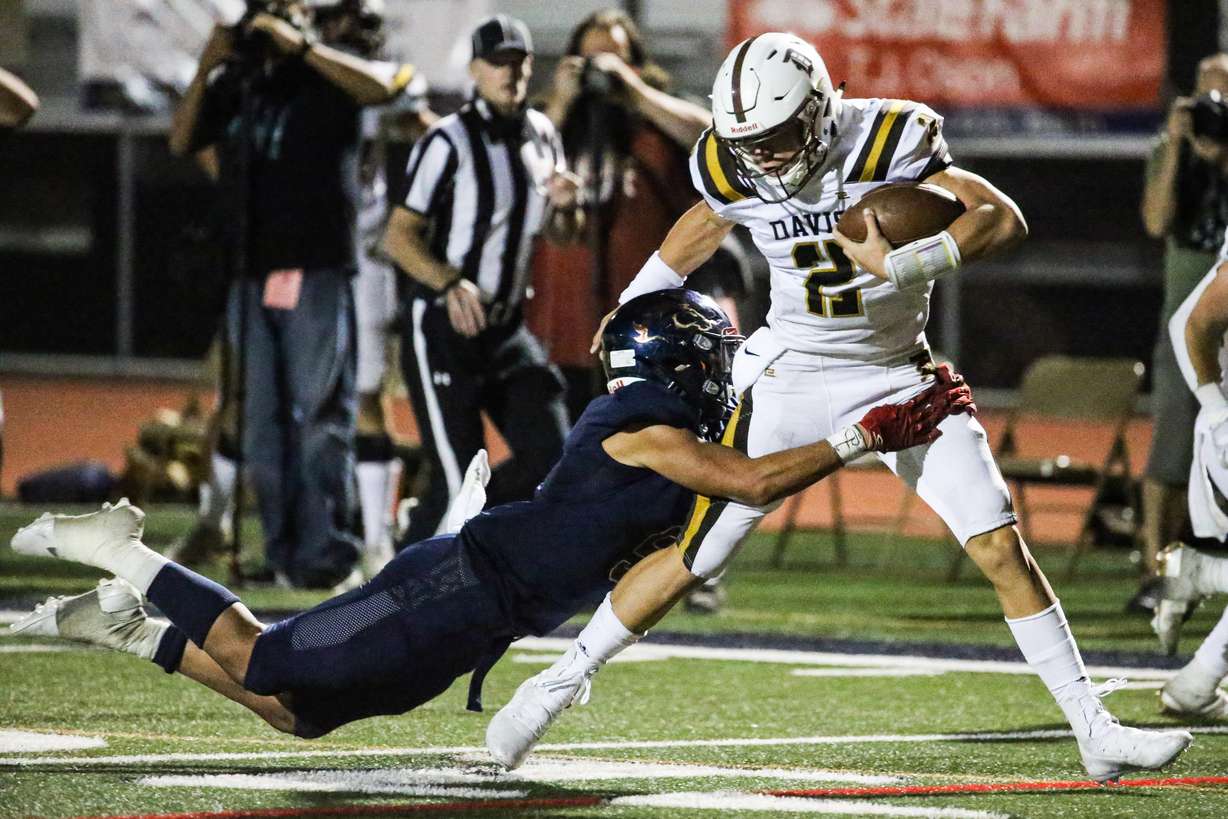 The Mustangs held the Darts to just 3 points in the second half, a 22-yard field goal by Jackson Leaver midway through the third quarter. Herriman responded to that score with a 93-yard punt return touchdown by Hollingsworth, and Jack White hit Zach Dern for a 69-yard score on the next offensive possession to pull within 4 points by the end of the third.
But that was as close as Herriman would get; the Darts held the Mustangs to just one first down and ran out the clock with Trujillo and fellow senior running back Ferguson.
It wasn't always perfect, but neither is playing during a global pandemic. At least one game has already been canceled in Utah after three Bingham High players tested positive for the coronavirus, pushing the Miners' opener against Weber off the schedule. It was bound to happen, and it will probably happen again.
But for one night, the Darts were the talk of the town, county, state — and country.
The game was the first high school football contest played nationally since the onset of the COVID-19 pandemic — and the heavy precautions and protocols designed to combat the spread of a novel coronavirus that has now afflicted more than 5 million Americans, including 160,000 deaths.
Attendance was capped at 1,000 spectators, including around 200 tickets for the visiting Darts. Masks or face coverings were required when entering and exiting the stadium, and families or a group of individuals living together were assigned seats in the 4,000-plus stadium to allow for as much physical distancing as possible.
Cheerleaders wore masks on the sidelines, as did each of the five officials and officials' assessor.
Even the media was limited, with reporters confined to one or both end zones. Beyond being checked for symptoms and tickets at the gate, spectators were also required to include names and phone numbers for everyone who attended, for contact tracing purposes.
But even with the new protocols designed by the Utah High School Activities Association's sports medicine advisory council and approved by Gov. Gary Herbert's office, the football was the same.
And after five months of lockdowns, shutdowns and quarantines of varying degrees, the players were just happy to play.
"It feels awesome. We've waited how many months to get going again, and it's great to be out here with the lights and environment," Trujillo said. "Even with this short amount of fans, it was still fun.
"It popped into my mind once (that the opener wouldn't come), but I'm glad to be out here."
The Darts even brought their own chairs, with each player hauling a metal folding chair to the sideline, spaced about six feet equidistant to ensure distancing in case anyone needed to sit down.
Not a single chair was used.
Davis didn't need them. Next time, Arquette will tell the assistant coach not to bother with the chairs, he joked.
But what the Darts did need was the win: 1-0, the only high school football team in the country that can, for now, make that claim.
"It's really just the mantra of 2020: win the day, because you never know when you're going to get another one," Arquette said. "We really don't; we could have our game canceled next week."
Contributing: Matt Rascon, KSL TV
×
Photos
Related Links