PROVO — Zach Wilson was well on his way to having what most around him consider to be his best offseason as a collegian.
The double-edged sword of the coronavirus pandemic and its cancelation of the Cougars' spring football practices was that Wilson, who was officially competing to be BYU's starting quarterback with Jaren Hall and Baylor Romney, was able to spend time in California, being mentored under former BYU great John Beck.
He also spent time at Dave Stroshine's Stroformance in Utah County, where he worked out his shoulder — you know, the one that was injured for most of last offseason following surgery, an injury that also preceded a thumb injury that cost him a chunk of the 2019 season.
Now he's back, and — by all accounts, because media aren't allowed to observe practice in Provo in light of the pandemic — he's better than ever. He's stronger. He's fit. And he's even found that old "zip" on the ball that offensive coordinator Jeff Grimes first saw when the Cougars recruited Wilson to BYU out of Corner Canyon.
"Last year coming off the injury, I think those with an educated eye could tell his arm strength wasn't the way it was as a freshman," Grimes said. "Then he had the thumb, and that's tough for the guy. He was playing, but he wasn't full-speed the whole season.
"What I've seen more than anything is that the ball has more zip on it than it has in years. That's probably the biggest difference."
Neither Grimes nor head coach Kalani Sitake is ready to commit to Wilson as the starting quarterback this season — there's a close race between the three QBs with starting experience, and freshman Sol-Jay Maiava has also impressed in limited reps over the past two weeks.
But both agreed that Wilson made good use of his offseason, and that — in combination with his slight experience edge — probably gives Wilson a half-step up on the field in the decision of who will start this fall.
Of course, that's also if there is a season this fall. The Pac-12 and Big Ten have already postponed their respective campaigns, and the Cougars' once glowing schedule was down to three games when North Alabama confirmed it would play a four-game fall campaign following the Big South's cancellation announcement Wednesday.
The irony of the COVID-19 pandemic that has already taken so much from the Cougars (and may take even more, with a news cycle that changes by the hour, at times) is that Wilson may have had his best offseason yet. Practice shape and game shape are different abilities, but Wilson admits he simply feels better — more ready — ahead of his junior season than he did as a freshman or sophomore. He's fitter, he's stronger — and he's playing with his younger brother, incoming linebacker Josh Wilson.
"I was able to take my time not only from not being 100% that I was last year, but even better than I was before surgery," Wilson said. "The time in the weight room, going to lunch with my teammates, extra throwing sessions — I think we're strides ahead of where we were last year."
In any other year, that would be the biggest headline of BYU's fall camp. The Cougars ranked 28th in the Football Bowl Subdivision last year in total offense, averaging 6.18 yards per play and 443.8 yards per game. But the Cougars were just 67th in scoring offense with 28.5 points per game — the same mark as Army, and just ahead of fellow triple-option side Georgia Southern — and were 120th out of 130 teams with a .733 red-zone conversion percentage.
Quarterbacks coach Aaron Roderick knows that's an area that needs to improve for BYU. He also knows that the Cougars have worked on it every day during the first two weeks of the NCAA-mandated 29 days of preseason training camp.
Converting in the red zone is a priority for the Cougars, perhaps more so than any team Roderick has been a part of. Getting better will take a Herculean effort from the entire offense — but Wilson's role is critical in that regard.
And Roderick, too, likes what he sees from the Corner Canyon product, improving in his arm strength, his speed, and even transforming his body composition.
"He's improved in every area, really," Roderick said of Wilson. "He's throwing the ball really well, he's fit and strong, and he's making great decisions. You can tell he's really taking to heart the mistakes he's made in the past."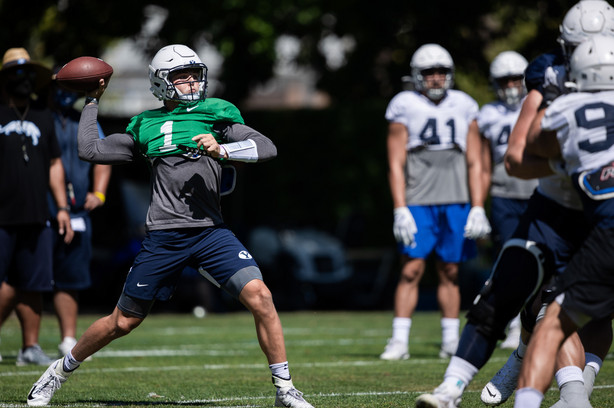 Wilson threw for 2,382 yards last year, around 800 more than he did as a freshman half-time starter in 2018. But he also completed just 62% of his passes — down from 66% the year prior — and threw one fewer touchdown (11) with six more interceptions (nine).
So while in some ways he took a step forward, in other ways, he didn't. Even Wilson will admit that. Whether he wasn't healthy, or he was just over-eagerly trying to force a play, his sophomore season wasn't as dynamic as he was when he replaced Tanner Mangum as a freshman.
Ahead of 2020, he's learned a few things — how to compete off the field, how to better prepare for a complete season, and what needs to be done off the field to have success on it.
But more than anything, he says he's learned something about his team.
"My biggest thing is that we're going to be a dang good football team," Wilson said. "We're out here in fall camp and going to levels that we've never been. I'm confident that we're going to be a way better offense and better team.
"Right now, we've still got a Week 1 scheduled. We're still playing Labor Day (at Navy). So we're just focused on playing that game."
There are plenty of clouds of uncertainty surrounding the BYU football program. But like in most fall camp tenures, there is plenty of optimism, too.
"We know we're going to play football at some point," Roderick said. "It might be four weeks from now, or it might be who-knows-when. But when that time comes, we're going to be ready to play, because we're taking advantage of every practice right now."
×
Photos
Related Links