PROVO — BYU football has a new opening day.
A few weeks after losing six Power Five conference games due to conference-only scheduling restrictions, the Cougars have scheduled a season opener against a member of the self-professed "Power Six" conference, or the U.S. Naval Academy.
BYU will open the season Monday, Sept. 7,at Navy, the schools announced Thursday morning. The game at Navy-Marine Corps. Memorial Stadium in Annapolis, Maryland, will be broadcast on ESPN at 6 p.m. MDT.
The game is part of a two-game contracted series with the Naval Academy, but a return trip to LaVell Edwards Stadium is yet to be finalized.
"We are very excited for the opportunity to play the United States Naval Academy at Annapolis," BYU athletic director Tom Holmoe said in a news release. "It's always an honor and a privilege to play against a service academy, like we did annually for many years with Air Force. We first played the Midshipmen in the inaugural Holiday Bowl in 1978. The opportunity to visit Navy's hallowed campus will be an amazing experience for our football team."
The Midshipmen polished off an 11-2 season in 2019, including a 7-1 record in American Athletic Conference play and a West division co-championship. In addition to a win over Kansas State in the Liberty Bowl, Navy finished the season as Commander-in-Chief's Trophy champions, given to the annual winner of the three-way military academy rivalry series between Navy, Army and Air Force, as well as a No. 20 national ranking.
The game will be a rare matchup between two Polynesian head coaches in FBS football. BYU head coach Kalani Sitake became the first Tongan-born head coach in FBS history when he was hired at BYU in 2015, while Navy counterpart Ken Niumatalolo, who was born in Hawaii, became the first ethnically Samoan head coach at any level when he was put in charge of the Naval Academy in 2007.
Both are also members of The Church of Jesus Christ of Latter-day Saints, and both were among the finalists for the BYU job when former coach Bronco Mendenhall left for Virginia. Niumatalolo's son Va'a was a linebacker for the Cougars and graduated in 2017.
"Speaking on behalf of our players and coaches, we are extremely excited for this opportunity to play Navy on Labor Day to open the 2020 season and appreciate all the work put in by Tom Holmoe and Navy to schedule this game," Sitake said in a news release. "Navy plays great football and we have the utmost appreciation and respect for all of the sacrifices the members of the military academies make on all of our behalf.
"Ken is a great football coach and a personal friend who I have known since I was young and always admired both as a person and as a coach. We are looking forward to the matchup."
The two Polynesian Latter-day Saint head coaches even grew up in the same hometown of Laie, Hawaii. Niumatalolo knew the Sitake clan when he moved to the island in middle school, and was "best friends" with new BYU recruiting coordinator Jack Damuni. He even referred to the meeting as a reunion of "Laie All-Stars," with his tongue planted firmly in cheek.
"I think it's pretty sweet. We talk about diversity, and to have two Polynesian men — both raised in Laie — is pretty remarkable," Niumatalolo said. "To have Kalani as head coach at BYU and me coming from the Naval Academy … I think it's really cool. He's done a great job there, and it's exciting."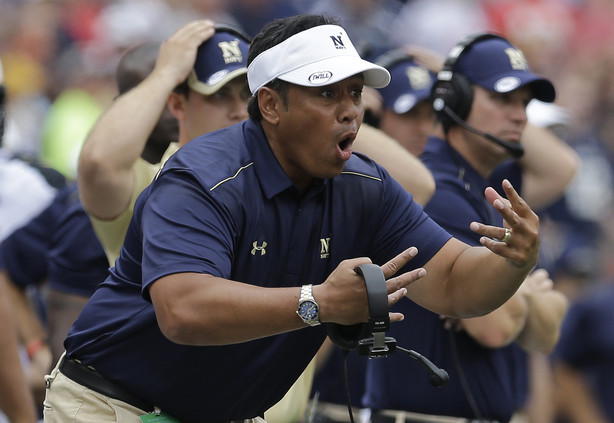 In a concurrent announcement from the academy, Navy's original season opener against Notre Dame was canceled for the 2020 season. The 93-year-old rivalry series was scheduled to be played in Dublin, Ireland, but was moved from the international venue to Annapolis due to the ongoing coronavirus pandemic.
When Notre Dame joined the ACC as a temporary member of the conference, it forced a scheduling adjustment that ultimately left the two teams off one another's schedule for the first time since 1927. The Fighting Irish will host Western Michigan in their lone nonconference matchup of the 2020 season.
"Obviously many will be disappointed that our longstanding competitive streak with Notre Dame will be interrupted due to the scheduling circumstances imposed by the pandemic," Navy athletic director Chet Gladchuk said in a news release from the academy. "However, we have agreed that Navy and Notre Dame will continue as one of college football's longest intersectional matchups through our extension and I appreciate Notre Dame making this a priority.
"Looking ahead, we have created an exciting and anticipated matchup in Annapolis with one of college football's storied programs in BYU. This game will bring great national exposure for the Naval Academy, Annapolis, our state and Navy football. Although attendance in our stadium will be regulated and greatly reduced with fan welfare and social distancing guidelines in effect, a national television audience will enjoy watching two of college football's most storied programs kick off the season in a primetime environment."
Still, Gladchuk and Niumatalolo didn't want to replace the game with "just anyone." It had to meet certain criteria, most importantly being the ability and resources to maintain strict health and safety protocols, including COVID-19 testing, such as those available at a military academy. There are few bubbles quite like the one naturally provided by a military academy, and BYU has the resources to stand up to par, the coach said.
BYU checked all the right boxes, Niumatalolo said.
"Everything that Chet and I were looking for, we felt like we got," he added. "Losing Notre Dame, we wanted to play a good program with a national brand. We also wanted to play a program that was doing everything they can to keep their kids safe and to keep us safe.
"Those things are important to us."
The game will be the Middies' first true night game in Annapolis since 2005 against Stanford. In addition to their AAC schedule, Navy is expected to play Army and Air Force, as well as the Cougars. The AAC will play an eight-game conference schedule, with teams allowed to add up to four nonconference games, commissioner Mike Aresco announced Wednesday.
BYU is 1-1 all-time against Navy, but the two teams haven't met since 1989. Thirty-one years later, the rubber match will be decided.
BYU also got some good news Thursday morning when San Diego State athletic director John David Wicker told a local Southern California radio station that the Aztecs plan to keep BYU as one of their Mountain West-allowed two nonconference games this fall. The second game is yet to be determined, he added.
JD Wicker told @costaxtra1360 and @Judson1360 that BYU will remain on the schedule this year as one of two SDSU football non-conference opponents.

SDSU is still finalizing its 2nd non-conference opponent.

— Jon Schaeffer (@jonschaeffer) August 6, 2020
Utah State also announced Thursday morning that it continues to be "tentatively scheduled" to open the season Oct. 2 at BYU. The Wagon Wheel in-state rivalry series dates back to 1922, when the then-Utah Agricultural College beat BYU 42-3.
BYU leads the all-time series 49-37-3.
The Aggies will open training camp Monday, Aug. 24, and will play no earlier than the week ending Sept. 26 (BYU opened training camp Tuesday). Utah State was also scheduled to host FCS foe Southern Utah, but that game was rescheduled to at least a later date.
The Aggies will continue in strength and conditioning, walk-throughs, team meetings and other supervised workouts until the start of camp.
"With the start of the season being delayed, the best course of action for the well-being and protection of our student-athletes, is to push back the start of fall camp to August 24, which will allow us to continue to make up for lost time in our off-season training cycle," Utah State coach Gary Andersen said in a news release. "With our first game now being on Oct. 2, this schedule will give us one traditional week of camp before school starts. Although it is unconventional to be in school during fall camp, this calendar will allow for sufficient time to get ready for a season that starts in late September."
×
Related Links