This archived news story is available only for your personal, non-commercial use. Information in the story may be outdated or superseded by additional information. Reading or replaying the story in its archived form does not constitute a republication of the story.
PROVO — A lot of college football programs speak about family, of latching onto your teammates as one collective unit. They're like brothers, able to beat up on one another every day but then remind them you will always have their back against the world.
For Corner Canyon linebacker Josh Wilson, he took that advice literally in several ways.
Wilson signed a national letter of intent Wednesday to join his older brother — BYU starting quarterback Zach Wilson — for his college career, becoming one of 13 newcomers to the program to sign on the first day of the early signing period.
But the family ties that now bind the two sons of former Utah defensive lineman Mike Wilson to BYU go beyond the family's Draper home. The family atmosphere around the program is different for the younger Wilson, who grew up a die-hard Utah fan — even more so than his older brother Zach, in some ways.
But BYU football, from head coach Kalani Sitake down, won him over quickly.
"BYU is a different place," Josh Wilson said just moments after sending in his NLI Wednesday while sitting next to longtime best friend Van Fillinger, a Utah signee. "I went on a lot of visits, around the state and out of state, and BYU is just a different place. They're so friendly and want you to be there.
"They teach something different there, and that's what I want to be apart of."
In the end, there wasn't a lot of convincing Wilson to join his brother at BYU. A few conversations, here and there, and some light rousing at talking the long-time Utah fan into playing college football in Provo, sure.
But for the most part, the program spoke for itself.
"He heard about my experience, and the coaches, and these are guys that he wants to be around," Zach Wilson said. "Being near family, down the street helps. I think he just wants to be here.
"It didn't take a ton of convincing. But I think it's a good spot for him."
So Josh Wilson signed on the dotted line Wednesday. He's one of just three early signees from Utah for the Cougars, joining Tooele running back Nukuluve Helu and Woods Cross edge rusher Josh Larsen.
BYU's early signing group also includes seven out-of-state recruits:
Sol-Jay Maiava, three-star quarterback from St. John's College High School in Washington, D.C; Bruce Garrett, running back from Pleasant Grove High School, Texarkana, Texas; Micah Harper, defensive back from Basha High School in Chandler, Arizona; Kody Epps, wide receiver from Mater Dei High School in Los Angeles; Terence Fall, wide receiver from Aquinas High School in San Bernardino, California; Jacques Wilson, JUCO transfer from West Los Angeles College in Los Angeles; Chris Jackson, JUCO transfer from Mt. San Antonio College in Walnut, California; Tuipulotu Lai, defensive lineman from Lahaina High School in Lahaina, Hawaii; Alex Muti, defensive lineman from Konawaena High School in Kealakekua, Hawaii.
Austin Lee admits it sounds cliche; everybody claims to be a family in this business, especially around signing day when coaches and current players are trying to put the best face on the program for prospective recruits.
But the longtime Utah fan who prepped at Alta High admits BYU was different for him, as well.
"Having jumped around from place to place like I have, I've experienced a lot of really tight-knit groups," said Lee, who will play in his final game with BYU in next week's Hawaii Bowl. "A lot of these guys are people that I'll call brothers for life — they're people that I can call family, or can call for a ride to pick me up; I think it's a true tight-knit family. That's one of the things I preach.
"The other benefits are so many connections with people around here, and this is a great opportunity to set you up for the rest of your life."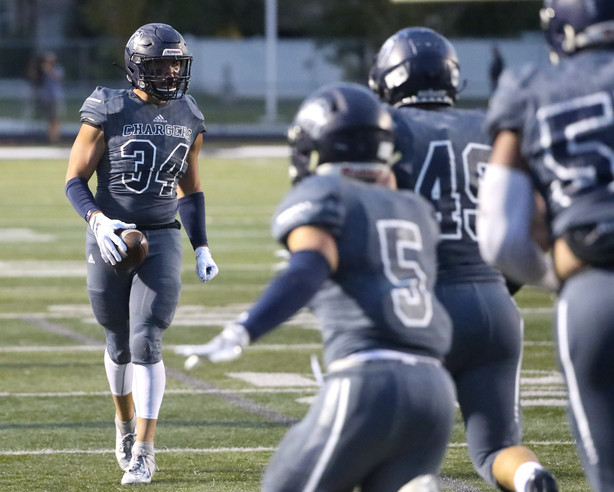 Josh Wilson isn't like his brother, simply from a size perspective. The younger son of Mike and Lisa Wilson takes after his father, standing 6-foot-1 and a bulky 210 pounds, as he helped Corner Canyon win back-to-back state championships in separate classifications for the first time in school history.
While he may not throw the same spiral as Zach, Josh Wilson packs a punch — and he'll be expected to take the bite into BYU's front seven as a contributor at middle linebacker from day one. He racked up 234 tackles, 6.5 tackles for loss and eight interceptions in two seasons with the Chargers, including an unbeaten 14-0 campaign in 2019.
"His instincts are awesome; it's why he has so many tackles and pick-sixes," Sitake said. "The guys got a great feel for the game, and he can't wait to get on the field and compete against his brothers.
"I'm looking forward to the things he can bring to our linebacker group, that we feel like is a good young group. But as far as connection, since he got on campus, that feeling was just perfect between our recruits and our team."
Josh Wilson has been compared to Kavika Fonua, and BYU coaches expect him to play a similar role to the former Syracuse High standout known for his athleticism and nose for the football.
The closest thing to a downside for him?
He'll be lining up against former Corner Canyon teammate Fillinger, a late addition to rival Utah's Class of 2020 after a late de-commitment from Texas. But for the two Charger teammates who have been best friends since the sixth grade, it won't be hard to continue supporting and rooting and cheering for their now-rival.
"I remember when we were little, our goal was always to be in college together," Josh Wilson said. "I wanted to play for Utah back then; we never would've guessed this.
"But we've always been supportive of each other. It doesn't feel like a rivalry right now. It'll be cool to play against him."
Don't expect the two brothers-turned-rivals to hold back next fall, though.
"We've had this dream really early, in middle school, to just get one offer," Fillinger said. "It's such a blessing, being able to play against Josh.
"And it's going to be fun beating him for the next four years."
×
Related Links
Related Stories