PROVO — Perhaps BYU's latest loss, a 28-21 eyesore at Toledo, can best be described in a riddle.
If a team loses a game that isn't broadcast on television — or anywhere beyond a subscription-only streaming service — did it really happen?
The answer, of course, is yes. BYU lost to Toledo Saturday and may have lost even more with an apparent late-game hand injury to starting quarterback Zach Wilson in the final stages of the game.
Here are three thoughts on a more tragic trip to "the Ohio" since the last time a significant portion of members of The Church of Jesus Christ of Latter-day Saints went there back in 1830.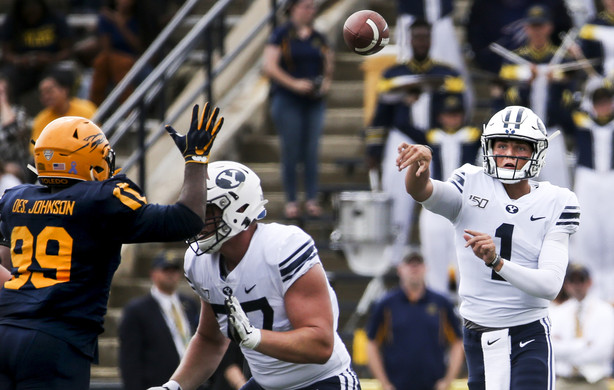 First things' first: another injury
For the second-straight week, BYU suffered a significant injury to an offensive starter. And while Wilson's injury won't keep him out for the season like running back Ty'Son Williams' injury from a week ago, it will probably cost him the Cougars' next game in two weeks at South Florida.
Wilson came off the field after throwing an interception on BYU's penultimate drive of the game and emerged from the locker room with a heavily wrapped thumb on his throwing hand. BYU coach Kalani Sitake doesn't address specific injuries unless they are season-ending, but he did confirm that Wilson's return seems likely to be at least two weeks off.
Jaren Hall is the odds-on favorite to start against USF; the Maple Mountain product completed 3 of 6 passes for 39 yards in the limited time in relief Saturday.
"We don't know the exact details of the time of it all, but we know that he's hurt," Sitake said. "It's looking like he won't play in the South Florida game, and maybe more than that. It seems like it will be some significant time.
"We've got to get ready for Jaren, Baylor (Romney) and Joe (Critchlow). Those guys got to be ready to pick it up."
The specifics of the injury could prove significant, though. A hand fracture could heal in as little as 2-3 weeks, depending on the severity and depth of the fracture, according to the American Academy of Orthopedic Surgeons. Even a quarterback could rebound from a bone fracture relatively quick. But ligament damage on the hand would likely require 3-6 weeks of recovery, with some cases taking eight weeks or longer, according to hand specialists — again, depending on the severity of the injury.
All that is known officially — and likely until Wilson sees a specialist back in Provo — is that the undiagnosed injury is on his throwing hand.
"For a quarterback, that's hard to deal with," Sitake said.
After further evaluation back home, Sitake won't be scheduled to speak to the media until Oct. 7, or the next game week.
BYU has fielded at least two starting quarterbacks every year since 2013 when Taysom Hill was a sophomore and started all 13 games of an 8-5 season. For another season, and at least another game, the trend will continue with Hall, Romney or Critchlow.
Wasted 'Leva
BYU's first-ever trip to Toledo didn't produce the pinball machine-like scoring numbers that their Oct. 2016 55-53 home win over the team did. The return trip to the Ohio didn't go the Cougars' way, even.
But Aleva Hifo was the pinball wizard. He caught five passes for 111 yards and two touchdowns and added 70 yards on a pair of punt returns in a losing effort for the Cougars.
It's a fantastic line, albeit in a losing effort, but Hifo's breakout game should not go unnoticed.
"We saw something on film, A.J. Steward and Ed Lamb, and we felt like we had a good chance if we can get them to punt the ball to us," Sitake said. "That was good scheme for us. Special teams-wise, we did OK on returns and coverage. It's just field goals that were an issue."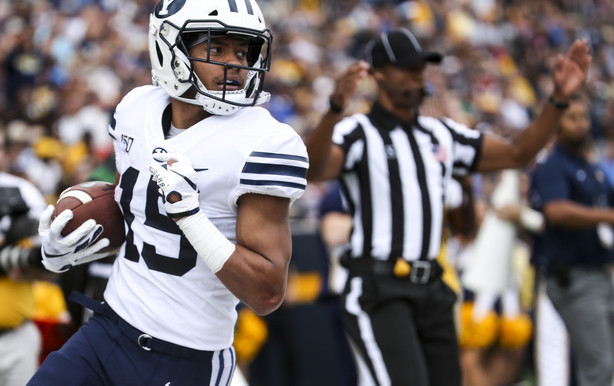 Kicker controversy
BYU's rising star kicker/punter Jake Oldroyd had a struggle against Toledo. The redshirt freshman who was just added to the Ray Guy Award watchlist after a few nationally-relevant performances have already made several game-winners in his short career in Provo.
But Saturday won't be making his highlight reel.
Oldroyd missed two short field goals in the second half; and just after the break, fellow kicker Skyler Southam came into the game to take PATs the rest of the way. Southam, a former U.S. Army All-American from Wasatch High, had been the Cougars' primary kickoff specialist through the first four games of 2019.
So, is there a kicking controversy in Provo? There will at least be more competition after Sitake revealed that Oldroyd was feeling "under the weather" this week.
"The missed field goals will make you feel sick, too," Sitake said. "We went with Skyler because Skyler was feeling it; that's why we travel with two kickers.
"We were doing the punts well, but he might have been overthinking the two kicks. It wasn't coming off his foot as well as we thought."
×
Related Links
Related Stories