SALT LAKE CITY — As lower-division teams fall out of the discussion for college sports in the fall, one local conference is trying to press forward.
The most recent news is a good omen for Utah State.
And also BYU.
The Mountain West will play a schedule of up to 10 games during the 2020 fall football season, the conference announced after a round of meetings Wednesday.
Conference play will include eight football games, plus a conference championship, as well as up to two nonconference opponents per school. The Mountain West championship game will be held either Dec. 5, Dec. 12 or Dec. 19, depending on a variety of circumstances.
Additionally, the league will play conference-only schedules in cross country, women's volleyball and women's soccer. Games will begin no earlier than the week of Sept. 26 for all fall sports, according to the conference, and a regular-season league champion will determine postseason bids in the Olympic sports.
"We have deliberated these issues fully as a conference since the start of the pandemic, and I want to thank the Mountain West board of directors, directors of athletics and the MW health and safety advisory committee for their collaborative efforts during this unique time," said Mountain West commissioner Craig Thompson. "The health and welfare of our student-athletes and campus communities continue to be paramount in our decision-making process.
"The modified fall structure as presently configured allows flexibility and time for our athletic programs to be in the best possible position to play collegiate sports this season. There is still a lot of work to be done and many important decisions to be made. Today's announcement provides a path forward as we navigate the weeks ahead."
Updates regarding 2020 Football and Fall Sports have been announced. pic.twitter.com/tONFKLWlCC

— Mountain West (@MountainWest) August 5, 2020
The move helps schools maintain longstanding nonleague rivalries, such as Air Force's annual competition for the Commander-in-Chief Trophy with Army and Navy and Utah State's Wagon Wheel rivalry game against BYU traditionally played on the first Friday of October, before The Church of Jesus Christ of Latter-day Saints' general conference weekend.
The extra nonconference games could also help BYU, which recently lost six games from the 2020 season. Apart from the Oct. 2 home date with Utah State, BYU was also scheduled to play Nov. 6 at Boise State, and host San Diego State on Nov. 14.
The Aggies had a two-game series with Washington canceled when the Pac-12 elected to play a conference-only schedule, including the 2020 road opener Sept. 19 at Husky Stadium. Utah State was also scheduled to face Washington State in its season opener.
Besides BYU, the Aggies also have a game scheduled against Southern Utah on Sept. 12.
Boise State also had home games scheduled against Georgia Southern and Florida State, which could play in one nonconference game per ACC regulations — but it must be played within a state in the ACC's footprint. The Broncos are also scheduled to play Sept. 25 at Marshall.
San Diego State had a nonconference game Sept. 19 against UCLA canceled, and was also scheduled to play Sacramento State and at Toledo prior to Mountain West play.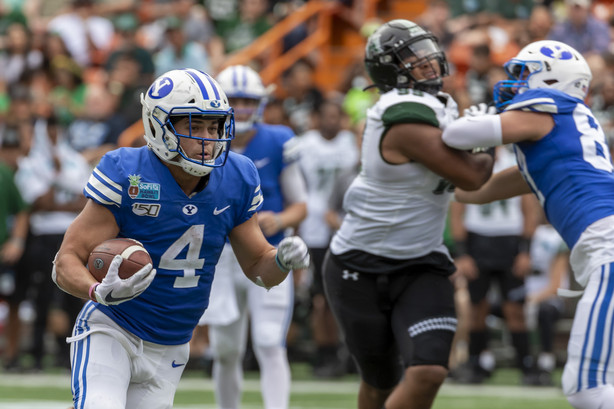 Earlier Wednesday, the American Athletic Conference announced an eight-game conference schedule in football beginning Sept. 19, with up to four nonconference games. Houston was scheduled to play Oct. 16 at BYU in a game intended to be televised on ESPN or ESPN2.
"The health and safety of our student-athletes is our top priority as we face the challenges of the current global pandemic," said AAC commissioner Mike Aresco in a statement from the league. "With the guidance and advice of our medical advisory group, which has done an outstanding job developing health and safety protocols, we have developed a collaborative and comprehensive plan that will allow us safely and reasonably to play our fall sports. Our plan provides us with the flexibility to adapt to potential disruptions to our schedules."
Also Wednesday, within hours of the NCAA announcing it was leaving decisions on the fall season up to the board of directors of each of its three divisions, Division II and Division III officials formally canceled the fall championship season.
The move comes after all but two Division III conferences had formally canceled or postponed fall sports, including football. Meanwhile, 11 of 23 Division II conferences had previously announced that they would not be competing in the fall.
The National Junior College Athletic Association (NJCAA) had also postponed fall contact and collision sports to the spring, including football, men's and women's soccer, and women's volleyball, which primarily affect the state's three junior college programs at Salt Lake Community College, USU Eastern and Snow College.
Connecticut became the first Division I FBS school to cancel the football season, citing concerns for player safety during the COVID-19 pandemic. In a statement from the university, head coach Randy Edsall said the Huskies' move came in collaboration with his players, who will retain their scholarships and have full access to UConn athletic facilities through the fall.
"We engaged and listened to the concerns of our football student-athletes and feel this is the best decision for their health, safety, and well-being," said Edsall, whose team had already lost games against Illinois, Indiana, Maine, Ole Miss and likely at least one of North Carolina and Virginia from its 2020 schedule. "Our team is united in this approach and we will use this time to further player development within the program and gear ourselves to the 2021 season."
×
Related Links