OGDEN — If an extra week makes a difference in stemming the spread of COVID-19, the Ogden School District is doing what it can to help curb that tide.
The Ogden school board voted in special session Wednesday evening to delay the start of the upcoming school year.
The board voted unanimously to push the start of school from Aug. 20 to Aug. 26; the first three days of school will be half-day schedules while students, administrators and teachers work to implement new protocols under the Keeping Ogden Healthy plan.
"This would allow students and staff to focus and adjust to the new processes, protocols and procedures," Ogden superintendent Rich Nye wrote in a presentation to the seven-member board. "Staff would debrief the second half of each day to determine what went well, what didn't go well, and what adjustments need to be made before students return the next day."
While teachers and faculty will still be on campus during the amended week, students won't report until Aug. 26. From Aug. 26-28, students will be released on a half-day schedule.
Kindergarten students will return to school Sept. 2.
Students would be in class Jan. 4 to help make up for the lost instruction days, returning from winter break early. Board members also discussed adding more "virtual experiences," or online learning, to help alleviate the loss in instruction time, as well.
The six-day delay gives more time as the district hopes case counts continue to decrease both statewide and within Weber County and in turn make parents more comfortable with their children returning to schools in person. Nye and board members added that the school district has been in frequent contact with local and state health officials as they monitor case counts and other statistics related to the spread of the virus.
The district will also offer a fully online program for parents who do not wish to send their children to class in the fall.
"Our Ogden Online situation is supremely situated," Nye told the board during the half-hour meeting. "What we are doing here, I can say that we have some of our finest educators that would deliver high-quality education to rival any other online platform, in my opinion."
The adjustment comes as school districts around the state are finalizing plans to reopen with the Utah state board of education to return to school in the fall.
Also in northern Utah, the Weber School District unanimously approved its own plan for a return to school.
The plan, called "Safe Weber," focuses on increases in facility sanitation, personal protection and hygiene, distancing and social gatherings, recognizing and completing unfinished learning, and digital design and delivery.
Full details are available on the school district's website.
"We're really leaning heavily on health department guidelines and recommendations," Weber superintendent Jeff Stephens said during the meeting.
Administrators will be trained on specifics of plan on Aug. 4, and each administrator will be responsible for training staff members.
According to district officials during the two-hour meeting, the plan involves mostly in-person classes (with an online alternative) based on the majority responses of a survey of around 10,000 parents from across the district.
Of those surveyed, more than 6,400 respondents (63.9%) favored a return to in-person classes on a traditional schedule. Meanwhile, 29.8% of respondents preferred a distance learning or flexible model, while just 5.3% voted for an all-online return to school, district officials said.
Students who attend class each day will also have contingency plans for temporary solutions in certain moderate to high-risk situations.
A fourth-year teacher who identified herself as Kelly told the board that she is concerned with a hybrid model, because it would essentially require teachers to "do things twice" in teaching for both an online and in-person curriculum, concurrently. She's also concerned for her young son, who will be entering kindergarten in the fall with an individualized education plan for special-needs children, she added.
"Teaching in person and teaching online is almost like you're asking me to do it twice," Kelly said. "I'm going to show up in the best way that I can. But I want you to know that my ability to show up is going to be stressed, as a mom, as a teacher, as a wife, and as a resident of this community. I feel that we need to make sure that teachers are thought of in that regard."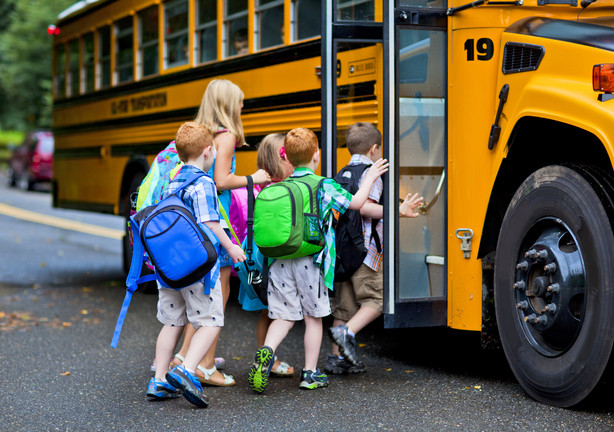 Under the current plan, which will be submitted to the state board of education Aug. 1, most of the school day would proceed as normal, with parents and guardians responsible to regularly check students, both for physical and academic health.
The plan also includes shortening each school day by 45 minutes to allow teachers to work with students online, as well as provide more time for custodial crews to clean classrooms and common areas.
Jonathan Ward, a teacher at South Ogden Junior High, pleaded with the board to consider ways to keep teachers safe, as well as children in classes.
"Are we fully protecting teachers?" he asked from a microphone at a social distance away from board members. "Are we going to be providing masks — and not just cloth masks? I don't have enough personal funds to purchase an N95 mask for 180 days."
Earlier Tuesday, the Iron County School District pushed back its own reopening from Aug. 11.
District superintendent Shannon Dulaney told KSL the district now plans to start Tuesday, Aug. 25. The first day of school is two weeks after the initial proposed start, because the district is still waiting for additional supplies for teachers and students, Dulaney said.
The Salt Lake City School District board of education is expected to vote Wednesday on its final plan to reopen schools. The district encompasses five high schools in Salt Lake City, and is the only district with all of its schools still listed in the state's orange or 'moderate risk' phase of coronavirus response.
The board voted earlier to delay the district's start to Sept. 8, but has not voted on a final plan to reopen its schools.
Additionally, on Wednesday, parents in the state's largest school district were given an extra day to declare whether their child will attend school in person or at home in the fall. Alpine School District, which laid out its plan during a contentious board meeting July 14, extended the deadline to declare until Thursday at 3 p.m. MT.
Parents will be allowed to declare for one of three options: an in-person return to the classroom, a blend of online and at-school learning, or a strictly online format.
Plans are due to the state board Aug. 1.
Contributing: Deanie Wimmer, KSL TV
×
Related Links