SALT LAKE CITY — Like many Americans, Ryan Windhauser first learned of COVID-19 through news reports of a mysterious new disease doctors in China couldn't quite figure out at the end of 2019.
And by March, he, like many Americans, found himself experiencing COVID-19-related shutdowns. In New York State, where he lives, the widespread economic shutdowns to stop the spread of COVID-19 came on March 20.
"It was kind of surreal," said Windhauser, who works in human resources for a large document printing company and resides in Rochester, New York.
"Literally everything that wasn't essential or considered an essential business was ordered to shut down," he continued. "We were directed to work from home until further notice ... and it basically was you don't leave your house unless you need to go to the grocery store or somewhere that's absolutely necessary."
What happened in New York was something Utahns became familiar with about the same time but the COVID-19 stories of New York and other northeast states vastly differ from Utah's. For starters, their large outbreaks started at the beginning of the pandemic and gradually declined in recent months while Utah's uptick began after Memorial Day. Second, Utah's COVID-19 situation still hasn't come close to as drastic and dire as New York's was at its height.
Utah has improved its uptick in recent weeks but still remains above Gov. Gary Herbert's July 9 challenge to get its rolling seven-day average of new cases below 500 per day by the start of August. The Utah Department of Health reported the average was 541, as of Tuesday.
As Utah looks to wrangle COVID-19 cases, experts say there are lessons that can be learned from New York, other states and other countries that have found ways to manage the novel coronavirus even after harsher outbreaks. Here's a look into how they've done it.
How other parts of the globe successfully managed COVID-19
Nobody knew anything about COVID-19 until the very end of last year, and every part of the globe has experienced the pandemic in different ways. These varying experiences allowed researchers to figure out trends to the best of their ability over the course of the past several months in the race to catch up on the learning curve.
Dr. Todd Vento, an infectious diseases physician at Intermountain Healthcare, broke the success stories into two categories: early prevention and reactive measures.
Countries like South Korea, Singapore, Hong Kong and Taiwan fall in the former category. They took aggressive approaches to identify cases and to contact trace. They implemented testing protocols and isolated people who could be at risk to further expose COVID-19. In addition, residents of the countries bought into safety protocols aimed to limit exposure to the coronavirus.
"There was just immediate and widespread acceptance of all the core public health measures that work in every pandemic, whether that's ebola, influenza, coronavirus," Vento said. "Those happened early on in those countries, so I think it's telling there to say they did so many of those effective measures that most of those countries didn't have to go through a country-wide lockdown."
Some European countries, like Italy or Spain, and parts of the U.S., like New York, are examples of the latter. Many residents didn't know the risks or didn't take them seriously. Leaders didn't implement many protocols and their areas experienced massive outbreaks that eventually overran hospitals and led to hundreds and thousands of deaths.
To combat this, they ordered extensive lockdowns and safety protocol measures that lasted for months. They reopened slower than many other places and the reopening of the economy came with provisions like wearing masks and mandating 14-day self-quarantine measures for people coming in from states with high COVID-19 counts. It ultimately led to successful drops in new cases.
"Once they figuratively got slapped in the face by this pandemic, they realized they had to be drastic," Vento said, of the areas that took measures after massive outbreaks.
That's why New York — both city and state — is an interesting COVID-19 tale. New York City, the largest city in North America, is home to more than 220,000 total COVID-19 cases, which then led to well over 50,000 hospitalizations since the beginning of March. However, the largest daily increases — including one day where it saw 6,378 new cases alone — came between mid-March and the end of April. On Sunday, it reported just 34 new cases and about two dozen hospitalizations citywide.
New York State reports more than 410,000 cases since the outbreak began months ago. Its seven-day rolling average of 671 new cases dwarfs Utah's 541, but that comes with a caveat. New York's population is five times the size as Utah; New York also averaged 64,795 daily tests over that seven-day span compared to Utah's 5,581 tests during the same timeframe, according to figures pulled from both states on Tuesday.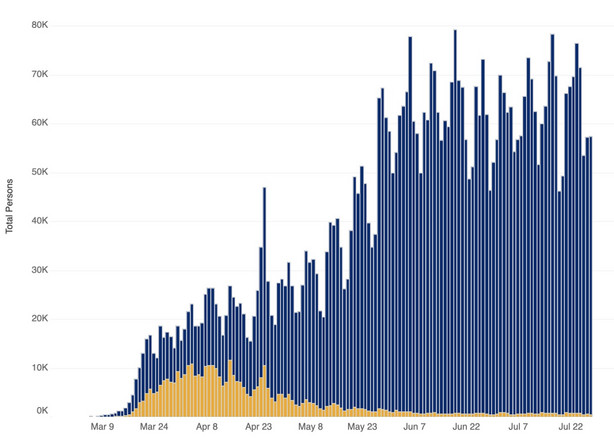 So what's it been like in New York State recently? Residents around Rochester, a city of about 206,000 on the edge of Lake Ontario in the western part of the state, have mostly adhered to mask mandates and other efforts to reduce the spread of COVID-19 since some restrictions were lifted, Windhauser said.
It's been a slow process across the state that not everyone has agreed with. New York Gov. Andrew Cuomo allowed restaurants and bars to reopen with restrictions last month; theaters, gyms and high-volume indoor spaces remain closed. The additional time allowed restaurants to set up for "the new normal."
There have been a few times Windhauser has seen someone not wearing a mask at the grocery store but that hasn't led to viral-video-type brouhahas.
"I think pretty much everyone's kind of being respectful. Even though they may not agree with the mandate, they're being respectful in the common areas where they're moving to and from and walking by people," he said.
Now let's look at how Utah's cases increased.
What Utah did and didn't do well
It's been well documented that Utah's rise in COVID-19 didn't come until late May. The state didn't officially report its first case until March 6 — the same day Herbert issued a state of emergency. By Memorial Day, it had 8,521 cases. The state has reported more than 30,000 total cases since then.
Looking at the past 4 1/2 months with the benefit of hindsight, early prevention is one thing Utah succeeded at when it came to limiting cases. Utah reported a cumulative total of 480 cases when Herbert issued his stay-at-home directive on March 27. Active contact tracing also began early and community spread has remained around the 10-15% range for most of the pandemic, according to state data.
Likely as a result of the early measures, Utah didn't have very many cases in the first two months. The epidemiological curve remained in a plateau for a while until shortly after Memorial Day when things went wrong.
Utah began to reopen its economy and eased back restrictions at the beginning of May, and the uptick came just weeks after that. Experts and leaders have seemingly attributed the rise to a belief the worst was over, which also might be tied into mixed messages from leaders.
"When you hear that you're reopening after you've been essentially in the equivalent of a shut down for a while, you think 'oh good, we can just go back to doing what we need to do,'" Vento said. "That's when you start to see folks gathering on Mother's Day, folks gathering on Memorial Day, folks gathering at parties and different family reunions."
Herbert himself noted earlier this month that the state likely erred by labeling its color-coded dial by risk, including that yellow and green had virtually little to no risk of spread. He clarified in a recent press briefing that COVID-19 risk is something that will continue to exist for some time.
It should be noted that there is an economic difference tied to the timeframe of loosening restrictions which plays into the pros and cons argument regarding when to lift restrictions. Utah's unemployment rate, for example, fell back to 5.1% after June ended, while the U.S. rate was 11.1%. New York State, with restrictions that prevented many businesses from reopening in June, had a rate of 15.7%.
Utah's reopenings also didn't include mask mandates. As Vento points out, the World Health Organization didn't recommend masks back in March when there wasn't much data regarding face coverings and the spread of COVID-19. There were concerns about mask shortages at hospitals at that time, as well.
---
Once we saw that people with no symptoms could spread the virus and that the primary transmission or spreading mechanism is by respiratory droplets out of someone's nose or mouth when they cough, sing, breathe or talk, right then and there, the changes had to be put on a mask.
–Dr. Todd Vento, an infectious diseases physician at Intermountain Healthcare
---
That's since changed. Scientists now overwhelmingly agree that masks can help prevent airborne droplets from spreading. Thus, they believe masks can slow the spread of the coronavirus. That's where the benefit of hindsight helps to pinpoint where something may have gone wrong.
Utah's health care community came together to promote masks last month. They've also urged Herbert to issue a statewide order, which Vento agrees with. He called it one of the things the state could do to improve its situation the most because there is "data galore" on the topic. It's also worth pointing out that more than 30 states already mandated masks while out in public, according to Axios.
Herbert has publicly encouraged Utahns to wear masks and issued a mandate that students and staff will have to wear masks when K-12 schools reopen in August, but Salt Lake and Summit counties were the first to have mandates in Utah. Grand County and Springdale in Washington County added mandates a week later. Many national retail businesses also began to mandate masks in stores regardless of whether they reside in locations that require masks in public places.
"Once we saw that people with no symptoms could spread the virus and that the primary transmission or spreading mechanism is by respiratory droplets out of someone's nose or mouth when they cough, sing, breathe or talk, right then and there, the changes had to be put on a mask," Vento said.
"If your public is not trusting, or any percentage of your public is not trusting, in public health recommendations that are shown now to work, you now have a moral, ethical — and really you could argue legal — obligation to now implement a measure to protect everyone when certain people are not adhering to those things," he added. "When we try to appeal to people's own goodwill that they will actually wear a mask, for example, to protect others, that's only going to go so far."
Management doesn't equal an end
There are some signs that Utah is better managing its uptick. On July 13, Utah's seven-day running average was 656.3 new cases, which is currently the third-highest it has been since the pandemic started. It fell to 614.7 a week later and then to 540.7 on Monday.
Salt Lake County is one reason for that. County health officials lauded their mask mandate decision last week, showing the decrease of cases since enacting the order. Salt Lake and Summit counties have seen a sizable drop in new COVID-19 in the past month. The counties' combined running average dropped from 308 new cases on July 13 to an average of 227 new cases on Monday.
The rest of the state, which had fewer new cases than Salt Lake and Summit counties combined on July 2, is also slowing down. It went from a running average of 347.6 new cases on July 13 to 313 on Monday. The statewide total is still above Herbert's challenge target, though.
Should Utah corral its COVID-19 situation, continued management is another hurdle. It's proving to be difficult even for the COVID-19's success stories. The New York Times reported Tuesday there were 20% upticks in new cases in Canada and Europe over the past week as well as 40% rises in Australia and Japan. While those areas of the world still report fewer numbers than the United States, it's still a concern.
After essentially avoiding COVID-19 altogether until now, Hong Kong reported more than 100 cases in a day for the first time last week. It then reported 145 new cases Monday, which is its highest daily total since the pandemic began. The country issued new restrictions Tuesday to combat the recent rise, the BBC reported.
In New York State, where cases have significantly declined in recent months, Windhauser said people are enjoying the loosened restrictions but he was also hesitant to say New York had overcome COVID-19. That's something that he doesn't expect will happen for quite a bit of time.
"I think there's still obviously a little bit of uneasiness among people just because even if things are looking better and in terms of the cases going down, new cases going down, hospitalizations and deaths in this area going down, COVID-19 is still out there. It hasn't gone away anywhere," he said. "Without a viable vaccine being produced yet, we're not out of trouble. We're still in murky waters, so I think people are adjusting as best they can."
That's a mindset experts have stressed over the past few months. In a recent update, Dr. Anthony Fauci, the country's leading expert on COVID-19, said orders were made to mass-produce some of the vaccines in testing so there will be a large supply available if it's cleared for use. That's still likely to come in 2021.
People have to be prepared for the long haul, Vento insists. He believes if a high percentage of people limit time outside their homes, participate in social distancing when outside, wear face coverings and follow other public health guidelines, Utah will get back to pre-Memorial Day numbers sooner. That's based on what's known about managing COVID-19 from data collected in research papers and from the areas that found ways to keep numbers low.
"We should commit to these measures now and basically for the indefinite future," he said. "Instead of wishing it goes away but not doing the things that will make it go away, that's the difference. We have control here. We can do these things."
×
Related Stories