Symptoms? Spread? Statistics? Testing? Coronavirus mailbags? Find everything you need to know about the novel coronavirus COVID-19, including an overview of the disease, information on how to protect yourself and where to get tested, and local and national resources below.
Find all of KSL.com's coronavirus coverage here.
---
What is COVID-19?
COVID-19 in an infectious disease caused by the most recently discovered coronavirus, according to the World Health Organization. The novel coronavirus 2019, SARS-CoV-2, was declared a pandemic on March 11, 2020.
What is a novel coronavirus?
A novel coronavirus is a new coronavirus not previously identified, according to the Centers for Disease Control and Prevention. Coronaviruses were named for their crown-like spikes on their surface. Human coronaviruses, which were first discovered in the 1960s, are common and have mild symptoms. Coronaviruses like COVID-19 that can infect animals can mutate to infect humans, and can cause severe illness. Most people develop only mild symptoms. But some people, usually those with other medical complications, develop more severe symptoms, including pneumonia.
How does it spread?
COVID-19 spreads person-to-person through respiratory droplets when an infected person coughs or sneezes, according to the CDC. Spread is more likely when people come within 6 feet of an infected person. The CDC does not have evidence it spreads on food or via mosquitoes. It is also not yet known if the weather affects the spread of coronavirus.
---
Symptoms of COVID-19
According to the CDC, a wide range of symptoms for COVID-19 may include:
Fever or chills
Cough
Shortness of breath or difficulty breathing
Muscle or body aches
Headache
New loss of taste or smell
Sore throat
Congestion or runny nose
Nausea or vomiting
Diarrhea
This list does not include all possible symptoms. Symptoms can appear 2-14 days after exposure to the virus.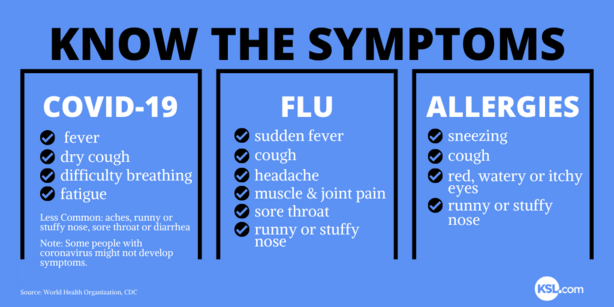 ---
How to protect yourself
Since there is no vaccine yet, the CDC says the best way to protect yourself is to avoid getting the virus and has given the following recommendations:
Wash hands often with soap and water for at least 20 seconds. If soap and water is not available, use hand sanitizer with at least 60% alcohol.
Keep social distancing and avoid crowded places and mass gatherings. Keep at least 6 feet of space between you and other people. This includes members of your own household if they're sick.
Cover your mouth and nose with a cloth face cover when around others. Children under the age of 2 should not wear a mask. The mask is most useful if you use it while continuing to maintain social distancing.
Cover coughs and sneezes and throw used tissues in the trash immediately. Wash hands for at least 20 seconds.
Clean and disinfect frequently touched surfaces daily. This includes: tables, doorknobs, light switches, countertops, handles, desks, phones, keyboards, toilets, faucets, and sinks.
Monitor your health by watching for symptoms and take your temperature if symptoms appear.
For more information, visit the CDC webpage Prevent Getting Sick.
---
Masks
The latest research from the CDC says that masks are "a critical tool in the fight" to stop COVID-19 transmission. Wearing a cloth face covering CORRECTLY can help prevent the spread of COVID-19 to others. When going out on essential trips, the CDC advises following several "do's" and "don'ts," as shown in the graphic below:
For more information on why you should, how to wear one and the best material for DIY masks:
What to do if you're sick
If you are sick and think you might have COVID-19, the CDC recommends the following:
Stay home except to get medical care. Avoid public transportation, get rest and stay hydrated. Most COVID-19 cases are mild.
Separate yourself from other people and stay in one location in your home. Use a separate bathroom if possible. Wear a mask if you have to be around other people and pets.
Monitor your symptoms and watch your fever and cough.
COVID-19 testing in Utah
Coronavirus.utah.gov has a testing sites locator to find a site near you as well as information on drive-thru testing and assistance for getting tested if you are uninsured.
---
When to seek emergency medical attention
If your symptoms get worse and you experience the following emergency warning signs, the CDC says to seek medical attention immediately:
Trouble breathing
Persistent pain or pressure in the chest
New confusion
Inability to wake or stay awake
Bluish lips or face
These are not the only emergency warning signs, according to the CDC, who says to "please call your medical provider for any other symptoms that are severe or concerning to you." For more information, visit the CDC's site What To Do If You Are Sick.
---
COVID-19 Statistics
United States Cases
World Cases
---
Coronavirus health resources
Utah
Utah Health Districts
Bear River (Box Elder, Cache, Rich counties); Central Utah (Juab, Millard, Piute, Sanpete, Sevier, Wayne); Davis County; Salt Lake County; San Juan County; Southeast Utah (Carbon, Emery, Grand); Southwest Utah (Beaver, Garfield, Iron, Kane, Washington); Summit County; Tooele County; TriCounty (Daggett, Duchesne, Uintah); Utah County; Wasatch County; Weber-Morgan.
National and World
CDC Coronavirus (COVID-19): Symptoms, testing, prevention, what to do if you're sick, daily life and coping, travel, FAQs, data and surveillance
Johns Hopkins Coronavirus Resource Center: Coronavirus basics, worldwide case tracker, statistical data, maps, testing, tracing and news
World Health Organization Coronavirus: Overview, prevention, symptoms, situation updates, research and guidance
---
KSL.com Coronavirus Mailbag
What do you want to know about the coronavirus? Ask your question and we'll look for the answer. (Disclaimer: Information previously reported can change and may be updated.)
Submit Your Questions:
---
Utah's Unexpected Heroes
KSL.com readers have helped us thank the Unexpected Heroes who put themselves at risk to keep Utah running during the coronavirus pandemic.
---
Staying at home & managing stress
The following websites are offering information and tips on how to best shelter at home:
Everyone reacts differently to stressful situations like COVID-19. You may feel anxious, mad, sad, or overwhelmed. It's important to find ways you and your family can reduce stress. Here are a few suggestions:
Learn the common signs of stress.
Make time to unwind and do activities you enjoy.
Talk with family and friends by phone, text, or email.
If you or a loved one is feeling overwhelmed, get support 24/7 by calling 1-800-985-5990 or text TalkWithUs to 66746.
Learn more about stress and coping during the COVID-19 outbreak.
---
Coronavirus news resources
Note: Many news sources have fully or partially lowered their paywalls to provide important information about the coronavirus pandemic. Some news sources may require a subscription.
Utah and region
National and world
---
How to evaluate coronavirus news and check for reliability and misinformation
Find more information on how to evaluate news sources and spot misinformation:
×