This archived news story is available only for your personal, non-commercial use. Information in the story may be outdated or superseded by additional information. Reading or replaying the story in its archived form does not constitute a republication of the story.
Team coverageGov. Jon Huntsman today announced a severe across-the-board budget cut for all state agencies. He ordered department heads to prepare for cuts totaling 7 percent of the total state budget.
He also announced a state stimulus package. It's part of his budget for the fiscal year that begins July 1.
This coming year's budget is $1 billion less than last year's. It's a sign of our economic state here in Utah. "We're also up against pretty unprecedented times," he said.
But Gov. Huntsman made it clear he wants his three priorities--children, education and human services--to feel as little of the impact as possible.
There will be no cuts to the education budget in 2009, and cuts of less than 4 percent in 2010. The deepest cuts will come mostly from what officials are calling less critical areas, such as natural resources and agriculture.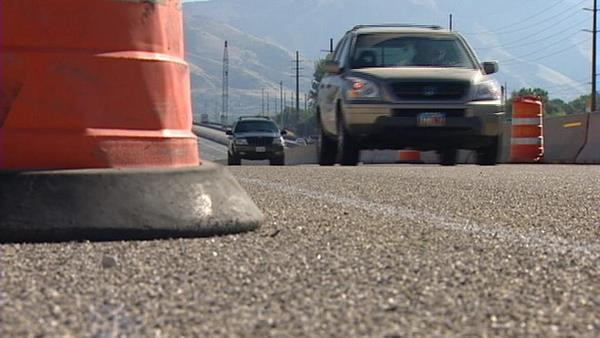 Huntsman also said that he's suggesting pulling $105 million from Utah's rainy day fund. "I'm going to stand firmly by our budget. I think it's a good balance. It's nuanced and it's a very good balance that achieves the goals that we seek as a state," he said.
"We've cut it any number of different ways. We have put people first and foremost. We think we have prudently put forth a budget that still keeps a lot of money in the rainy day fund," the governor said.
He added, "I think we've got to think anew about how we take care of the needs of the third fastest growing state in America as we move forward."
The governor also announced what he's calling an economic kick-start plan. It would reinstate several of the Utah Department of Transportation's projects that were put on hold a few weeks ago. But instead of $4 billion, UDOT will seek only $2.5 billion in new bonds and will increase vehicle registration fees by about $10 to $20 per car. That will raise about $50 million.
John Njord, Executive Director of UDOT, said, "If the Legislature endorses this proposal and we're able to move forward, we would be able to unfreeze about two-thirds of that work and put those jobs back out on the street."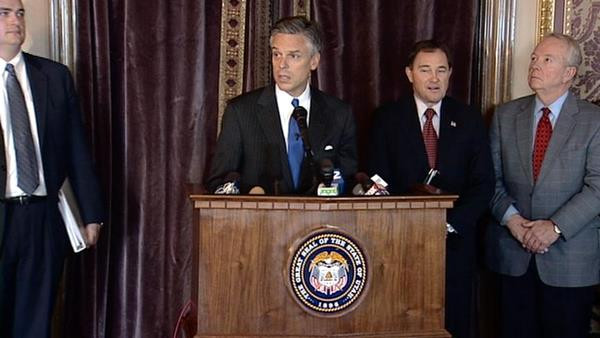 Another aspect of the plan would attempt to help the mortgage crisis by getting qualified homebuyers into homes.
Also, Huntsman suggested green-lighting 12 non-state-funded building projects that would save about 20,000 jobs. "At least preserve them," the governor said, "and would also add $600 million, or keep $600 million in wages annually."
As for our health care system, Huntsman hopes to get a good amount of federal help when it comes to Medicaid. "We're going to look forward to federal help," Huntsman said. "We could get by a whole lot better than other states. We would feel pain. There's no question about that. But I'm absolutely convinced."
Huntsman assured state employees there are no plans for widespread layoffs now, but the state will reassess the situation next summer.
He said once the 2010 fiscal year starts, we may see program cuts, therefore, some layoffs.
In total, Utah will be up to 85 percent of its debt limit of $3.5 billion. That figure is staggered over the next 10 years.
With every single state agency affected, all of us are going to be affected in some way.
Angel Hooper had a good reason to move to Utah seven months ago. She was a department of motor vehicles worker in Vermont, but when Vermont started cutting state jobs, she and her husband came here. "Because the economy was actually better at the time we moved here," she said.
But now, after hearing a billion dollars is going to be cut from the Utah state budget, which may include state jobs like hers, she's worried again. "It means everything. It means our living, it means our home, it means our food, everything," she said.
She's certainly not alone. Sitting just a few feet away from her, we met Elizabeth Cannon. She was at the DMV to renew her car's registration. We told her that fee might go up to help pay for state highway construction projects.
She said, "It takes away from everything else in the family. We got kids. You have to provide, and then you have to be able to have a car to provide for them. And it just makes everything more expensive," she said.
Cannon says, though, she needs her car, so she has no choice but to pay whatever it costs to register it. "If you can't pay for it, then how are you going to go to work to make the money in order to pay for it because you don't have a vehicle?" she asked.
And then there's Geraldine Palacios, a student at Utah Valley University who is worried budget cuts would raise tuition and cut some school programs. She said, "We've heard the budget has been cut, and specifically with our club, the UVU Latin American Club, it is going to mean a couple of changes."
And while UVU says it's cutting close to $3 million from its budget, the University of Utah is waiting to see what kind of cuts it's going to face. Some department heads have already been told to prepare for budget cuts, which could mean faculty salaries.
While Huntsman proposes a budget, lawmakers are ultimately the ones who decide its content.
The governor today met with legislative leaders who asked him to call a special session to deal with budget issues. Huntsman says he's open to the suggestion, but right now he's against the idea. He believes the regular session is close enough and to meet now might be premature, if the federal government comes forth with another economic stimulus package. After meeting with President-elect Barack Obama and other leaders in Philadelphia this week, Huntsman says he's optimistic that will happen.
E-mail: ngonzales @ksl.com
E-mail: mgiauque@ksl.com
E-mail: acabrero@ksl.com
(The Associated Press contributed to this story.)
×
Related Links