Estimated read time: 2-3 minutes
This archived news story is available only for your personal, non-commercial use. Information in the story may be outdated or superseded by additional information. Reading or replaying the story in its archived form does not constitute a republication of the story.
Jed Boal Reporting A Utah couple was at ground zero when the attack started on September 11, 2001. Tonight they talked publicly about that day for the first time.
Doug and Vickie Macdonald will always feel 9-11 more intensely than most of us. They were in the Marriott Hotel that connected the two towers. They heard the first plane hit, saw debris fall, and ran for their lives.
Doug and Vickie Macdonald went to New York for business and fun. They stayed on the 19th floor of the Marriott Hotel-- part of the World Trade Center complex.
They heard the first plane hit just as Doug returned to the room from the pool.
Doug and Vickie Macdonald/September 11th Witnesses: "Ten foot shards of glass and steel were showering down in front of our eyes."
Vickie grabbed a hooded jacket and some food. Doug grabbed his briefcase and fled down the stairs in his swim clothes.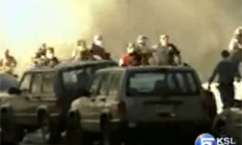 On the street they found crushed cars, debris and dust, police shouting.
"They were just screaming to run. People started running as fast as they could."
A block away, crowds gawked at the burning tower. They heard, and then saw, the second plane.
"The pilot gunned it the last three or four seconds. They I knew for sure it was Osama bin Laden's group. We turned towards the river and ran."
They ran to Battery Park and met a handful of people they now call their survival group. Then Tower 2 collapsed.
"All 300 or 400 of us were covered in soot and ash. We knew it was bodies and glass-- bodies, steel and glass."
They ducked into a condo entryway, hyper alert, disbelieving, on guard. Those feelings don't entirely go away.
"It's still very tense. We're talking about it now. I'm getting a lot of stress on my heart and tensing up."
They focused to help each other and others that day to survive physically and emotionally, and that's a lasting lesson for them.
"I think we have to be very aware, very vigilant, and be aware that these people really do want to harm us."
Friends they met during the chaos put them up on Long Island for four days until got out of town and flew out of Albany. They say any conspiracy theories about bombs are ludicrous.
As for the firefighters and police officers, the Macdonalds say they acted heroic throughout.
×
Most recent Utah stories