Estimated read time: 4-5 minutes
This archived news story is available only for your personal, non-commercial use. Information in the story may be outdated or superseded by additional information. Reading or replaying the story in its archived form does not constitute a republication of the story.
Editor's note: This is part of a series at KSL.com featuring some of Utah's coolest cars. If you own a customized vehicle — from sports cars to semitrucks — email jormond@ksl.com with a photo of the vehicle and a brief description for consideration.
SARATOGA SPRINGS — If you've ever sold a car that you later wished you could get back, and you're kicking yourself for letting it go years ago, maybe you can get it back. That's a big maybe, but Justin Roberts' story might give you hope.
In 2002, Roberts was a single 25-year-old living south of Sacramento, California. He paid $2,600 for a 1992 Ford Mustang LX Hatchback with the 5.0 engine, 5-speed, and a sunroof. It had a salvage title, which the seller said was because it had been stolen, not wrecked.
Roberts started modifying the bone-stock 'Stang, upgrading the airflow coming in and out, the gears, and the sound system. He commuted in it and drag raced it now and then at Sacramento Raceway.
Soon after buying it, Roberts was part of a bunch of college students taking a trip to Stinson Beach. He said "I surveyed the group that morning and asked the two best-looking girls if they wanted to ride with me. They obliged. I hit it off with the smiley young brunette who seemed to dig the car."
Roberts and the "smiley" brunette, Rachel, dated for nine months and married in June 2003. "We even did a short burnout in the Mustang as we left the church parking lot," he said.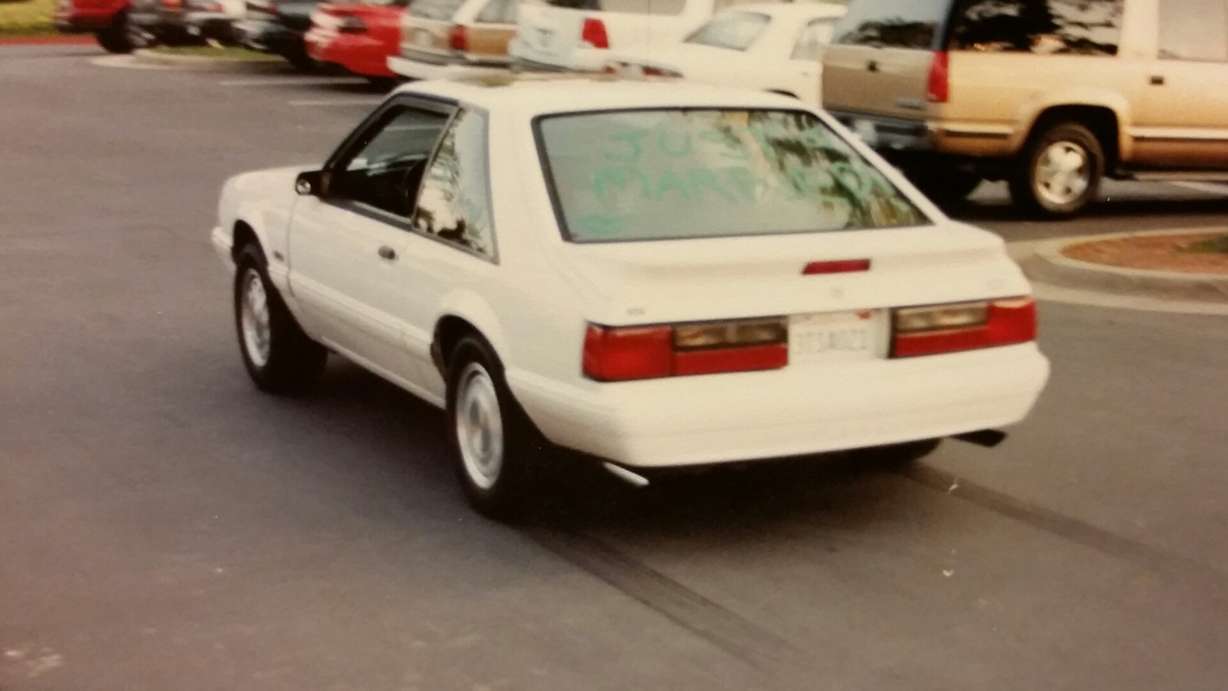 Roberts said they brought home their Christmas tree on top of the car and went on some great road trips.
When the economy tanked in 2007, Roberts had a mortgage and family obligations and sold the Mustang for $2,200, now with 238,000 miles. "The first kid who saw it bought it," he said. Gas was near $5 a gallon, and he could never get more than 23 miles per gallon out of it.
Roberts' father-in-law gave him a Nissan Sentra with a hole in the transmission. He patched the hole with a piece of scrap aluminum and RTV and was on the road to practicality. But he missed his Mustang.
Roberts owned a 2003 Mach 1 for a few years. He built a 1965 Factory Five Cobra but sold it shortly after finishing the build. Roberts thought about getting another Fox-body Mustang if he could find a clean one, but between the 2007 sale and those thoughts, Fox-body Mustang prices had gone up, and clean ones got rarer.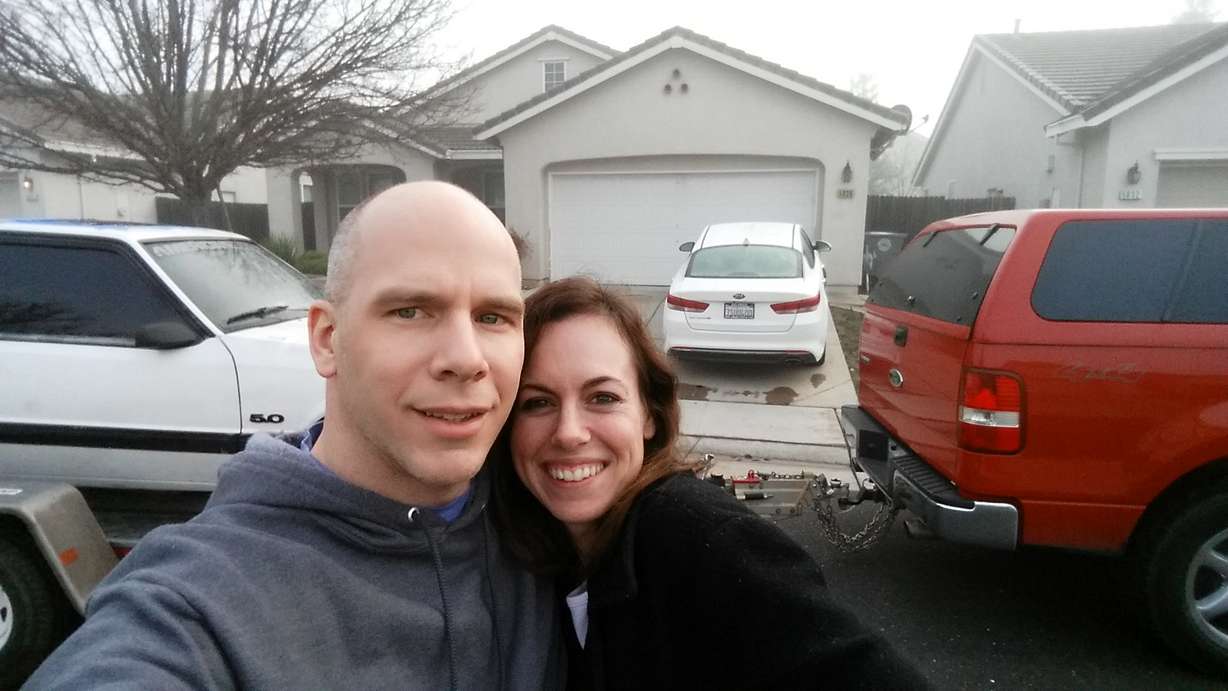 In December 2018, Roberts' old Mustang showed up in some old home movies Roberts and his wife were watching. The nostalgia went into fifth gear and Roberts pulled a Carfax that showed his old car was still in the Bay area and was on the road as of 2017. He put out feelers in bay-area Mustang clubs and forums but got no response.
Then, "in an amazing stroke of luck," as Roberts describes it, he was poking around on the Modesto California Craigslist and found a listing for a white 1992 Mustang. The ad read like it was his, but the photos of a beater didn't look like it. The seller sent him a photo of the VIN, "and lo and behold, it was a match!"
Rachel was excited when Roberts told her he found it. He flew out that weekend to buy it and do some work on it, hoping to drive it back to Utah. As he was getting ready to go, the clutch assembly went out. Roberts flew back to Utah, then returned with his wife and a trailer to pick up the beloved Mustang.
Apparently, the car wasn't beloved to any of the several subsequent owners; Roberts described it as "abused and neglected… very battered and worn, but it was our car. The car we met in, dated in, got married in. We found it." It cost him $3,000 this time.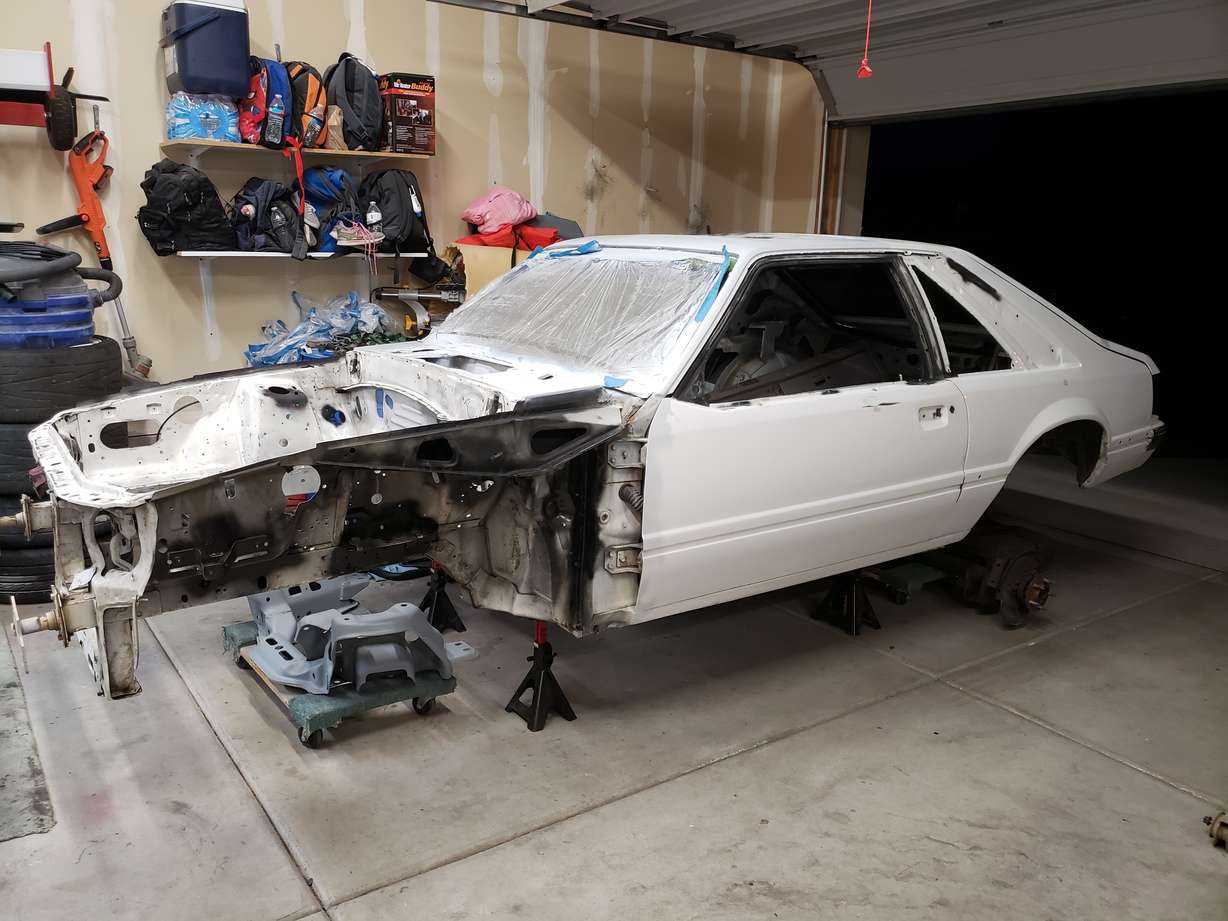 For the next 14 months, the Roberts family took the abused pony down to the shell, doing body work, paint, suspension, brakes, and interior. He rebuilt the engine himself (no machine shop), honing cylinders and valves himself. He said it runs very strong, idles well, sounds good, and he's gotten as high as 23 mpg.
Doing the work themselves, they're not financially upside-down in the car, but it wouldn't matter to the Roberts family: They will never sell it again. Justin said, "My kids will learn how to drive in this car. This is once again the date night car. And I fully plan to bring home the Christmas tree on top of the car this year."
You can follow the build, including a sad first new look at the old car, on Roberts' YouTube channel.
More Cool Cars:
---
×
Photos
Related stories
Most recent Lifestyle stories