Estimated read time: 4-5 minutes
This archived news story is available only for your personal, non-commercial use. Information in the story may be outdated or superseded by additional information. Reading or replaying the story in its archived form does not constitute a republication of the story.
Editor's note: This is part of a series at KSL.com featuring some of Utah's coolest cars. If you own a customized vehicle — from sports cars to semitrucks — email jormond@ksl.com with a photo of the vehicle and a brief description for consideration.
SALT LAKE CITY — If you've ever had to work using two mirrors, like when shaving the back of your neck, you'll appreciate what a Salt Lake man did to get an engine into the bed of his pickup truck.
John Szwarc (pronounced like "Schwartz") always liked the Chevrolet C10 pickups made between 1967 and 1972. He liked the short bed — though Chevy sold just 54,211 of them in 1969 compared to 268,233 long beds — and some shops now cut long beds to make rare short ones.
Around 2010, Szwarc had a chance to buy his preferred short bed from a friend for $500. It was just "a cab on a frame with wheels," as he described it, missing door handles, hinges and other basics. It was midway through a custom restoration, so the body was in decent shape.
Szwarc first built it up as a regular truck. He asked his daughter if he could use her patio for a few months to do the work. There was a long pause and drawn-out, "Yeaaahh … OK," he said, and he understood the hesitation since yards and garages across the country are filled with unfinished projects.
He found a 350 engine and a transmission at a wrecking yard. Pick-and-Pull had five trucks of his vintage, and he was able to get all the missing parts he needed.
Then the deviated path started. Szwarc said he found a big-block 454 engine in the wrecking yard. He said the bigger engines weren't ever put in short bed C10s, but he wanted to try. So, he called his wife and asked her to bring down some tools so he could yank it before someone else laid claim to it. He did all the rebuild himself, except the machine shop work, and put it under the hood of the C10.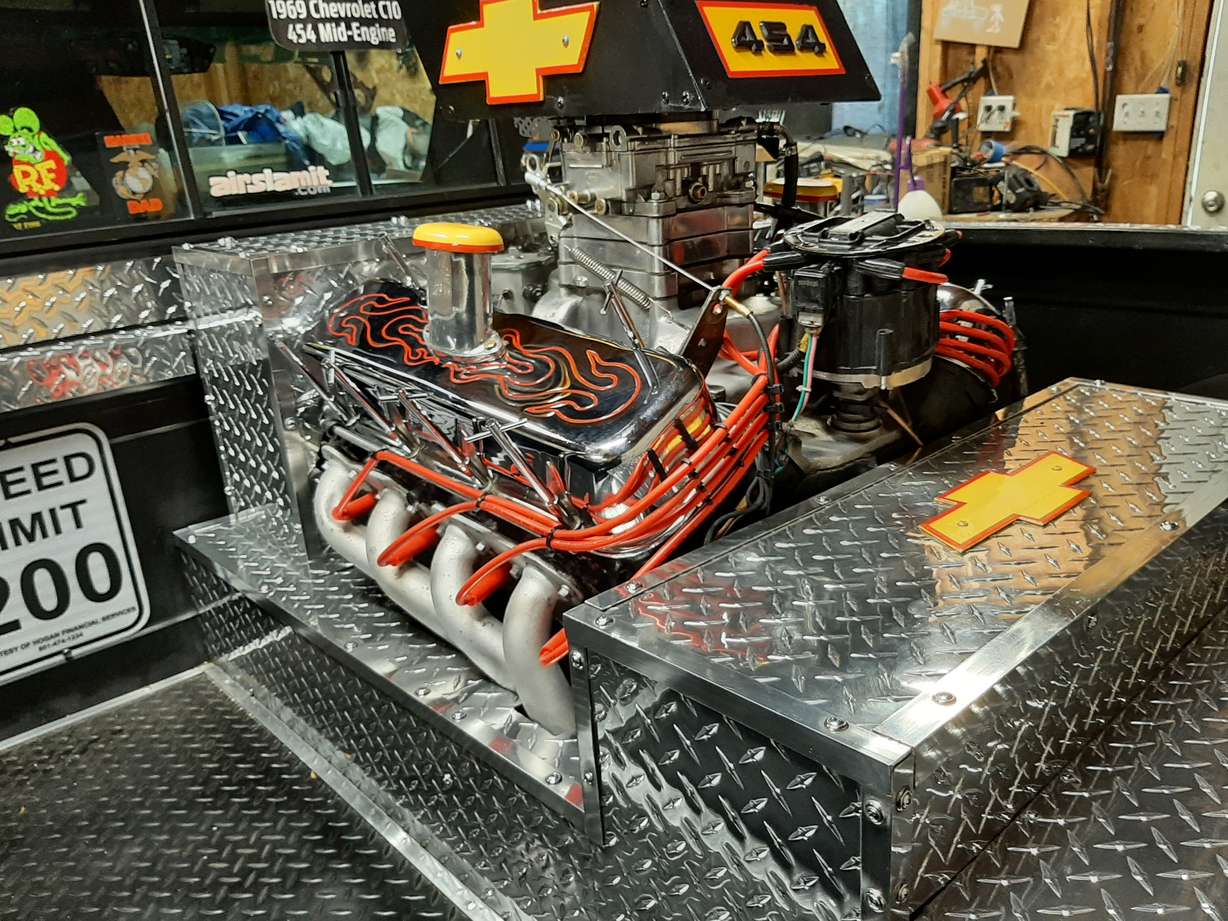 Then Szwarc started thinking about fast boats and their V-drives, which put two shafts in a "V" shape so you can have a big engine closer to the middle of the boat that sends its power out of the back of the engine down to the propeller under the middle of the boat. If a boat can do it, why not a truck?
He purchased an Ace Champion V-drive from a retired old pro boater in Huntington Beach, California. Though the drive is rare, Szwarc said when the 86-year-old owner heard what Szwarc wanted to do with it, he let it go cheap.
Szwarc cut up the prized short bed and put the 454 engine in it, making his own motor mounts. The transmission went right behind the engine, then into the V-drive, then down to the rear differential, which was now facing rearward. He had custom 13-inch driveshafts made by GRS Drivelines.
This is when being able to work with two mirrors comes in: Szwarc had to come up with a gas pedal, shifter, cooling and exhaust that was short, backward or double-backward. He said each was its own project. He used the regular radiator in the regular spot for cooling — with lots of extra piping — and has never had a problem. He just flipped the plates for the brakes. Thanks to lots of measuring, he said he had no fails or redos.
So, how does it perform? Szwarc said he's had it to 100 mph and it couldn't be smoother. He said it's much quieter with the engine behind him, and the truck handles great on dry pavement — though, it doesn't really see wet.
You might see wheelie potential in it; and although Szwarc used racing parts to build it tough, he said he doesn't want to risk the damage of dropping the front of his truck from several feet up.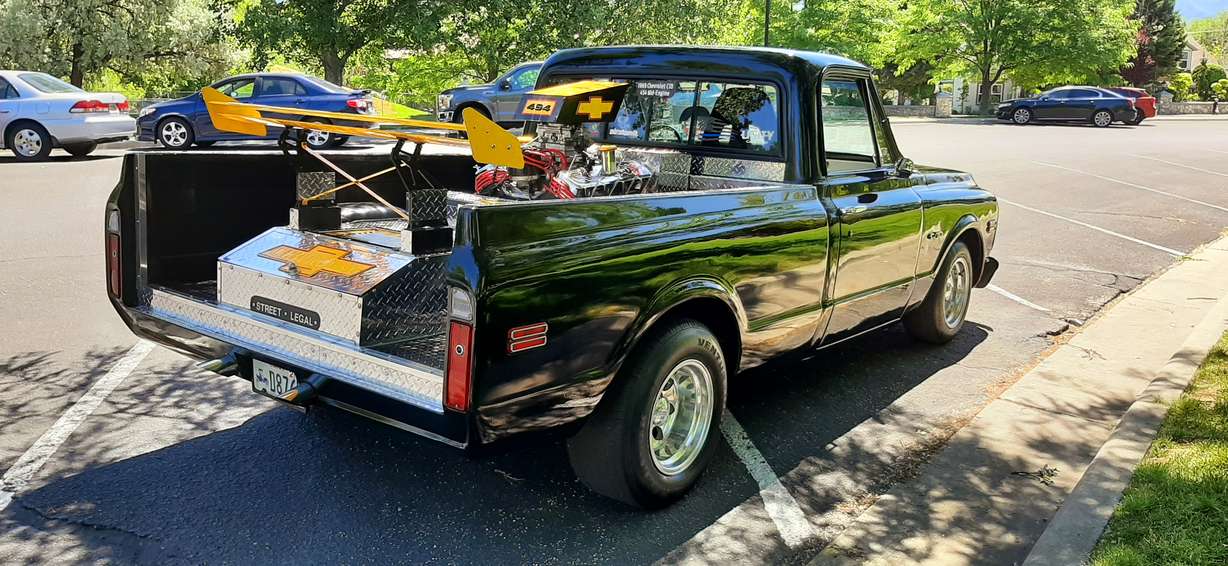 Szwarc built a trunk in the front because he said people kept trying to peek under the hood at car shows anyway, thinking there was another engine in there. He also built a door in the side so people could stop ducking under the truck to get a look at the drive system.
The best compliment Szwarc said he's received is when a guy in his 60s from car mecca Southern California told him "I've seen a lot of cool cars, but I've never seen anything as cool as this truck."
Most attempts at insults call it a stupid thing to do to a truck, asking why he would give up a bed, though it's hard to find a show truck that uses its bed. But Szwarc said the dumbest question came from a person old enough to remember these trucks who asked if the engine-in-bed was a factory option.
Being a pioneer had its trials for Szwarc, but he said he pushed through it like he does life's challenges. He encouraged others to do the same, saying: "You won't know you can until you try it."
Szwarc said the first build took five months and the conversion to bed to engine, just two. His daughter now fully trusts him with her patio.
More Cool Cars:
---
×
Photos
Most recent Utah stories