SALT LAKE CITY — Utah Transit Authority officials on Wednesday released all sorts of internal information to show Utahns how they plan to move forward amid sharp drops in ridership due to the COVID-19 pandemic.
Many of the data and safety protocols released in a new online storyboard are information the agency had internally but had not been made public, said UTA spokesperson Carl Arky. In a statement, the agency said that the webpage offers the latest ridership and financial information, as well as safety and sanitation procedures.
UTA's "Recovery Plan" is one of the documents featured on the storyboard. It shows that UTA has a color-coded risk dial that mirrors Utah's COVID-19 system.
For example, in a high-risk red situation, it will limit passenger loads to 10 riders per bus, 15 per TRAX car and 35 per FrontRunner car with added frequency when needed to protect social distancing. In orange, that's increased to 20 people per bus, 30 per TRAX car, 35 per FrontRunner car and six people on a UTA Flex bus. Under yellow, the limit is 30 people per bus, 45 per TRAX car, 50 per FrontRunner car and eight people on a Flex bus.
Salt Lake City remains the only location in orange in the state and the remaining areas UTA has business in are in yellow. Other safety measures outlined include hand sanitizer on vehicles and more frequent vehicle cleaning.
The agency drastically cut back services on April 5 to combat the declined ridership. Officials said the move was done to keep ridership going and remain fiscally sound as much as possible. UTA also began mandating all riders wear masks beginning on July 1 amid Utah's growing coronavirus cases and Salt Lake and Summit county's mandates that face coverings should be worn in public places.
According to data provided by the agency, ridership has increased since the pandemic began but remains well below where it normally would be for the summer. In June, it averaged 54,204 weekday boardings on all forms of transportation. That's a 13% increase from 48,038 recorded in May but also a 61% drop from the June average from the past three years of 141,173.
The detailed data provided by UTA shows what the agency has reported since the pandemic began. Most of its services were close to average until mid-March, when Utah officials began taking action to combat the COVID-19 pandemic. By the workweek beginning March 16, ridership had slipped to about 60% below normal and has remained there since.
As of data updated on July 2, use of UTA's bus services fell 63%, paratransit dropped 68%, light rail service fell 69%, UVX fell 76% and FrontRunner service plummeted 79%.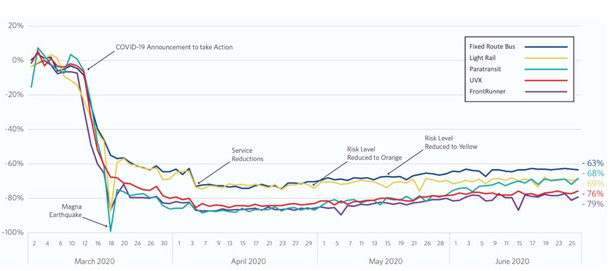 A survey conducted by UTA found that a big reason for the drop was due to working from home. Nearly three-fourths of riders said they used mass transit services before COVID; that fell to 37.5% afterward. Those who said they used it for errands fell from 40% to 22%; those who used it for visits to other places dropped from 29% to 7.8%.
As a result, revenue from fares reached $3.7 million in March, which was $1.2 million off the budget projection. UTA brought in $1.4 million in revenue from fares in April, which was well shy of the budgeted $4.5 million for that month.
Cutting back services did help curb operating expenses. For example, the agency reported $23.6 million in expenses during April with a budget of $26 million. UTA also received $187 million from the federal CARES Act to cover expenses, personal protective equipment and cleaning supplies. Officials wrote that they believed that money would help lessen the financial impact of COVID-19.
UTA's recovery document also outlines financial recovery guidelines under each stage. Under orange and yellow stages, officials plan to gather information for financial impact and develop safety protocols. When it reaches green, it aims to have a finalized service plan and implement new fare policy and collection systems.
"UTA's goal is to restore service in a way which aligns with the community's efforts to reopen, the health of the economy, as well as the evolving ridership demands," UTA executive director Carolyn Gonot said, in a statement.
×