HERRIMAN — Utah Royals FC will kick off the 2020 NWSL season Tuesday, the first match with new manager Craig Harrington.
It will also be Brittany Ratcliffe's first competitive match in over a year. Ratcliffe, who suffered a torn ACL during the Royals' 2019 preseason, will debut alongside the rest of the 2020 Utah Royals FC against the Houston Dash (10:30 a.m. MDT, CBS All Access) in the NWSL Challenge Cup.
As expected, she can't wait to get back on the field.
"When the tournament was announced, we realized this was finally what we trained for," Ratcliffe told reporters Monday during a post-training conference call. "After four weeks of team practices, I'm just excited. I have to be kind to myself and know that I was out for a year.
"But in terms of where I'm at right now, I'm in a good place physically and mentally."
Ratcliffe may best be known for her game-winning goal against North Carolina in the Royals' rookie season in Utah, a mark that snapped the Courage's unbeatable aura in what was otherwise a dominant season. If not that, she's probably best known for the big orange bow she wears behind her hair during matches — a trait she says she acquired when she was young, so her parents could identify her during youth soccer matches in her native New Jersey.
The University of Virginia product scored two goals in 10 appearances in 2018, mostly off the bench, and was expected to build on it a year later as a key cog in Utah's attack.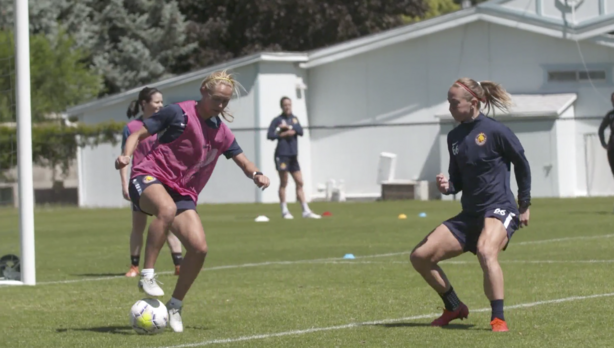 But disaster hit when Ratcliffe ruptured her anterior cruciate ligament during preseason training, an injury that caused her to miss the entire 2019 season. The Royals finished 9-4-10, tied for fifth place and two spots out of the four-team NWSL playoffs.
So, it's understandable while Ratcliffe gets emotional when thinking about her recovery, even if her first game back will come as U.S. star Christen Press has opted out of the tournament, and the Royals' injury list includes U.S. fullback Kelley O'Hara (quad) and defensive midfielder Desiree Scott (personal reasons).
That leaves a lot of openings for new players to step in under the Royals' first-year coach.
"I think the way the format of this tournament is set up, it's always been an opportunity for players to get minutes they wouldn't have gotten during a regular season," said Harrington, who added that Scott's absence will be addressed on a day-to-day basis. "We're approaching it one game at a time, only looking at Houston right now."
Ratcliffe's recovery comes with its own issues — not the least of which being the return date at Zions Bank Stadium in Herriman. The artificial surface is among the top of its class, and similar to the turf used extensively by teams in the men's first-division Eredivisie in the Netherlands — but it's still turf. It also makes players quicker than a grass surface, with noticeably more skidding than stopping from forward moving balls.
Turf is harder on athletes' bodies than natural-grass surfaces, especially on joints like feet, knees and the lower back. North Carolina's Ally Watt has already torn her ACL after the Courage's 2-1 win over Portland in the tournament opener, so provisions should take place.
But Ratcliffe has trained on the surface extensively, including in the Royals' lead up to the tournament, and she's confident the surface that soaks up sun in the hot Utah desert can be managed — with the right recovery.
"It might be hot, at the end of the day, but it's great turf," Ratcliffe said. "We've practiced there, we've had preseason there, and I've never had issues there. It's a great facility. I think most people are just concerned about the loading — a game every three days. And that's why our staff has emphasized recovery.
"Most teams, especially our team, have taken into account the load — a game every three days."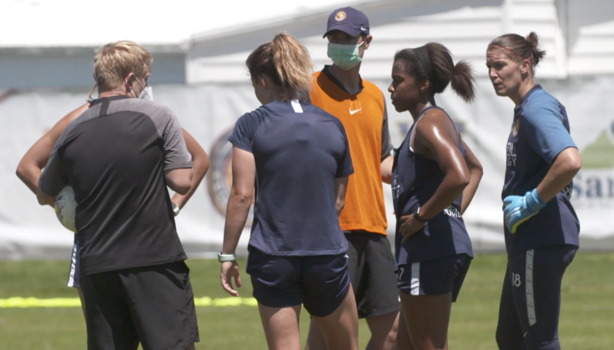 Another player looking to make her debut with Utah is Elizabeth Ball, the 25-year-old defender acquired in the offseason as a result of the trade that sent Becky Sauerbrunn to Portland.
Ball joins a center-back group that also includes Rachel Corsie, Taylor Leach and Gaby Vincent to provide a reliable stable of defenders in front of goalkeeper Nicole Barnhart.
"I think having depth is so important in this tournament," said Ball, who singled out her love of playing with Corsie, who captained Scotland at the 2019 World Cup. "The fact that we have so many versatile players is incredible, and getting five subs per game really lends to our numbers and players that can play multiple positions. It's a big strength, and I think it will definitely show for us as the games get further along."
It's probably unfair to compare Ball to Sauerbrunn, the four-time NWSL defender of the year who is on the other end of her playing career as the Royals newcomer.
Ball wasn't expecting to leave Portland this offseason. But she's happy to be in Utah.
"Coming into this league, it's known that people move around a lot," she said. "I probably wasn't expecting it, but it was a great opportunity that I was excited to take a step in hopefully a positive direction.
"It was definitely a very pleasant surprise, and I'm happy to be here and playing with these girls."
NWSL Challenge Cup
Utah Royals FC vs. Houston Dash
Tuesday, June 30, 2020
Kickoff: 10:30 a.m. MDT
Streaming: CBS All Access
OL Reign vs. Sky Blue FC
Tuesday, June 30, 2020
Kickoff: 8 p.m. MDT
Streaming: CBS All Access
×
Related Stories